THE BOARD
Emily Barton, Marketing Lead
Emily Barton is a Senior Manager of Public Fundraising with Our Lady's Hospice and Care Services. Emily has over 10 years experience in marketing, strategic development and campaign and event management. She holds a Master's in Classics (having completed a museum project in University College Dublin which was part of the World Archaeology Congress of 2008) and a postgraduate certificate in World Heritage Conservation. She also holds a postgraduate diploma in Event Management and Public Relations and a postgraduate diploma in Strategic Management and Leadership.
This is me aged about 3 in 1988 dressed up for the annual Victorian Garden Party in Crosthwaite Park Dun Laoghaire, where I lived most of my life. Every year the residents would host a Victorian garden party. Everyone would help out by making cakes. We would all dress up in Victorian Costume which we would parade around in and a winner for best costume was selected. There was always a band playing and I remember dressing up every year with my family. It was such a novelty and a wonderful experience of neighbours coming together as a community.
Jennifer Condon, Secretary
With a day job as Founder of B2B start-up AFIXR.com, Jen is also involved in a number of Dublin based start-ups and contributes in a voluntary capacity in a number of online business networking groups acting as Moderator, Community Manager and Event Organiser. Having a background in Business Development, Trade Promotion, SME Support, Event & Awards Programmes Management for Ireland focused organisations, public and private, both in Ireland and overseas, Jen is passionate about everything Irish, history, culture, tourism, travel, the power of networking and building communities.
My favourite photo of me as a child – Winner of the Grumpy Looking Baby Award! According to family members I was quite the grumpy one and didn't sleep a night until I was 3 (my poor mother!)
Dr Matt Fogarty, Education Team Lead
Matt is an Associate Lecturer at the School of English, Drama and Film in University College Dublin. His research interests include modern Irish fiction and culture, modernism, and academic writing and pedagogy. Matt has published articles or has articles forthcoming in the Irish Gothic Journal, International Yeats Studies, Modern Drama, the James Joyce Quarterly, and the Journal of Academic Writing. His first academic monograph, Subjectivity and Nationhood in Yeats, Joyce, and Beckett: Nietzschean Constellations, is forthcoming with Liverpool University Press (available to pre-order here).
Not a single football survived, but my first Liverpool jersey, c. 1986, has somehow stood the test of time. #YNWA
Rebecca Jackson, Children's Rights Team Lead
Sorcha Kavanagh, Strategy Team Lead
Sorcha is a Senior Project Manager in the IT sector. She joined the museum as Lead of the Strategy Team in September, 2022. Through her background in project management, Sorcha looks to turn chaos into productivity. She holds a degree in Computer Science and a Master's in Business and Entrepreneurship.
Majella McAllister, Chairperson & Youth Voices Team Lead
Founder of the Museum of Childhood Ireland, Majella's background is in education, innovation, sustainability and social entrepreneurship. She has a keen interest in history, and literature, and has recently completed further postgraduate studies at University College Dublin. Her 2020 concept, Project 2020 Together, Le Chéile, began a worldwide initiative that foregrounded the voices of children during the COVID-19 pandemic. This online initiative inspired physical exhibitions in Ireland, USA, Italy, and Nepal. The project was named on a shortlist of six for an international award alongside the Glucksman, the Glazer, the Warhol, the Rijksmuseum and the National Gallery of Singapore. In founding the Museum of Childhood Ireland, Majella recognises that she has brought together a team of extraordinarily special people.
In the photo I'm wearing "the little yellow dress," as it's known in our family. Holding tight to "Ted," I remember the day vividly. I chose this photo as it illustrates a slice of Irish social history that continued right up through the 50s and 60s in Ireland: The Parcel from America. The dress, still worn "for best" until recently by children in our extended family, before being donated to the Museum, was included in a parcel of items sent to my family, and chosen for me by my paternal Aunt Norah, an Irish emigre in San Francisco, as my 3rd birthday gift.
Professor Mary O'Dowd, History Team Lead
Cian Spillane, Governance Lead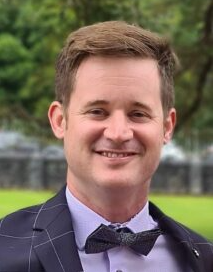 Cian recently commenced a role as Manager of the Registrars Office in the National University of Ireland. Prior to this, Cian was the Head of Risk & Compliance for Sport Ireland, where he worked for 6 years. Cian joined the Board of the Museum in April 2021. Cian's primary area of expertise as a Board member is maintaining and improving standards of governance by the organisation. In his spare time, Cian is an enthusiastic fencer with an active lifestyle who follows the fate of Leeds United and the Cork hurling team ardently.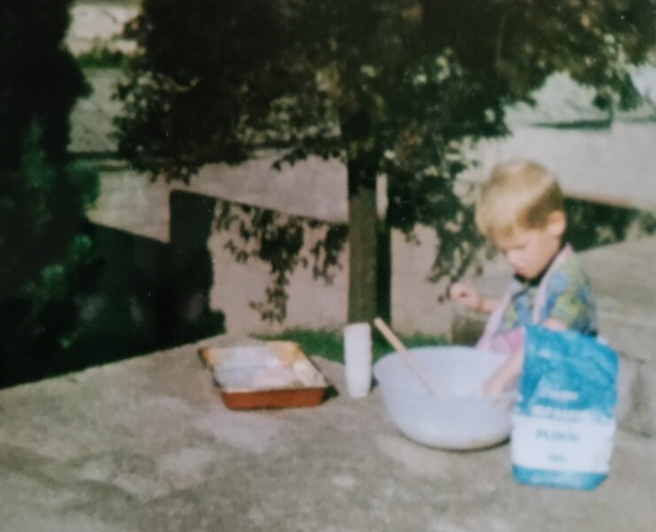 The childhood picture is of me "baking for the birds" which was a regular activity that my grandmother used to indulge me with. Those crows have given me some of the best feedback on my cooking!
Niall Wallace, Treasurer
THE PROJECT GROUP
Ruthanne Baxter, Museum Advisor
Ruthanne is Museums Manager at the University of Edinburgh. A native of Co. Fermanagh, her love of engaging people with heritage began as a Tour Guide for the National Trust, aged 17, at Florence Court House. Ruthanne comes to the Museum of Childhood Ireland with 18 years experience in heritage business, tourism, and audience development. She is creator of Prescribe Culture, a flagship heritage-based social prescribing programme, and Creative Director of the Hidden in Heritage Festival, which raises awareness of the history of hidden disabilities.
Ruthanne was born with a love of music and dancing, encouraged by her Granda Aiken, who would have RTÉ radio on, every evening, listening to traditional Irish music. At the age of 5, she had the excitement of being a flower girl for her wonderful neighbour, Barbara. The highlight of the day for her was getting to waltz, for the first time, on her father's feet.
Precious Benjamin, Youth Voices
[Under-18 Volunteer]
Melissa Bonotto, Children's Rights Team
Melissa was born in Brazil in a family of Italian descent. Portuguese is her mother language, and besides English, Melissa speaks Spanish and Italian. She holds a Preschool Teaching qualification and a BA in Communications and Public Relations (UFSM), a postgraduate degree in Educational Management (UNIJUI), a certificate in International Development (University of Ulster), and an MSc in Development Studies (UCD). Melissa is a doctoral researcher in the UNESCO Child and Family Research Centre. Her doctoral thesis is focused on the concept of early intervention and meaningful interactions with preschool children with additional needs in the family support context.
I spent most of my childhood time playing freely outside as a child. In our garden or on my grandfather's farm, was my favourite place. I truly believe that playing freely on the farm, in contact with nature, helped me to build the strongest qualities I carry in adult life, such as courage and resilience.
Chloe Browne, Community Engagement Assistant
Chloe Browne is an arts writer and curatorial assistant from Ireland. Currently working in the contemporary art sector, she holds a dual undergraduate degree in Art History and Italian from Trinity College Dublin and a Master's in Art History and Curatorial Practice from the University of Edinburgh. Guided by a keen interest in social history as told through the medium of art, Chloe's work explores how objects, literature, and artistic media can inform a study of societies past and present. Passionate about public engagement with culture and the arts at all levels, she is delighted to be working in the realm of community engagement at the Museum to encourage a connection with the subject of childhood across Ireland and further afield.
There was nothing I loved more than a playground as a kid, especially swings. I think I drove my whole family demented. I may have only had ten words in my vocabulary but one was definitely "push." I also used to spend a lot of time with my granny and other adults when I was young, as I was the first grandchild. As such, I didn't really understand the concept of adults versus children so I just presumed all my granny's friends were my best friends too. I was absolutely disgusted one day when we went on a day trip together and the three sixty year old women tried to explain to me that they couldn't go down the children's slide at the Zoo.
Dr Sarah-Anne Buckley, History Team
Sarah-Anne is Lecturer in History at the National University of Ireland Galway. Her research centres on the history of childhood and youth, gender and women in Ireland. Author of The Cruelty Man: Child Welfare, the NSPCC and the State in Ireland, 1889-1956 (Manchester University Press, 2013), she is President of the Women's History Association of Ireland (WHAI), Chair of the Irish History Students Association, and Co-Director of the Irish Centre for the Histories of Labour & Class (NUIG).
I have grown up alongside my care bear teddy bear, Carbie, who was the ripe age of 35 on 25 Dec 2019.
Dr Justyna Deszcz-Tryhubczak, Children's Literature Team
Justyna is Associate Professor of Literature and Director of the Center for Young People's Literature and Culture at the Institute of English Studies, University of Wroclaw, Poland. She is the author of Yes to Solidarity, No to Oppression: Radical Fantasy Fiction and Its Young Readers (Edinburgh University Press, 2016). She is a Kosciuszko, Fulbright and Marie Skłodowska-Curie fellow. She has served as a member of the executive board of the International Research Society for Children's Literature
One of the most vivid memories of Justyna's childhood, spent in communist Poland, is the sight of the pink wall of Barbie doll boxes at a Mattel shop she visited in the mid 1980s, when staying with her friends in Belgium. Barbie dolls were some of the most coveted toys among Polish children in that period.
Dr Fiona Donson, Children's Rights Team
Fiona is a Senior Lecturer in Law and the Director of the Centre for Criminal Justice and Human Rights in the School of Law, University College Cork. She researches and teaches in the areas of Administrative Law, Criminal Law, Social Justice, and Human Rights. Her current research includes children's rights and parental incarceration. In addition, Fiona is an expert on public governance, accountability, and administrative justice. Fiona also has a human rights practice background; she was a human rights practitioner in Cambodia between 2002-2007, where she was responsible for projects on child rights, particularly working on child labour and juvenile justice.
Freya Feeney, Youth Voices
[Under-18 Volunteer]
Jemi John, Youth Voices
[Under-18 Volunteer]
Dr Sheila Long, Children's Rights Team
Sheila is a Lecturer in the Department of Humanities at the South East Technological University (SETU), Carlow, where she teaches on the BA (Hons) Early Childhood Education and Care and BA Professional Social Care Programmes. She is committed to ensuring that students and professionals who work with children and young people receive comprehensive children's rights education. She is from Kilkenny, which everyday gives her new reasons to love old things, places, and people.
Dave Lordan, Education Team
Dave is an Irish poet inspired by our various oral, singer-songwriter, and rebel poetry traditions and by resistance to empire, capital, and human domestication. His books have won many awards and nominations and he has been a key figure in radicalising multimedia literature in Ireland over the past two decades. He is a renowned youth educator and works on numerous youth creativity projects, and he often writes of his eventful childhood and from the perspective of the marginalised, undisciplinable child. Listen here to his latest soundscaped story, "Ravelations" (about when Travellers and Labourers in a small Irish town united with New Age Travellers to defy the Gardaí and hold a massive rave together). Click here to watch his powerful meditation on the suicide epidemic, "My Mother Speaks To Me of Suicide." Engage with his wide-ranging back catalogue here, and his current opinions here.
The photo shows me at age 16 in late summer of 1991, at a friend's "free gaff" party, after which we were all grounded for 1000 years.
Dr Gabriela Martinez Sainz, Children's Rights Team
Gabriela is an educator, researcher, and consultant specialising in children's rights, global citizenship, and education for sustainable development. She works as Assistant Professor in Education at University College Dublin. She is co-convener of #ChildRightsChat and author of textbooks for children on civic education, citizenship, and democracy. She is an intersectional feminist, an advocate of children and young people's rights, and supporter of a radical education.
My absolute favourite place to play as a child was the hammock in my grandparents garden.
Dr Richard McElligott, History Team
Richard is Lecturer of Modern and Irish History in the Department of Humanities at Dundalk Institute of Technology (DkIT). Prior to taking up that role in September 2019, he served for four years as a historical researcher on the Mother and Baby Home Commission of Investigation, overseen by the Department of Children and Youth Affairs. His research expertise includes Irish social history, with a particular expertise on Irish sporting history. He has published widely in this area and some of his latest work has examined the role of sport in the history of Irish childhood in the late nineteenth and early twentieth century.
As a child growing up in rural North Kerry, I loved to explore the fields or trying to investigate the course of nearby rivers. The worst example was the time I was to attend an altar-boy meeting in the village Church. That meeting ended suddenly. Rather than wait for my parents to collect me, I decided it would be quicker to walk the five miles home by myself, I was only 7 at the time. It took me hours, and my mother (not having a clue where I was) was distraught. The neighbours went out driving around with herself and my father. Eventually as dusk closed in my father spotted me on the main road only a half mile from the house. That put a stop to my exploring – at least until the following weekend!
Melatu Uche Okorie, Education Team
Melatu was born in Enugu, Nigeria and has been living in Ireland since 2006. She has an MPhil in Creative Writing from Trinity College, Dublin. Her work has been published in numerous anthologies including, Being Various: New Irish Short Stories (Faber & Faber) and The Art of the Glimpse: 100 Irish short stories (Head of Zeus). Her debut collection, This Hostel Life, was published in May, 2018.
Sinéad O'Reilly, Youth Voices
[Under-18 Volunteer]
Ciara O'Síoráin, Children's Literature Team
Ciara is a Rome-based writer-of-all-forms and an EFL Teacher for children and teenagers. She graduated from Trinity College Dublin with a Bachelor's degree in Classical Civilisations and English Literature. Having received a European Excellence Scholarship for her academic and civic achievements, she continued her studies and graduated in 2022 with a MPhil degree in Children's Literature. Her research focuses on child agency and narrative focus in children's literature. She has presented her research at several prestigious international conferences and is founding editor of 'Childlike': A Journal of Childhood. This journal explores all concepts of childhood and adulthood in modern society through art, creative writing and academic research. Ciara is also the writer behind Tesoro Irlandese, a life-blog about her heart-city, Rome.
Here I am, absolutely coated head to toe in mud which I assume came from the massive ditch behind me. By my side, as he has always been, is my brother. I can only imagine the idea to play in the dirt was entirely my own, considering his pristine condition. Growing up with three older brothers, I was raised in a rough-and-tumble manner which I have always been incredibly grateful for. My family remains the most important pillar of support in my life, standing by my side and offering valuable advice, even when I make terrible decisions (like playing in the dirt in my new clothes!)
Alannah O'Sullivan, Youth Voices
[Under-18 Volunteer]
Nicole Power, Youth Voices
[Under-18 Volunteer]
Danny Sheehy, Youth Voices
[Under-18 Volunteer]
Annika Stendebach, History Team
Annika is a doctoral researcher at the International Graduate Centre for the Study of Culture at the University of Giessen. Her PhD project focuses on Irish youth and social change between 1958 and 1973. It might seem strange that a German student is working on such a project, but after spending her Erasmus year at the National University of Ireland Galway in 2012/2013, Annika just fell in love with Ireland and its people. She has not stopped researching Irish youth culture since.
I was quite the whirlwind as a child, always running around and playing outside. The only time my parents managed to get me to come inside and sit down, was when they read stories to me. One of my favourite books were the adventures of "Pippi Longstocking" by Astrid Lindgren, probably because I identified so much with her. Judging from our shared characteristics, I actually think my parents chose the wrong character from the novel as my namesake.
Katia Tikhoniouk, Social Media Lead
Katia works in Communications, and holds a Master's in Architecture from University College Dublin. Her particular interest is in children's play – her Master's dissertation, "Towards a Common Ground for Play," came second in the Royal Institute of British Architects (RIBA) President's 2014 Dissertation Medal. For the past 6 years, she has been researching children's play, and the history of children's street play in the Dublin Region.
As a young child, Katia was very doubtful of the existence of Santa Claus. This ended with her hiding behind the Christmas tree one Christmas Eve at the ripe old age of 5, with the intent of seeing for herself whether the jolly man in the red coat was real or whether parental foul play was at hand. It should also be noted that, despite this inquisitiveness about Santa, she had no doubts about believing in the Tooth Fairy.
Paula Walshe, Early Childhood Voices
Paula is an Early Childhood Education and Care (ECEC) Lecturer in both further and higher education. She is currently pursuing a PhD in STEAM Based Interventions in ECEC with the Dundalk Institute of Technology (DkIT) and Dublin City University (DCU) Graduate School. Paula holds an MA in Leadership in Early Childhood Education and has extensive ECEC experience in both pedagogical practice and ECEC management. She is a regular blogger on topics relevant to ECEC and hosts an ECEC community of practice and podcast (available at ECE Quality Ireland, Twitter, Instagram, Facebook, & Linktree). Paula's book on quality standards in ECEC practice is forthcoming in 2023.
STRATEGIC PARTNERS
(CLICK LINKS FOR FURTHER DETAILS)
Doyle & Co. Accountants, 43 Wilson Rd., Mount Merrion, Dublin
Heritage Council – Collaborative Town Centre Health Check Programme (Alison Harvey, Planning & Development Officer)
Saoirse Ethnic Hands on Deck Co-Operative – Cork Migrant Project