UPDATE MAY 10TH 2022. EXHIBITION NOW ON AT BANK OF IRELAND, DÚNLAOGHAIRE.
Our Nancy Drew at 90 Exhibition was scheduled for our small pop-up space in Dún Laoghaire, courtesy of Bank of Ireland, from today, World Book and Copyright Day, 23rd April 2020. However with Covid-19 restrictions in place we're launching online instead.
#worldbookday2020 #worldbookandcopyrightday #worldbookandcopyrightday2020
Nancy Drew, the ever-popular perennially teenaged detective series character, is celebrating her 90th birthday this year. Created in 1930 by Edward Stratemeyer, a prolific children's author and book producer, the series was a publishing phenomenon from the start and continues in print to this day. More than 150 million copies have been sold in the United States alone, with countless other copies sold in more than 35 languages around the world.
The author of the series was indicated as Carolyn Keene. No such person existed. This name was a "house name" owned by the Stratemeyer Syndicate which published the Nancy Drew books. Edward Stratemeyer (1862-1930) and later his daughters Harriet Stratemeyer Adams and Edna Squiers contracted the writing of the books out to various writers. The first 56 Nancy Drew books (known as the "classic series") were actually written by Mildred Wirt Benson (1905-2002) who wrote 23 titles, Harriet Stratemeyer Adams 15 titles, Walter Karig 3 titles, and various other authors who wrote just one title each. Generally considered the best, Mildred Wirt and Walter Karig imbued the character of Nancy Drew with independence of spirit, feistiness and sheer determination. In later years and editions these characteristics were somewhat toned down and many would argue that the books suffered as a result, later titles becoming rather bland and formulaic.
Nancy Drew is the longest-running children's series in the world, without a doubt. The main series – the first 175 titles from 1930 to 2003 – is the one most cherished and collected by fans, the other spin-offs such as the Nancy Drew Files, Nancy Drew Notebooks, Nancy Drew Diaries, etc., being much less sought after.
On this side of the Atlantic the Nancy Drew books were first published by Harold Hill & Son in Newcastle upon Tyne, then Sampson Low and Collins in London. The Harold Hill titles – only four in all – are highly sought after as the artwork on the dustjackets is different from the American editions, having been drawn by a local Newcastle artist, Frank Varty. These books in very good condition with very good dustjackets go for many hundreds of dollars.
Although largely out of print over here in recent years, Nancy Drew continues to sell well in the U.S. and around the world. There is currently a TV series running on a U.S. channel called CW and many events around America are taking place to celebrate Nancy's 90th.
So take a nostalgic look at the covers reproduced here and some of the countless editions of Nancy Drew that have appeared over the years.
A Note about the illustrators
In general, the quality of the cover illustrations of the Nancy Drew books – both the American as well as the overseas editions – has been exemplary. This hasn't occurred by accident. It is clear that the publishers – i.e., the Stratemeyer Syndicate initially and Simon & Schuster afterward – attached and continue to attach great importance to the cover artwork. What you are looking at here is but a minute fraction of the illustrations used in the hundreds of Nancy Drew books published worldwide over the last 90 years.
The cover illustration is by Russell H. Tandy (1891-1963), a book and fashion illustrator who was a friend of Edward Stratemeyer. Stratemeyer submitted book covers by Tandy and another illustrator, Ernest Townsend, to Grosset & Dunlap during discussions for the covers of the upcoming new series for girls, Nancy Drew. Grosset & Dunlap chose the Tandy artwork and the rest is history. Tandy went on to illustrate 25 Nancy Drew books as well as countless other books. His portrayal of Nancy as a stylish "flapper" has made the Tandy illustrations a favourite among Nancy Drew collectors.
These are the first British editions, both illustrated by Frank Varty. Varty (c.1906-c.1984) was a Northumbrian artist and illustrator and a friend of Harold Hill, the publisher. He had already illustrated several local books on Northumberland and Newcastle upon Tyne, as well as some Enid Blyton books, all published by Hill. He illustrated all four Nancy Drews published by Hill, as well as fifteen Hardy Boys books. All these books are highly sought after by collectors as his style was markedly different from the American editions.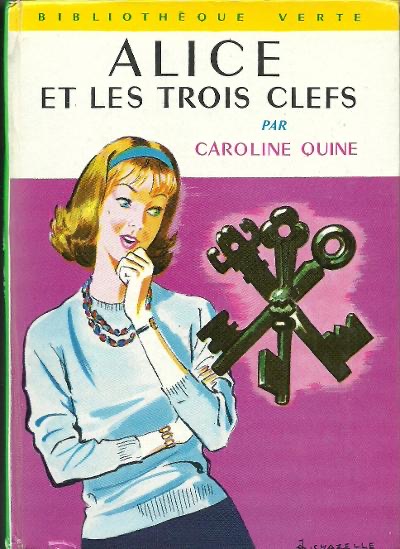 There have been many French editions and many French illustrators of the Nancy Drew books (she is know as Alice Roy in France), but arguably the best-loved is the original illustrator, Albert Chazelle (1906-1974). Originally a poster and postcard illustrator (his Moulin Rouge posters are worth a look!), he illustrated all the French Nancy Drews from 1955 to 1974. There were about sixteen other illustrators subsequently.
The illustrator here is Júlio Gil (1924-2004), a prolific Portuguese illustrator and author. He illustrated over a hundred books in his lifetime, including fourteen or so Nancy Drews and various Hardy Boys books, all published by Verbo.
This cover is actually by Russell H. Tandy, the American illustrator of the early Nancy Drews. In fact, by the time The Swami's Ring was published, Tandy was long dead! This is because, possibly for economic reasons, the Icelandic publisher used the cover art of an old Nancy Drew book (The Ghost of Blackwood Hall) for all its Nancy Drew books.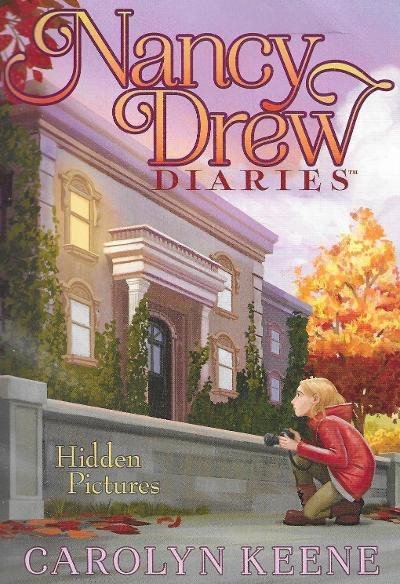 This is the very up-to-date 2020 Nancy Drew. The illustrator is Erin McGuire, a Canadian artist and illustrator who has illustrated all of the Nancy Drew Diaries. Her rather quirky depictions of Nancy are more than complemented by her lush, colourful and extremely pretty paintings.
Regrettably, I have no information on the artist involved.
My appreciation and acknowledgments to Jenn Fisher and her wonderful website, Series-Books.com, as well as to Google and Wikipedia for their assistance.
*World Book Day, also known as World Book and Copyright Day, or International Day of the Book, is an annual event organised by the United Nations Educational, Scientific and Cultural Organisation (UNESCO) to promote reading, publishing, and copyright. The first World Book Day was celebrated on 23 April in 1995, and continues to be recognised on that day. A related event in the United Kingdom and Ireland is observed in March.
Our thanks to Seán Bourke, Researcher, Collector.