from March 17th 2020 until….ongoing! Take part now, It's very simple. Just have an adult email a photograph of your creative response to the Covid-19 pandemic (Draw/paint/installation/poem/haiku/writing) in to us at info@museumofchildhood.ie The idea is for you to be heard; for you to express yourself, in a creative medium of your choosing. It is important for our mental health to open up discussion around how this global pandemic has impacted on children.We are curating the 2021 online exhibition presently.
"Project 2020/TOGETHER, LE CHÉILE" from The Museum of Childhood Ireland Project. The project devised in February, was implemented on St. Patricks Day, March 17th , and as entries from children around the world poured in, we launched the first online exhibition on June 4th 2020. Author Myra Zepf introduced the online exhibition and author/illustrator Carol Ann Treacy designed the bespoke frames to display the children's written submissions.
But thats not all….physical exhibitions also of the project are ongoing, and
Exhibitions at Home
From March 2021, out-of-doors at the Peoples Museum, Limerick.
We are launched the Project 2021 Exhibition on St Patricks Day 2021! Launched at the People's Museum, Pery Square, Limerick.(out-of-doors)
Limerick-PR-March-21-2

Aged up to 18 years old? Send us your thoughts, feelings, musings, on life during the pandemic now. You can submit a story, poem, art, song, message…..in your own language. So get creative now! Watch this space for more news!…
But first do see our terms and conditions at the bottom of the page before submitting : info@museumofchildhood.ie, headed Project 2021 Together, le Chéile. For online safety, make sure that only your first name, and county/country is visible on the work.
Killarney House and Gardens, Killarney, Co Kerry.
From December 2020. Our first out-of-doors exhibition of Project 2020 Together, Le Chéile.
"One story begets another as Irish museum idea goes global
They say one story begets another – Tarraingíonn scéal scéal eile. In the case of an art project from Ireland's Museum of Children that is certainly the case.
In this strange and unsettling time of Pandemic, the well-being and mental health of children is of paramount importance. A new outdoor exhibition at Killarney House and Gardens features works from children all over the world – showcasing how they have reacted to the pandemic.
'Project 2020 Together/Le Chéile' from the Museum of Childhood Ireland Project, started life online earlier this year, aiming to provide a platform for children of all ages to express their hopes, fears, thoughts and observations, as they navigated life during a global pandemic.
What started in Ireland soon spread around the world and physical exhibitions began to take place, first in Chicago. Before exhibitions commence in Nepal, Italy and the USA some of the finest global work is on display at it's first ever outdoor installation at Killarney House and Gardens.
At lockdown, the Museum of Childhood Ireland reached out to children and invited them to share their thoughts and feelings regarding this time, using art, drawing, poems, or short stories. The museum hoped it might help them as they tried to make some sort of sense of Covid-19, from their perspective.
The collected works formed the basis of an online exhibition. The reaction from all over the world was phenomenal, and now the physical exhibitions have started – some in homes, others in schools, Galleries and Museums. So good was the reaction, the entire project was nominated in the final 6 of the Family Friendly Museum Awards 2020 alongside Glazer Children's Museum, USA, Andy Warhol Museum, USA, National Gallery Singapore, Rijksmuseum, Netherlands and the Glucksman in Cork in 'Best International Digital Activity' category.
But now, the Musieum of Childhood felt a physical exhibition back home would further provide a sense of community and togetherness. And so, the first outdoor physical exhibition is currently running at Killarney House and Gardens, Killarney National Park, Killarney, Co Kerry until the end of the year.
A selection of works has been chosen for the Killarney exhibition that is representative of all the themes submitted: Fear, anger, loneliness, guilt, joy. Lots of other works are online. .
Minister of State for Heritage Malcolm Noonan TD was delighted that Killarney House and Gardens, within Killarney National Park, is the venue for the first outdoor staging of this project, before it transfers to Limerick, then Nepal for the next outdoor exhibition.
He thought this project stood out for the way it put children and young people's voices front and centre. "We liked the international partnerships involved which reflected the global nature of the pandemic. This project is special because it combines some really powerful ingredients, firstly the enormous potential of creative expression to heal, to unlock and unblock and to bring resilience to our children."
The project was devised and implemented by the Museum of Childhood Ireland for St. Patrick's Day 2020. As entries from children around the world poured in, it was curated and launched it as an online exhibition on June 4th 2020, introduced by author Myra Zepf. The bespoke frames for the children's work were designed by author/ illustrator Carol Ann Treacy.
After Killarney, the next outdoor exhibition in Ireland will be in Limerick, and at the Udaaya Museum, Kathmandu, Nepal as an outdoor physical exhibition with workshops in January 2021.
It will be an online exhibition in December with INACS, the Istituto Nazionale Arte Cultura Spettacolo, Italy, on ViMuseo from January 2021 and Art Center, Illinois, USA.
Further exhibition/workshop venues at home and abroad will be announced throughout 2021. The exhibition in Killarney was greatly assisted by Sapphire Signs, Killarney and much appreciation to to Killarney House and Gardens for the spectacular setting."
Ronan Casey.
https://www.instagram.com/museumofchildhoodireland/
The wonderful Pat Dawson, of Killarney House and Gardens Killarney, Co Kerry, welcoming Indian Ambassador to Ireland, Sandeep Kumar on Sat afternoon 19th December. Ambassador Kumar was so interested to hear all about the Museum of Childhood Ireland & our Project 2020 Together, Le Chéile exhibition 'planted' in the wonderful garden setting there. The exhibition was launched by Minister of State Malcolm Noonan TD. This is our first out-of-doors exhibition, and the setting is so incredibly beautiful, perfect for a Christmas walk and reflection.


With grateful thanks to Sapphire Signs, Rathmore, Co Kerry.
Exhibitions around the world
January 2021, Udaaya Museum, Kathmandu, Nepal.
"It was an honour and so much fun to co-curate this 1st Children's Art Exhibition in the courtyard of the Udaaya Museum. Thanks to The Museum of Childhood Ireland for the opportunity to bring #Project2020/TOGETHER, LECHÉILE to Nepal.
Thanks Sumon kamal Tuladhar for making this happen with your wonderful team! Exhibition shows the influence of #Covid19 on today's society, through the eyes of children around the world.
Roop Jyoti Kasa,President of #UdaayaSamaj & Nil Kaij Shakya, Ward Chairman of ward 25 inaugurated the exhibition today! 🎉Friends and colleagues in Kathmandu, bring your family, children, friends and neighbours to this 5-day outdoor pop-up exhibition in Ason Tol!
https://www.linkedin.com/pulse/udaaya-museum-kathmandu-nepal-luca-merlijn
Luca Merlijn
December 2020, Città di Angri, Salerno, Campania, Italy.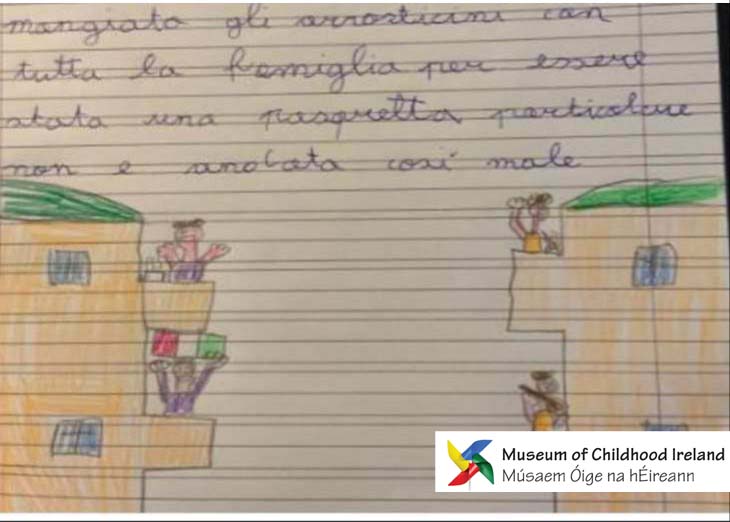 Huge thanks for the 17th City of Angri Award – International, digital 2020. Delighted that the Museum of Childhood Ireland was invited to take part with Project 2020 Together,Le Chéile, (The voices of our children during the pandemic.) So honoured to receive this award.Thank you. It is wonderful to see the continued reach of this Irish initiative.
And to also be the recipient of this years award, 2021! Thank you again.
#voiceofthechild #children #rightsofthechild #childrensrights #childmentalhealth
Giuseppe Novi
INAC – Instituto Nacional de Artes do Circo #premiocittàdeangri #museumofchildhoodireland @sara nosarini
from October 2020, at the Arts Centre, Highland Park, Illinois.USA.
…our first physical exhibition of Project 2020 Together , Le Cheile,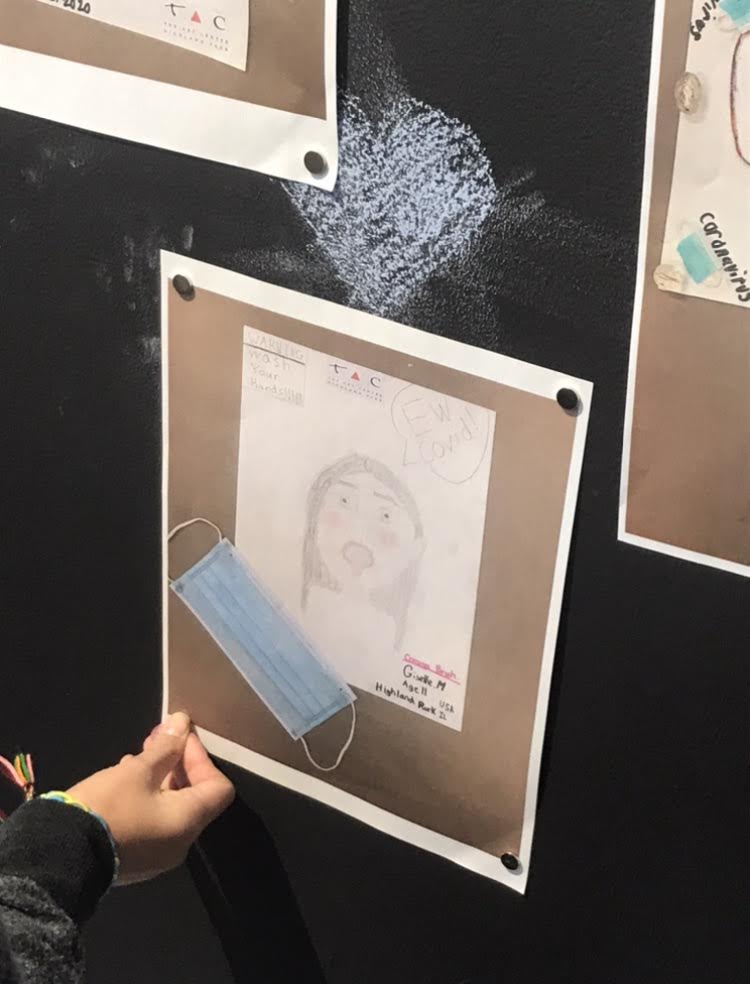 About Our Writing/ Art Project (and Exhibition)
The Museum of Childhood's Project 2020 Together, Le Chéile online exhibition launch on June 4th 2020
Note: Due to the unprecedented volume of 11th hour submissions, verification issues, and some submissions displaying surnames etc, we have not been able to upload every entry yet. But don't worry! These will continue to be uploaded on this page throughout the coming months. Some fantastic children submitted multiple entries, and while we unfortunately only have room to display one of them for now, we will endeavour to display the other equally wonderful Works, over time.
Tarraingíonn scéal scéal eile. One story begets another. In this strange and unsettling time of pandemic, the well-being and mental health of all our children is of paramount importance to us.
Project 2020 provides a platform for children of all ages to express their hopes and fears, thoughts and observations, whilst providing a sense of community and togetherness as work and art received is highlighted through a virtual exhibition.
"Project 2020/TOGETHER, LE CHÉILE" will allow us to hear our children, and in doing so learn from and understand their perspective.
We hope to provide children here in Ireland and throughout the world with tools to help them make some sort of sense of this pandemic from their perspective.
Each week, during lockdown, we released a "common theme" and asked children to develop their thoughts using art, drawing, poems, or short stories. Each work will be published on our virtual exhibition to provide inspiration and a sense of "togetherness" and "closeness" to other children who would like to participate, or who simply, would like to observe the work done by others.
Arts becomes a channel to communicate during this time of isolation, giving children and their families insights, inspirations, and examples of how other children and other communities around the world are experiencing this moment of emergency.
What we need from you!
We are looking for story entries of between 100 and 500 words or illustrations that fit on A4 size paper. Children are welcomed, indeed encouraged to make submissions in their native/first language (we will need help with some translations though!)
Simply email your children's entries to:
info@museumofchildhood.ie
We invite submissions from parents / carers, of their children's work. Entries are open to children up to 18 years of age. We welcome submissions in any order and under any of the theme headings. Closing date for the 1st online exhibition is 29th May 2020. However you can send entries in at anytime for the duration of the pandemic, as further online, as well as physical exhibitions are planned.
Devised and curated by Majella McAllister, the 1st online exhibition will be launched by Myra Zepf on Thursday June 4th at 4pm; with wonderful frames designed to compliment the children's work by Carol Ann Tracey. Further online exhibitions are planned. Worldwide physical exhibitions will follow too once it is safe to do so.
For more details please see press release link here:
This exhibition will be a worldwide voice of the child during the COVID-19 pandemic.
Please feel free to share this initiative with your friends all over the world, so it's reach is as wide as possible.
Physical Exhibitions.
We plan to host physical exhibitions of the children's work received when it is safe to do so / when the Pandemic is finally over. The exhibitions will take place in Ireland (outdoors and indoors) and at locations throughout the world. We will post as exhibition locations are confirmed.
Go raibh maith agaibh go leir!
Thank you to all the children at home and around the globe who contributed their voices to this project. You spoke. We heard you.
I've so many people to thank for their help on this project, all an absolute joy to work with. My colleagues on the project: Katia Tikhoniouk, and Valentina Salaris .Thank you to the amazing authors and illustrators Myra Zepf, and Carol Ann Treacy. Also huge thanks to our panelists on the day: Dr Sarah-Anne Buckley, Dr Gabriela Martinz Sainz, Esther Ayo-James, Alannah Murray, Alannah O'Sullivan, fellow colleagues from the MCI Project. Community activists, and panelists for the launch: Mary McDonagh, Ola Ouluwaseun, and Austin Campbell, thank you, and all the wonderful friends we've made at home and throughout the world, Leanne McDonagh Art, Cork, James Brandon, Tate, and Groundswell Arts, London, Mike Murawski,USA, Lauren Perlman at Mummies and Masterpieces,USA, Nenna Okongwu at the Nigerian Museum, Luca Merlijn at the Katmandu Museum, Iman Abouhasan, the Children's Museum/Egyptian Museum, Jouetta van der Ploeg at the Netherlands Museum; our friends at Giunti Academy and all in Italy: Alfredo Giacchetto, Rossella Genovese, Edoardo Lampis, Adolfo Parente, Sara Cartolano, Annarita Bini', Maria Giulia Voltin, Giuliana Lutricuso, Flavio Pessina, Samuela Caliari, Flavio Milandri, Danusa Castro, Benedetta Baccaraura Chiesa, Loredana Pellegrino, Benedetta Baccaro, Veriana Sepiacci, Carlotta Bonifazi, Alex Pinna, Ausilia Venturella, Fantaricuclando association, Metamuseo Girovag, Centro Italiano Storytelling, Gaetano Di Tondo, Luigi Emanuele di Marco, Patrizia Asproni, Children's Museum, Verona, Explora, and Città dei Bambini,Roma. Grazie mille!
Click here for our Terms and Conditions
https://www.rte.ie/learn/2020/0722/1154920-international-award-nominations-for-two-irish-museums/