…of our childhoods
Tony Gunning, Dublin and Waterford, 1960s
A formal photo taken in Jerome Studios, Mary St., Dublin back in 1961 on the occasion of my Communion (aged 6 and 1/2).
A Year From My Childhood
1966 was memorable for so many reasons that greatly influenced my future life. It was the year England won the World Cup. It was the year we commemorated the 50th anniversary of the Rising. It was the year I made my one and only trip to the Gaeltacht and it was the year that John Mayall's Bluesbreakers album was first released. The latter didn't impact on me for another two years but it was a defining album in my future musical journey.
Up to the summer of that year I had no interest in sport. I can remember my father giving me ten bob to buy a pair of football boots or a pair of boxing gloves. I had no interest in either but figured I could share the boxing gloves with my brother. One could have the left glove and one could have the right and with my brother being three years younger I could box the head off him. I can still remember them vividly. Orange leather…well not really leather but plastic covered cotton wool. It all ended in tears when I boxed his ears too often.
Back Row: (left to right) Harold Shepherdson, Nobby Stiles, Roger Hunt, Gordon Banks, Jack Charlton, George Cohen, Ray Wilson, Alf Ramsey.
Front Row: (left to right) Martin Peters, Geoff Hurst, Bobby Moore (Capt.), Alan Ball, Bobby Charlton
England's World Cup 1966 team with manager Alf Ramsey. Credit: PA:Empics Sport. https://www.google.com/amp/s/www.thesun.ie/sport/football/9947713/england-1966-world-cup-winners-alive/amp/
With Ireland not involved at the World Cup finals the whole nation supported England. Football mania infected us. All the England games were shown on T.V. We only had a black and white but I can still remember the sense of excitement every time England played. Everyone was glued to theirs or their neighbours T.V. to watch the final between England and West Germany with everyone shouting for England. This was less than two years before the 'troubles' in the North. It was like Italia 90 before we knew what Italia 90 was. I got fired up with the spectacle like everyone else. I don't remember the games but can still recite the England team by heart. We saw highlights of the final in colour on Pathȇ News a week later in the Gala cinema. Throughout the summer of 66 street football got more and more popular. Organised football these days starts at under 8 but back then it started at under 13. Street football was a free-for-all. I was only eleven but my pals were all ages up to 14. When one of the adults finally took us in hand we were all thrown in at the deep end at under 14 to get as many as possible involved. It gave me a love of football and sport in general that continues to this day.
Going to the Gaeltacht in Donegal was my first time away from home on my own but it was compulsory for entry to the scholarship in the 6th year of Primary. All secondary schools were fee-paying so getting a scholarship was vital. By the time I did get to sit my Primary certificate the following year the Minister of Education, Donagh O'Malley, had announced the introduction of free secondary education.
A wasted trip to the Gaeltacht?…..I don't think so.
Like most Dubliners I was born in Holles Street maternity hospital and baptised in St. Andrew's Church, Westland Row.
When I was just one year old my family moved to Waterford, where we stayed until I was five. I spent my childhood growing up in Ballyfermot where all my schooling, both primary and secondary, was with the De La Salle brothers. In secondary I had the option of studying either Art or Latin. My choice of Art was overruled.
I decided to skip 3rd level altogether and in 1973 took a job with the Revenue Commissioners where I stayed until 2000, mostly in the Customs & Excise service. I walked out the door of Revenue with a business degree, determined to find my own path as an artist. Again I skipped the formal training of Art College but my immersion in the art world over the next few years taught me more than I could ever have learned in an academic setting.
I had my first professional success as a finalist in RTE's 'Open House' art competition in 2002 leading to my first solo show at the Davis Gallery in Dublin which sold out. I've had fourteen solo shows since then and have far exceeded all of my ambitions as an artist. My work has been selected for many prestigious group shows including Royal Academy, Royal Hibernian Academy and Royal Ulster Academy annual exhibitions. Internationally I have exhibited solo at the European Parliament and represented Ireland at the Florence Biennale in 2006. At EV+A (Ireland's foremost contemporary art showcase) in 2007 I was winner of the Curator's Award and the Bank of Ireland Emerging Artist Award. Two pieces were purchased for the Bank's collection.
I was very privileged to have had work exhibited in many of Dublin's leading galleries until the recession of 2008 which forced most of them to close their doors by 2013.
I continue to work from my studio in Bray, where I now live. I am a member of Visual Artists Ireland and the Signal Arts Society.
Website:  https://tonygunningfineart.com/
E-mail: tonygunningartist@gmail.com
Instagram: https://www.instagram.com/tonygunningartist/
Facebook: https://www.facebook.com/tonygunningart
LinkedIn: https://www.linkedin.com/in/tony-gunning-19421544/
Deirdre McGuirk, Ballyfermot, Co Dublin, 1970s
A photo of me, Brenda, my mam, aunty and brother's arm!
The Horse Show.
Every year there was great excitement in our household for the RDS Horse Show. This excitement was not that we were going, but we were actually taking part. OK I know that does not make sense, but in the world we live in today it could be said that we were taking part remotely!
My elder sister, brother and I, inspired by Eddie Macken, would set up a series of jumps in our back garden in Ballyfermot. All brushes, mops and buckets would be transformed into jumps in our small back garden. Our little wall in the garden was also used as a jump. We would giddy up, click and slap our hips over each jump. I cannot remember who won, all I remember was the great fun we had and we still talk about it today.
Great summers and great imaginations.
Deirdre is originally from Ballyfermot and grew up in a family of 6 with her mam, dad and 3 siblings, close to the CIE works in Inchicore. "Our road was a very tight-knit community and we knew all our neighbours. We spent our days out playing in the fields and by the Liffey Bank and the Memorial Gardens. Ballyfermot was a great place to grow up." Deirdre loves history and folklore and collecting traditional Irish customs. She is now a tour guide in the NMI, Co. Mayo and is completing an MA in Public History and Cultural History.
Keith McNulty, USA and Germany, 1980s
The day I met the King.
"When I was 14 years old, I met Pelé, the "King of Soccer." It was May 24, 1983.
Pelé led the Brazilian soccer team to three world cup championships, in 1958, 1962, and 1970. Many see him as the greatest soccer player of all time, and he coined the phrase "the beautiful game" to describe soccer. On a promotional tour for Puma, Pelé visited Germany to sign autographs. My family lived in Düsseldorf from 1981 -1984, when my father's company moved him to Germany with his family. He signed autographs in Düsseldorf at the Kaufhof department store. This is where I met him.
I first learned about Pelé at the first professional soccer game I ever attended. My father Dan took my brother Will and me to see a home game for the New York Cosmos in Summer 1980, at Giants Stadium at the Meadowlands in New Jersey. Pelé had played for the Cosmos from 1975-1977, so he was not on the team at the time, but the team had become famous for the fact that he had played for them. Other famous international star players for the Cosmos from that era were Italian striker Giorgio Chinaglia and German sweeper Franz Beckenbauer. My brother and I originally started playing soccer at a club in Fairfield, Connecticut, around 1979, so seeing the Cosmos play was inspiring for an Irish American boy who had just learned to play soccer.
At the time I met Pelé, I was playing soccer for my school team in Germany. Our coach, Barry O'Farrell, was from Ireland. When I met Pelé, I was starstruck. His reputation was larger than life, but in person, he was average height, and appeared to be otherwise an ordinary person, although he radiated confidence and had a great smile. Reflecting on that moment, my impression was he enjoyed being himself and was grateful to his fans for the recognition and respect he received as a soccer player. He was blessed, as a master of a sport that he loved and that was loved by so many adults and children around the world.
Pelé signed a photo of himself and my blue adidas shirt. I still have them. "
Keith McNulty
January 11, 2023
"I forgot to mention, this movie had Pele in it, and it was released in 1981, so I had another reference point about Pelé from that time." Keith
https://www.imdb.com/title/tt0083284/
https://en.wikipedia.org/wiki/Pel%C3%A9
Nora Corcoran, Co Galway, 1960s
"I was a Christmas Gawyer/ Baby/, born December 1967.
Any time I am presenting, I like to tell the audience how my family used to tell me I was brought back to the "TaeMan's", the area in Co Galway, ( possible location in the pic below of my immediate and extended family), where my family were camped. I wear this memory with pride now, a rite of passage from my Mincéir Heritage.
I come from a big family, I have 10 brothers and three sisters, and I am the fourth youngest. My father was a Tinsmith, eking out a meagre living, trying to compete with the more popular plastic. We were ofttimes going to bed with hungry bellies, and were only too glad of the daily dinners at school lunchtimes, prepared by the Sisters of Mercy, who ran the local primary schools at that time.
We lived in the country for most of my childhood. At the time I hated it, wanting to live in the town, so I could walk to school with my friends, instead of getting the school bus, and having to constantly endure the shame of being called dirty Tinker by the non-Traveller children. Many a fight my brothers had standing up for us. Nowadays, aside from the memories of the name calling, I am so happy to have the memories of living in the country. The fields and woods were our playgrounds. Long hot summers were spent running wild, climbing trees, and going on picnics. Autumn yielded an abundance of tasty treasures; honeycomb apples, blackberries, wild raspberries, hazel nuts, plums and damsons. We were natural foragers, though I only recently learned this was the word for our "picking".
I was the typical tomboy, fighting for my space in this big family. I challenged the boys to races and bragged about my victories. Myself and my friend were always picked to be goalies, because we were better than the boys.
But my great passion was reading. I first remember when I started school, I would stare at the pictures, frustrated because I couldn't read the text. I learned quickly and halfway through the term, I was moved to a higher class, as I had started school, with my two older brothers and one younger all on the same day. We are all moved to classes closer to our age groups. I remember the teacher getting me to read two ladybird books to catch up with the others.
"Are you tired, do you want to stop Nora?". She asked me.
I replied, "No miss, I want to keep going!" I was in a hurry to catch up with the rest of the class!
Books were my escape from my impoverished childhood. I was an avid reader and devoured any Enid Blyton books I could find in my local library. I also loved the "Just William" series, and the "Nancy Drew" mysteries.
As a child, I was conditioned to believe that I was less equal than non-Travellers. My parents were very subservient, accepting a less equal place in society, and this was the example I was expected to follow.
They were also illiterate, and my father used to love showing off my reading skills to anyone who would listen.
My mother was a great storyteller and would regale us with stories of myths and legends. I truly wish that those stories were archived, as sadly, they died with her.
Sadly, my formative years were also filled with discrimination, exclusion and marginalisation.
My one abiding memory of growing up is not really fitting in. I didn't really fit in with my Traveller or non-Traveller peers. I put this down to losing myself in books, losing my Traveller identity. Trying to fit in with the non-Travellers as I became increasingly ashamed of my Mincéir background.
How I wish that I could have seen my Traveller self in the picture of the storybooks I read.
I truly believe it would have changed my life, given me more self-acceptance. I now cherish my ethnicity and mourn the loss of not embracing my rich culture and heritage as a child. That part of society that denied me an authentic equal childhood, through forced assimilation, oppression and marginalisation, needs to right that wrong. Part of this is to make our country more inclusive. Let Traveller children see themselves in the pages of story books to allow for positive change in the future for our children and future generations.
Nora Corcoran.(2022).
Siobhan O'Sullivan Morrin, Dublin, 1950s
"My Aunty Una wore trousers – but only at weekends or on holidays cycling around Monaghan with her cousins. In 1950s Dublin it was a rather daring thing for a lady to do – and the garment was always referred to as 'slacks' to take the harm out of it. One Saturday morning in December 1959 Una called over to our house to deliver a parcel for me. She was a tailoress like my Granny before her and the parcel contained my Christmas present which she had made herself. I can see her standing at the end of the stairs with my mother waving up at me. I knew who she was, what was going on and most importantly was aware that the moment was imprinting itself on my brain. I was two and a bit years old and I knew I was now capable of making memories.
Christmas for me as a child and a young adult was always the sweetest and most exciting time of the year and for anyone who lived in Dublin a trip into town in December always involved that magical walk down Henry Street. I remember the lights – rows upon rows of them strung high across the street – yellow, orange and red in that order. A star at the top of each set and six glowing ribbons of bulbs streaming down. Under the lights were the stalls filled with decorations, wrapping paper and toys. The 'Cheeky Charlie' a grey furry monkey puppet with strings was the most famous toy, remembered by many generations of children.
'Get the last of the Cheeky Charlies' the traders called though oddly enough another Charlie was produced from a box as soon as the alleged last one was sold. Unfortunately Charlie never made it home to my house, my mother generally favouring dolls for girls. I think she found him too grotesque to be honest. He had very wild eyes and a strange smile. Instead I was given a small grey clockwork donkey whose tail whirled around. The donkey, Neddy, suffered an injury to one of his legs leaving him unsteady on his feet. He was sent to live in the china cabinet and only ever taken out by appointment. He gazed out at me from the top shelf where he stood in a forest of good drinking glasses keeping company with a showgirl doll dressed only in feathers.
In the fifties and sixties clockwork toys were fiercely popular. Not for us the 'batteries not included' proviso on a box but a metal key to wind the toy to life. Mine was a dancer named Matilda, her mechanism hidden under her yellow skirt. It would be wound carefully – 'not too tight mind' – before she was let loose on the floor to waltz on her little wheels, collide drunkenly with the furniture, and finally topple over leaving the doll with a dinged head, poor thing. Later, the keys were abandoned in favour of revving the toys up by brushing the rear wheels on the floor. This latter sort were nearly always vehicles of one type or another. A miniature red sports car driven by a doll with a ponytail of nylon hair streaming behind her plastic head drove into our front room one day. She amused me greatly for many years and had far better luck than poor Waltzing Matilda ever did.
Back in Henry Street Santa was to be found on every street corner and occasionally you might see two at the same time. A teacher at school explained this by saying these weren't the real Santa but they were Santa's brothers who came down from the North Pole to help him out. I didn't believe her. I knew, as did most of my classmates, that these imposters were just men dressed up. Like the Great Oz, the Man in Red was unseen and contactable only by letter or communication through your parents.
Being an only child I was extremely shy in the presence of strangers so I hated meeting a Santa imposter in shops. However I did enjoy the present and the trip to the North Pole – through Aladdin's Cave or on a sleigh drawn by Penguins in Pims of George's Street, a shop long since gone to make way for an office block.
'Pyms have the best Santa,' my Mother would say though she never specified the criteria for excellence.
On Christmas day though, Santa always turned up trumps! I never had a complaint about the delivery even when it was a surprise. There were always books – the annuals Bunty, Judy, the Princess Ballet Book and the Look and Learn – full of facts, history, legends. My Dad always read that one, sometimes even before I did!
There were always dolls – plaster ones with wigs glued on, others with rooted washable hair and once a knitted black doll whom I loved to bits. A neighbour, a contemporary of my Granny's, knit him for me and he arrived with a small bar of Cadbury's chocolate one Christmas Eve. I took a notion after reading some story or other and offered him to my Dad, an actor, to use as a lucky mascot. That little doll had a great life going to New York, London and dressing rooms in every theatre in Dublin!
I only ever spent one Christmas Eve night away from home. My Mother and me stayed not far away with my Granny and when we got home on Christmas morning I found a child sized wooden dresser with two tea sets – one a beauty, cream with gold edging and little knives, forks and spoons. Years later I found out that in my absence my Dad had set out the display of plates and cups on the shelves and cutlery in the drawer, with the annuals and the second tea set in the cupboards below. Another year I found a child's record player with two dozen multi coloured kids records, I had my parents out of bed at half five that morning and all records played by seven am. Reading through this the gifts might sound extravagant but I was an unexpected and only child in a small family of adults. Christmas and birthdays were days of being spoilt. I can assure you that for the rest of the year life was normal.
Meanwhile back to being two and a bit and Aunty Una and the outfit – when my mother opened the parcel she found a red coat trimmed with white fur and a matching bonnet. Delightful but that wasn't all. There was another item in the bundle – a pair of red trousers just like Aunty Una's! My Mother was charmed. She bought me matching red shoes and booked a photographer to call to the house. As is the way, I had grown out of it the following year but I still have the photographs!
I was born in August 1954 in Dublin between the two canals – the definition of a true Dub!
My Dad, Archie to his friends, was an actor in the Radio Eireann Players * at the time. He was also a Dubliner. My Mother Mary, a Tipperary woman, like many women of her time worked in the home.
I was an only child, a total surprise apparently, and grew up in a very small family surrounded by adults who liked to talk a lot. The family circle was made up of one Granny, two Aunts, their husbands and my cousin. These relations were entirely my Dad's family, my Mam having been orphaned at age ten lived at a distance from her own people.
Childhood was a happy time though with my Dad's work, especially when he opted to go freelance when I was about six, financially life was sometimes precarious. I can still recall my Mam's face when he came home and announced that he'd quit his job.
When they married, Dad bought a small cottage, originally built for workers at the Westland Row (Pearse) railway station. But the fact that he owned his own home, albeit on the bijou side, gave security and permanence.
The direction my formal education took was totally accidental. I was to go to a fee paying primary school in Leeson Street but someone mentioned that there was an Irish speaking school in Earlsfort Terrace which was free. Obviously this later proved a blessing. This was Scoil Bhride*, co founded by Louise Gavan Duffy who had worked with P H Pearse in St Enda's. Though the place was steeped in history the parents of the pupils were an eclectic mix with varying social, economic and political backgrounds including some actors. The school moved to new premises in Ranalagh.
When it came to secondary school I opted to go with my friends to Scoil Chaitriona** in Eccles Street, another Irish speaking place with an equally wide mix of people. This I absolutely loved. The nuns. Dominicans, encouraged thinking for yourself and asking probing questions.
The fun stopped when I opted for a job in the Civil Service instead of going to college. I wanted financial independence but initially I hated the work. I did later find a niche there and learned a lot during my twelve years there. I chose to leave after my Dad passed in 1981 and career wise meandered along until I began working in Charities on the Business and Admin side some fourteen years later. The world of voluntary bodies is difficult to describe – the two agencies I worked in provided services to homeless people and drug users. It changed my perceptions totally – places of extremes both for service users and staff with much despair and much to hope for.
But what am I really? The last paragraph was the day job. My real interest is amateur theatre. I've been involved for forty years (sharp intake of breath here for me) in all aspects,9 acting, directing and writing. And I've been in musicals, pantomimes and plays. I've often described the group that I belonged to as the village I grew up in. I also write fiction (as yet unpublished).
And that's about it, save to say I am now living in Drogheda with my husband."
Siobhan O'Sullivan.
December 2022
*https://dbpedia.org/page/Radio_%C3%89ireann_Players
** https://catalogue.nli.ie/Record/vtls000277340
*** http://www.scoilchaitriona.ie/page/StairHistory/55132/Index.html#:~:text=Scoil%20Chaitr%C3%ADona%20was%20founded%20in,on%20the%20Le%20Ch%C3%A9ile%20Trust.
Rafael Medina, Puerto Rico, and Brooklyn, New York 1950s
"My father came first. He landed a minimum wage job in a factory and then we followed. My mother was able to sell what was left of our house and belongings for three hundred dollars which was all the money we had.
In the beginning we lived with my father's sister who was well established in a large apartment. Shortly after that my father found an apartment in a sixteen-family tenement. We were lucky, the apartment was rent-free but we had to maintain the building. We were called all kinds of names but officially we were the "supers" of the building. Since both my parents worked long hours, my brothers and I were charged with all the labor that went with keeping the building clean and in working condition.This meant that we did everything from changing light bulbs, sweeping and mopping the public landings, stairs and hallways, to unclogging drains and collecting every tenant's garbage on a daily basis, except Sunday.
When you are a child living in a poor neighborhood, you don't really know you are poor. With a few exceptions, mostly everybody in that ghetto neighborhood were also migrants and poor. Of course there were several kids of other nationalities but none of us made that distinction. Buddy was the first Irish person I ever met. He had red hair and a great sense of humor. He was also the leader of our gang. He had a younger brother named Rusty and together we made our street a public playground.
None of us had fancy toys, so we made our own. Everything from bottle caps to shopping bags were converted into play things. An Italian woman named Marie owned the local news stand and candy store. She sold us tops and Yo-yos and Spalding balls for pennies. She would also give free candy to some of the really poor kids who only had a single parent. She knew us all by our names including our parents. Attached is an illustration I painted of all the toys we made and a picture of the view I had from my bedroom window…
One other toy missing from this picture were balloons. Marie would sell them to us for pennies. We would fill them up with water and bombard people from the rooftops. Marie would let us hide in the candy store whenever the cops came after us.
A "chiringa" was a kite made from a paper shopping bag and had long paper tails. At the end of the tail we would attach a razor blade and compete by racing the kite across the opponent's lead string to cut it and send their kite flying into the street. One day in the heat of our competition a boy named Augie tripped and fell four stories below from the roof. We ran in a panic and when we got to him, he was laughing and hanging, two feet from the ground bundled up in ropes and laundry. He fell on the side of the building that had all the clothes lines. He hit every single one which wrapped around him, breaking his fall. My father was very angry with us not because we were playing a dangerous game but because he had to replace all the clothes lines.
A broom handle was my most favorite toy of all. "Stick Ball" was the game played by all the kids in the hood and on weekends the fathers would join in. Whenever the fathers played all the mothers and any visiting relatives would sit on the tenements' front stoops drinking beer and cheering for their team playing in the street.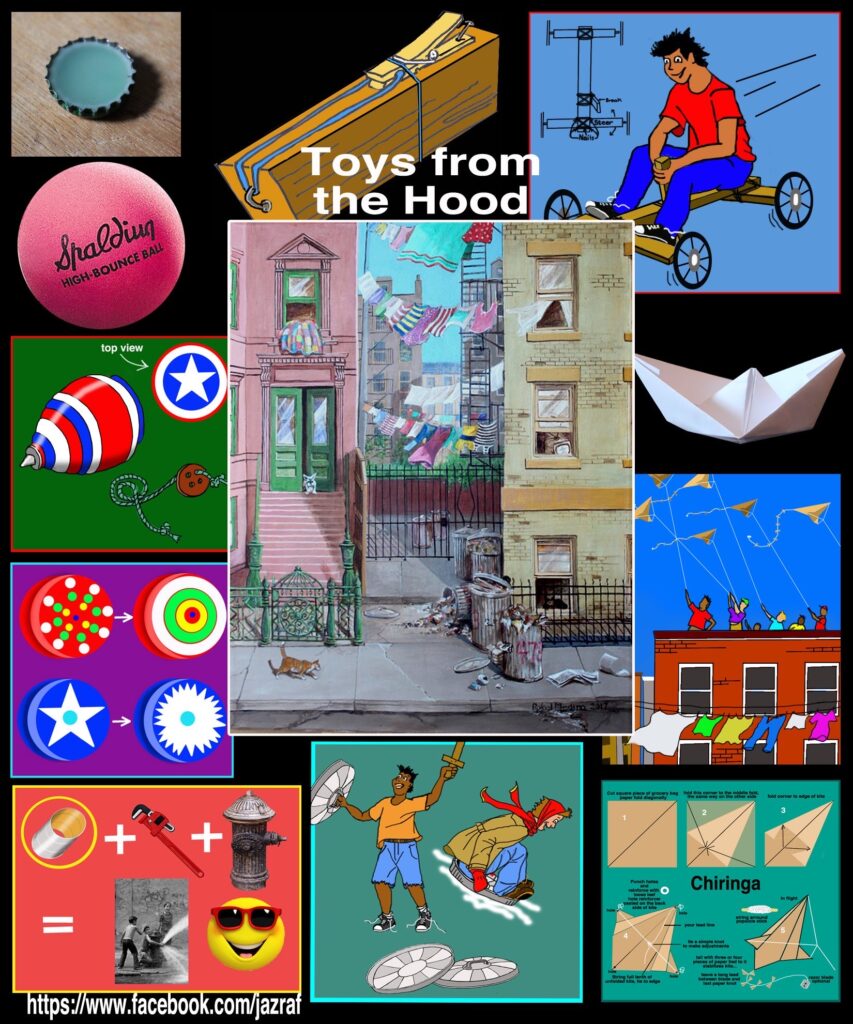 A child can create a toy from just about anything. We proved that all nationalities can play and get along by using our collective imagination…if only we did that as adults. "
Rafael Medina.
Maria Clery, Rialto and Ballymun, Dublin,Ireland 1950/60s
"I come from a large family, seven children plus Mammy and Daddy, not a lot of money around but my parents Kevin Breen and Margaret Hendrick always made sure we had a summer holiday.
Most of our holidays were on the north side of Dublin, in Donabate where we climbed on the rocks and dunes, Rush where we often helped out with the tomato harvest and earned pocket money, Bettystown, running across the golf course to get to the beach, Mornington and the tower. I remember climbing up it with my brother. I'm sure we were about ten and eleven.
Ours days were spent on the beach and wandering around the area. We had a lot of freedom, collecting cockles mussels and winkles boiling them up for dinner, picking potatoes at the back of St.Ita's home.
Our food was different from our usual fare. Rice Crispies and Cornflakes for breakfast, sandwiches for lunch and salad for dinner (my dad was never happy with that!). We got chips from the chipper and sometime fish from the fishermen.
We stayed in caravans, beach huts, (more like shacks), and once we had a huge house in Virginia by the lakes.
We didn't have a car so our uncle Liam Breen used to pile us in his car, all nine of us !
They were wonderful holidays and the sun always shone."
Maria Clery
Alan Esplen, Gravesend, Kent, England, 1940s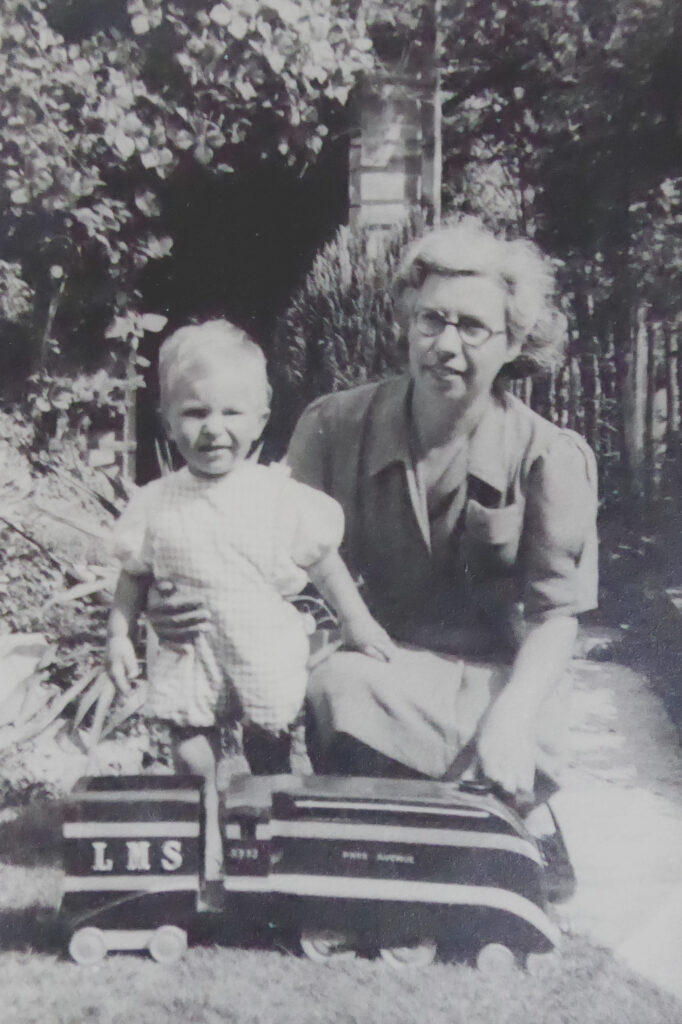 Alan Esplen, on how he became a lifelong Meccano enthusiast.
"I was born just after the end of the Second World War in 1946. Mum did not work and I have a memory of her taking me in my pram to help sort out the estate of my late Grandfather. I was probably a toddler at that time. He farmed in Northfleet and Higham Kent. She had worked on the farm in the office since leaving secretarial school. After this she had no other work and remained a housewife. Money was always short although my parents owned the house rented then purchased from the builder, during the Second World War. Most of my toys were made by my dad from scraps of metal and wood in a small workshop in the "box room." This I imagine sparked my interest in making things.
The picture taken in the summer of 1947 is of me in the garden with Mum and as I remember a beautiful blue engine made by Dad.
I cannot remember when I first badgered my parents for a Meccano set but I must have been about 5 years old. However when Christmas came around I was given a small construction set but to my disappointment it was not the Meccano set I had longed for but a poor imitation! The parts were tin and dull zinc plate steel with the same hole spacing as Meccano but the strips were crude, flimsy affairs compared to the glossy green and red Meccano parts I had longed for. Meccano was an expensive toy and I imagine Mum and Dad bought this as it was no doubt much cheaper. I have no idea who manufactured it. I do remember it having a very small instruction booklet and the set bringing me a great deal of pleasure. Dad often made me new toys from the set after I had been tucked up in bed. One I remember was a Ford Consul. At that time he worked on the production line at the Ford factory in Dagenham assembling those cars.
I was determined though to get some real Meccano and saved up my small amount of pocket money. Gravesend in the nineteen fifties had three Meccano dealers two of them, W.G. Shaddick and Halfords stocked spare parts. The former was my favourite. Upstairs was a large wooden cabinet on a counter top with lots of drawers where parts were kept. This was presided over by a Lady who had worked in the store before the war, only she knew where all the parts were, no other member of staff ever served Meccano parts! It was a rare treat to be allowed to look inside the compartmented pull out trays, as boys usually had to stay at the front!
On the front of the cabinet was a large coloured illustration behind a pane of glass showing all the parts in the Meccano range. I remember sometimes being disappointed because a part I wanted was not in stock and Mum getting impatient as I made up my mind, drooling over the illustrations, as to what other part or parts to choose or afford. The parts were wrapped in brown paper with a label showing the part number or in yellow card boxes. If you bought all the parts that were left in box you got the box too!
I must have gone on a lot about having "a real Meccano set" because when I was seven or eight, I received for Christmas a large second hand pre-war No. 7 set. It consisted of sets 5, 5A and 6A the parts were finished in gold and blue with red wheels and pulleys. Meccano colours that I had never seen before but I was in heaven. No matter about the strange colours, what joys! I can still remember my Mum telling me that I was only to take one of my treasured boxes to Grandma's on the Christmas day I was given them. I continued to play with my Meccano and buy more parts throughout my childhood until well into my teens. When I had the chance to go to Art School and was accepted it was packed away. It was not got out again until I had children of my own and my interest was re-kindled but that is another story.
My first Meccano build for 2022 had to be of course an antique. It is a steam Wagon based on a model in a 1928 set 00-3 manual. The model is built with original circa 1930 parts and motor. I first came across it when I was given the manual as a lad in the 1950's but never built it till now.
In the past two weeks I have made three of these steam wagons based on Meccano manual instructions. From left to right: 1928, 1934, 1937. The fourth is my own design made earlier."
Alan Esplen.
Mary Elizabeth Hunt-Judge, Castlerea, Co Roscommon and Newark, NJ, USA 1900s
"My Grandma Mary Elizabeth Hunt – Judge came here ( Newark, New Jersey) at 17 years of age from Castlerea, Co. Roscommon. She married my Grandfather Thomas Judge and had 10 children. This picture of her with my two aunts and Uncle is from the early 1900s.
Her husband died at 41 years old from a goiter. She was a young widow and the remaining kids including my mom and her brother dropped out of school to support the family while my uncles served in WWII.
She was the strongest person I ever knew with a kind heart. I'm grateful to her and my mom for instilling those tough Irish values in us. I was 17 when she passed away at the age of 86. When I was a little girl she would braid my hair and hers. It was very long, jet black on the bottom and white on top. She had olive skin and beautiful huge blue eyes that were passed on to all of us. She would pray to the Virgin Mary every day and go to church and always said that she asked God every night to let her die in her sleep, and she did. She deserved peace."
Debbie Gencarelli Chacon.
Leo O'Kelly, Carlow 1960s
"The three dancers in the photo are from the McDarby School of Dancing, Carlow.* The two girls in front are Kathleen McDarby's daughters, Geraldine (leprechaun), and Colette. Breda O'Meara is the girl at the back…
They were a group of young dancers and musicians from Carlow. My brother, Hugh, and I occasionally accompanied them.
We just went under our own names, Leo & Hugh O'Kelly.
We were asked to perform on Seoirse agus Beartlai,** an RTE children's television show which also featured later-to-be stars like Twink and Alma Carroll. Hugh normally played piano, but as there was a resident pianist, he played spoons instead. I was 15 and Hugh was a year younger.
I honestly don't remember playing anywhere else with them, except for the TV show. I remember now that the school of dancing was at the other end of our street, College Street, so that may be why we were asked.
In 1965 Irish television was just a couple of years old, so it was especially exciting for us. I got Larry Gogan's autograph outside his dressing room and would not let anyone else sign my book after him! My mum, wisely, hired a local photographer, Donal Godfrey, to take a picture from the television set."
Leo O'Kelly.
https://www.facebook.com/leo.okelly
https://www.ventriloquistcentral.com/ventriloquism-tribute/ventriloquists-20th-century/index.htm
https://stillslibrary.rte.ie/indexplus/image/2040/028.html
https://stillslibrary.rte.ie/indexplus/image/1007/055.html
https://stillslibrary.rte.ie/indexplus/image/2482/083.html
https://stillslibrary.rte.ie/indexplus/image/2482/085.html
**Seoirse agus Beartlai, RTE.
*McDarby School of Dancing, Carlow.
http://www.igp-web.com/Carlow/Mrs_McDarby.htm
Martin Coffey, Cabra West, Dublin 1950s
'This photograph was taken in about 1953. That's myself, sitting behind the railings in my pram in our front garden. ( Cabra West, Dublin) The photo was most probably taken on a Sunday morning because my brothers and their friend are all washed and polished.
The trousers the three boys are wearing were made by our neighbour who lived on the other side. Before she was married, this neighbour was a Seamstress and worked for one of the larger shops for Ladies', in town. She had to supply her own sewing machine when she started working and was allowed to take it home when she got married. She probably made the trousers for the boys out of old material that she had from skirts, dresses or coats that belonged to one of her three daughters.
The boy on the left is Hughie Quinn, sitting in the middle is my brother Brendan and then there's my other brother, Paddy. I am the middle child in a family of seven girls and eight boys. Our house had two bedrooms and a toilet upstairs and two rooms downstairs…'
Martin Coffey.
Norah Casey, Dublin, 1960s
"My Christmas. I still love this time of year. I remember when the biggest decision was whether to go for a Bunty or a Judy annual from Santy (never Santa). Usually Judy's heroine 'Bobby' Dazzler won out over the Bunty's Four Marys. The brothers would be pondering on Meccano or an air fix model. That was until Scalextric arrived. And talking dolls!
It was all about the excitement and anticipation. And thankfully the pre-Christmas flutters were mercifully short, starting when the school bell signalled the start of the holidays and we raced home to help put up the tree, just days before the big day. Then off to see the magic of the Christmas lights. There was always a visit to the moving crib in Parnell Square watching intently for the donkey to nod or one of the wise men to reach out a mechanical arm. Henry Street was usually next to get the 'last of the cheeky Charlies'. We gazed in wonder at Switzers' window and visited Santy at Cleary's. The house smelled of Christmas. I remember the spices and cinnamon of #magscasey making the Christmas cake and the rows over who would get to lick the wooden spoon.
On Christmas eve we'd be huddled in the kitchen listening to Santy on the radio reading out letters from children all over Ireland until we were shooed out from under her feet. The original celebrity chef, Monica Sheridan, would be on the tellie giving tips on Christmas dinner. The turkey stuffing would be made, the ham boiled, the marrowfat peas steeped and a mound of potatoes peeled. All our clean clothes would be laid out with pristine white knee socks and shiny shoes. All six of us, in and out of the bath in rotation ,were issued with stern warnings that Santy would not arrive unless we were asleep. We whispered to each other about imagined sounds on the roof… and there would be many early morning false starts with a holler from the parents to get back to bed. And of course he always came. With compendiums of games, dinky cars, Barbies and Sindys and we would race to show mammy and daddy what we got. We believed. And I still do… write that letter to Santy and see what happens! #christmasmagic #ibelieve #dreamscometrue "
Elizabeth 'Lily' Devine and Yoni Palmer Krepka, Dublin 1940s
"Children of Smithfield, Elizabeth "Lily" Devine (1942-2013) and Yoni Krepka (c 1942-?) are here photographed around 1949 on Blackhall Parade, Smithfield, Dublin 7, when she was talking her doll out for a ride on her tricycle.
Lily was the third of four children of John Devine who worked at Irish Wools Ltd on Queen's St. and Sarah "Sally" McGarry, who worked in Jacobs and then in Dolphin Hotel (now Dolphin House). Like all the girls from the neighbourhood, Lily went to school at the nearby Sisters of Charity Convent until she was 14 and then went to work in Jacobs.
Her love of cycling persisted, and in her late teens she joined the Harp Cycling Club in Phibsborough. There she met Billy McCarthy, who's family hailed from Stoneybatter. Billy was a champion cyclist. They married in 1963 and moved to Beaumont where they lived out the rest of their lives. They had two children, Karen, a journalist and best-selling author now living in New York, and Earl, who swam for Ireland in the Olympics and lives in Dublin.
Yoni Krepka was one of three children of Nancy Palmer and her husband, an Estonian merchant seaman whom she met in Belfast during World War II. The senior Krepka was much at sea and rarely saw his family. Nancy and her children lived at 111 N. King St. in Smithfield and were known to the locals as "Palmer" after their mother, and only used their father's name for official business, probably because Krepka would have been a very unusual name around those parts in the 1940s. Yoni went to the nearby St. Paul's Christian Brothers on Brunswick Street. In his teens, Yoni and his brother Revon moved to England, never again to be heard of by the locals in Smithfield."
Karen Frances McCarthy.
Sheree Atcheson, Co Tyrone, 1990s
I was adopted at 3 weeks old from Sri Lanka by an Irish family, raised in Co. Tyrone. I've openly shared what this has meant for me, through growing up as a child (and now woman) of colour in a very white space. I've used this as an avenue to expand on the ability of being both underrepresented & privileged 🙌🏽
Being Irish is something very important to me – it's where my family is and where I was raised. I've spoken at the Irish embassy on St Brigid's day, I've won awards from phenomenal Irish institutions & I was Queen's University Belfast's 2019 Grad of the year (& the first woman of colour to ever win this award in their 20 years of existence). Last year, I applied for my Irish passport. Being adopted, it was not a smooth process with lots of hoops to jump through because of my adoption being intercountry & registered on British register (I have a British passport too). But … now, finally after a year, I have it
There is something very emotional about having this little book in my hands now. Yes, I've always been Irish, and whilst those Irish dancing medals and my silver fáinne are great 😜 having my own Irish passport feels like the final tick in the box.
Sheree Atcheson.
Bridget and Frances Murphy, Derry, 1900s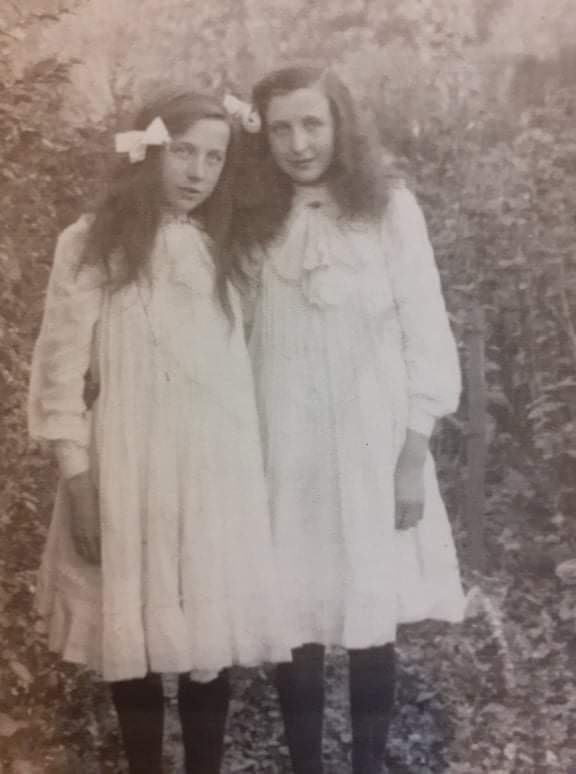 "AlI I can find out about the photo of the 2 girls is that the the taller girl is Bridget Murphy (my granny) and the other girl is her younger sister Frances. The photo was a professional photograph. The leafy background is just a backdrop. I don't know what the occasion was. Most likely taken in Co Derry around 1912. My granny looks 14, I think, and she was born in 1898, so that's how I have arrived at 1912!"
Kayte Mosse.
Jacqueline Ronald,Dublin, 1960s
Jacqueline Ronald's first holy communion 1967 / 68, with sister Margaret Mary, Goldenbridge.
"My sister Lorraine O'Reilly wrote this poem as a memory for me for my 50th birthday. It's the story of the frock in the photo."
Jacqueline Ronald.
Deirdre Caffrey, Dublin, 1950s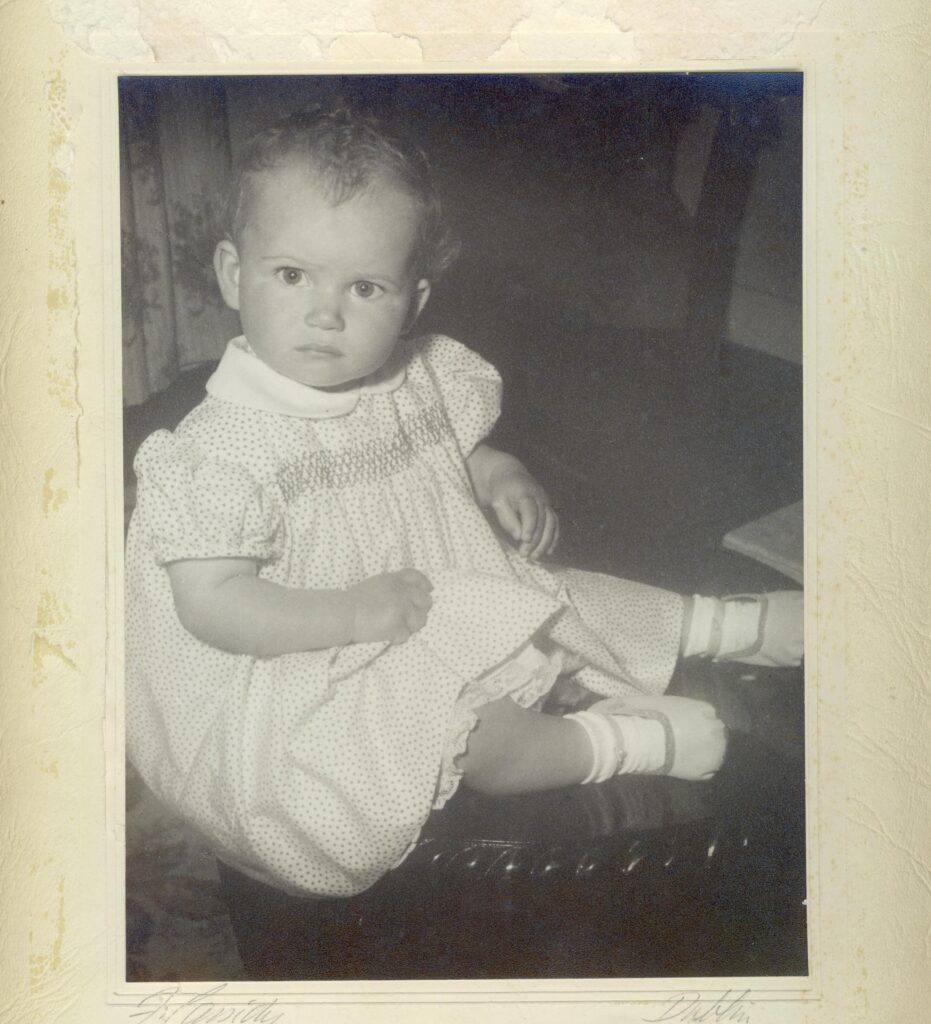 1957 Deirdre, first birthday.
Site 71 Quarry Avenue, Whitehall Rd, Dublin. Photo by 'Cassidy'.
The address changed to Greentrees Drive, Terenure, Dublin 12 in about 1959. It would change again decades later to Greentrees Drive, Manor Estate, Dublin 12.
The price of the house off the plan in 1953 was £1,725. My newly-engaged parents-to-be paid a £5 deposit. My father was earning about £7 a week then. They got a thirty-five year mortgage from Dublin City Council. The housing estate took over three years to be finished.
My parents married in 1955. For quite some time after they moved into their house they had very few possessions. They began with only a bed and a gas cooker. The cooker would last twenty-two years. Great-aunt Kathleen gave them an old armchair and 'a bit of carpet'. I learnt happily to crawl and walk on bare boards and then to climb everything I could.
1961 Deirdre with train, Assumption School, Walkinstown.
In Low Babies and High Babies my Dad sometimes cycled me to school on his pushbike, in a tiny wicker seat on the cross bar.
In First Class I walked a little over a mile to school by myself taking my brother by the hand. Mam was at home with the two younger babies.
A shy child, I preferred to play with my brother's train rather than my doll, Katie. You could go places on a train, although I never did. Where could a doll take you?
1963 Deirdre First Communion, Assumption School, Walkinstown.
Religion in our daily lives was supremely important, although it was more important to me at that stage to be six and three-quarters. By now I had a baby sister four months old, born at home, just like my youngest brother had been before her. My mother, an accomplished needlewoman, sewed my dress, and was particularly proud of the drawstring bag she eked out of the leftover fabric. She borrowed my veil. With three boys younger than me, and struggling to make ends meet, there was no point in buying a veil for only one or two occasions and laying it aside for several years until my sister would need it.
1963 Deirdre First Communion, gates near Kimmage Manor.
Three of my father's five brothers became priests. One uncle, then a Holy Ghost seminarian at Kimmage Manor, took this photo. My mother had made my coat and my lace gloves. She afterwards dyed my new white shoes a serviceable brown.
1966 Deirdre Confirmation
Photo taken in the photographer's house called 'Genazzano' on St. Peter's Crescent, Walkinstown. (Name not known of photographer to credit him.)
My mother managed to buy this beautiful suit for me, and new navy blue shoes and bag. She knitted the finest pale blue jumper for me to wear underneath.
My middle brother was seriously ill and hospitalised for a long time. Concern for him in the family always ran high. His treatment cost money and money was always tight anyway, despite my father working two jobs and my mother getting work when she could. Yet she paid for me to attend a hairdresser for the first time because it was my Confirmation and she taught me the importance of fashionably matching the hat and gloves, and the bag and shoes. Then she splashed out for us to go on the bus into O'Connell Street, where she bought us each a Knickerbocker Glory. She loved ice-cream. She ate all hers and most of mine because it was too generous for me.
Debby Raymond nee Deirdre Caffrey
Robinson family, Coolock, 1070s
The Robinson family from Coolock, Dublin at Butlins* in the 70s. "You couldn't miss me! I lost the Tarzan competition and cried in front of everyone. I'm over it now though. It only took 40 years and I can't even remember what the prize was!"
Robo Robinson.
https://en.wikipedia.org/wiki/Butlin%27s_Mosney
Caitlin Corcoran, Dublin, 2000s
Caitlin dressed in her 1916* costume and her special doll, commemorating her great grandmother Molly O'Reilly. "She loved the day and also got to raise the flag as at the time the defence forces were presenting schools with their flags. That was a proud day. See her write up about Molly in the photos .
As I say there's not many who can say they've seen their great grandmother mother on the back of a bus, in doll form , in stature form, a painting on a wall in the ambassadors residence , a painting on a wall on at a Belfast house and now thanks to Catherine featured in a song!
And she is like Molly too!
In 6th class her school decided to exclude the two 6th classes ( 44 kids ) from the school run home work club . Caitlin loved school and feels it's a child's right to be educated. From a young age she's known me saying that in our history we weren't educated in Ireland, and world wide children are still being denied their education, so she knows how important it is to be educated. They complained that they weren't being let in to the homework club that they had all been in up untill 5th class, and that the home work was much harder in 6th class and that they needed it this year of all years! So with Caitlin having Molly running throught her veins she got a petition going to ask to be included In the school run homework club!
She was 11 .."
Suzanne Corcoran
https://www.rte.ie/centuryireland/index.php/articles/what-was-the-easter-rising
Roland and Beatrice ( Bebe) McCrann, Dublin, 1900s
"My father Roland McCrann born 1913 and his Sister Beatrice (Bebe) born 1911. Their mother died in 1917 and they were reared by by both their grandmothers.
Next is Roland's school photograph, he attended the boys school attached to St. Agatas Church in William St. North Strand. Had to include the photograph of my grandfather Peter McCrann (note the monkey! They lived in Mayor Street just off the docks and I guess that's how the monkey arrived) Roland is the youngest boy and Bebe the young girl and Peter (They had a brother called Peter called after his father Peter) the older boy. They lived in Mayor Street and the family exported cattle, mostly to England.
Next is a photo from my mother's side. Her two younger brothers were Kevin and Paddy Bolger.
Peter McCrann born in Dublin in 1884 and Peter McCrann before in him 1849. Peter born 1910 is in this picture and I already told you about Roland and Beatrice. Their cousin Dolly (Anastasia) McCrann is on the right and she was reared with them. I don't know who the young girl in the front is and the man on the left is probably his brother Arthur McCrann who was Dolly's father. My grandmother who died was Ann Roland ( Ann Roland /McCrann died of acute gastritis and sudden heart attack) born in High Street, Galway to Sergeant Major George (Jock) Roland from Scotland and Byna (Mary Sabina) Hutchinson whose father was a blacksmith and shopkeeper in Galway. When Ann (Roland) died the children lived with their Gran McCrann but at some point the gran Roland also lived with them. It is difficult to explain but as Gran McCrann's maiden name was Hutchinson (her father had a pub on the docks in Dublin) and Gran Roland's maiden name was Hutchinson it is likely they were related. When my father Roland was at school the cattle business had been badly affected by new regulations and they lived in Buckingham Street and went to the same school as my mother Nora (Catherine) Bolger and her brothers Brian, Kevin and Paddy who lived around the corner in Killarney Street.
The next photo is of my great grandmother Mary Walsh nee Kelly and I knew her as she died when I was 8. My grandmother Elizabeth Walsh (later Bolger) is on the left. Next shows my mother Nora and her brothers Kevin and Paddy. They are in the studio photo also.
Next is Roland as a young man. then Nora. I think she was 17 and next is one of them together probably about 1945. Sadly Roland died in a car accident when he was just 37. I was just 2 1/2 years old, my sister was 7. He had lost his mother when he was 4 and like him we then went to live with our grandmother in Killarney Street although my mother was with us always.
Next photo , and I know I'm very fortunate to have these, is of my great great grandparents, parents of Mary Kelly. They are John Kelly, Detective Sergeant in the DMP from Ashford, Co. Wicklow and Ann Reilly (a monitress) from Navan, Co. Meath. (5-9)
(10)John Kelly and Ann Reilly about 1870
This is my grandmother at school with her two younger sisters, they are in the front and she has her hands on their shoulders. So she was Elizabeth Walsh (later Bolger) born in 1887 known to her grandchildren as Marney. Her sisters Nora and Mary. You have her also in the photo with her mother Mary Walsh nee Kelly. They grew up in Ballybough. This is the same school as my mother and fathers' families attended it was founded in 1825. Next is my mother's (Nora Bolger/McCrann) school photo, she is second from left on the second row. (11 and 12) The 3rd one is a picture is of my mother Nora Bolger age 1." Sheila McCrann.
John Loughrey, Dublin, 1950s
Day out at Dublin Zoo*. Early 1950s.
"I was from the inner city, Summerhill and Mountjoy Square, Sheriff Street. I was the oldest, born in 1949. My brothers names were Anthony (on the right) and Brian (in the middle)"
John Loughrey.
https://en.wikipedia.org/wiki/Dublin_Zoo
Charlie Flood, son of Christopher Flood, two longtime Dublin Zoo employees, with a lion cub c. 1936
Francis, Mini McGovern and others, Tyrone, 1930s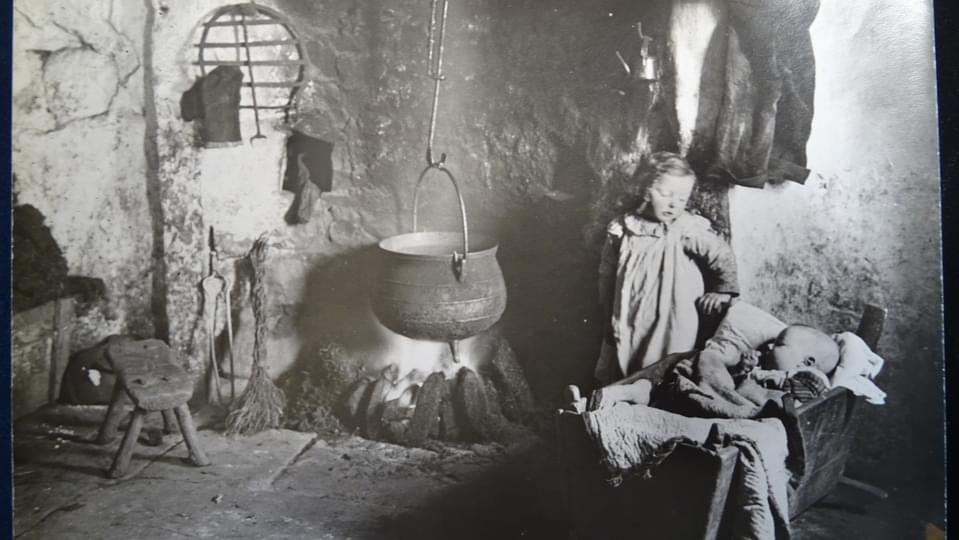 Joanne Williams was in contact about this wonderful group of photographs they discovered. The children in the first photo have been identified as brother and sister Francis and Mini McGovern, from Clogher, Co Tyrone.
The photos perhaps taken by Rose Shaw:
http://www.newulsterbiography.co.uk/index.php/home/viewPerson/1521
[Rose Shaw lived in the Clogher Valley, County Tyrone. She was a governess to the Gledstanes who lived at Fardross, near Clogher. She was an amateur photographer. Only about thirty of her photographs have survived and these are in the Ulster Folk and Transport Museum, Cultra, County Down. She published Carleton's Country 1930, which had an introduction by Sir Shane Leslie and included many of her own photographs.]
"Hi, i have these photos and we think they were taken in Ireland. Possibly Donegal but that's maybe a guess. They belonged to a man named George Bickerdyke and they were given to my Nan and now we have them. I would love to find out more about them, where they were taken and who they are, maybe reunite the photos with the family….
George lived in Warrington until he died in about 1987.
Any thoughts would be very much appreciated"
Joanne Williams
⭐️ Update: The baby in the cradle has been identified by Liam Donaghey as his Great Grandparent, surname McKenna from Clogher.
With grateful thanks to Mary Keating for her wonderful help in identifying the children and adults in the Photographs:
Annie and Cassie McKenna and baby Eugene in cradle, from Clogher.
By the fire, with little boy: The Hollands, Clogher.
Making hay: kitty Holland from Clogher.
Man walking with dog: Oweny McKenna, Clogher.
Man with pipe: Cormac Holland, Clogher.
All details were from her copy of :
Carleton's Country
By Rose Shaw
Talbot Press, 1931
Bernie Mulvey, Dún Laoghaire, 1960s
"Myself and my 4 sisters and 3 brothers, Mam and Dad, and friends used 'the baths' quite a lot growing up. We lived not far from them on Glasthule Rd beside the old Astoria cinema. It was just a hop, skip and a jump away. My Mam would love having the seaweed baths. What was great about the baths was they had lots of facilities there like dressing rooms, showers, plenty of toilets, places to secure your clothes and a place at reception to store your valuables, also plenty of space to sit around. Even though the baths had seawater in them if you were a strong swimmer the life guards would let you go off the Jetty to swim in the open sea. Also a tuck shop in reception where we could spend our pennies on the way out to buy such things as Sailors Chews, Pixie and flash bars. Sometimes if we had enough we could go across the road and get a Teddy's ice cream. Then when the Rainbow Rapids came we had even more fun. We would swim in the baths nearly every day until closing time, we would either go to Bug Rock or Sandycove for more swims or we would go to the Peoples park to play.
Years later when some of us left DunLaoghaire we would travel out to meet our families who still lived in Sallynoggin and Ballybrack. We drove from places like Navan, Tallaght, Sandyford, Bray and Westmeath. It has been a big loss to all of us as we used to socialise with family picnics and bring our children with us. We were pleased our children got to experience the fun to be had in the baths. Of course the picnics had to get much bigger when we brought out our children with us!"
Bernie Mulvey.
Betty Brady ( nee Fitzsimons), and Mary Rice ( nee Locke ), Dublin, 1960s
"Mary Rice nee Locke and her friend Betty Brady nee Fitzsimons. They both came from corporation buildings* inner-city. Mary moved to London I think when she turned about 16 or 17, married in London, had children and she passed away about 2 or 3 years ago. I know she and her friend went to Rutland Street school Dublin."
Pauline Braymer.
Corporation Buildings, Dublin:
https://stillslibrary.rte.ie/indexplus/image/1016/058.html
Rutland Street school:
http://www.dublincityarchitects.ie/rutland-street-school-refurbishment-and-renovation-2/
Norman Bainbridge, Dublin, 1940s
"I'm obviously far too young to know who took this photo of my mother and sister and I, but I was told some years back it wasn't my father. Sadly, the role/duty of being a parent got in the way of his drinking/gambling/womanising and his fear of hard work. When this photo was taken, the three of us had been rescued by my wonderful grandparents and had moved in with them.
With the exception of marrying a wonderful woman, having two great children and 5 fabulous grandchildren, the best thing to have happened to me in life was my parents separating. That meant I grew up spending 9 wonderful years with loving, kind and caring grandparents plus I had the love of the best aunt in Ireland, my dear Aunt May, my second mum.
That life changed dramatically one Friday in June 1956, when we sailed from the North Wall, Dublin for the UK. I thought I was destined to stay in Dublin for life but we, like millions more Irish women, men and children, became economic migrants seeking a better life with lack of work in Dublin being the deciding factor. To this day, 65 years later, I can still see how angry my grandfather was towards my mother, daring to take my sister and I away from him, grandmother and Aunt. I visited them as often as I could during the rest of their lives.
This photo (left) would have been taken around 1950, in Fontenoy Street, Dublin. My sister, Josephine, is in the center with her arms around a friend and me. The girl on the bike was Una Matthews. Josie and Una were the best of friends.
Not long after this photo was taken, sadly we moved to Drumcondra. Sad because we lost a lot of contact with good friends, Aiden Lee, John Woods, Tommy Murphy and others. I remember at lunch times at Aiden's home, we would have Butterscotch Instant Whip for dessert after our sandwich. Funny the things you remember. Wonderful happy days!
Wonderful happy days growing up in Dublin! (photo on right) I'm the little blond haired boy in front, with my pals from the Fontenoy Street area. At such a young age, we played far from our homes, oblivious of dangers. Photo was taken opposite the State Cinema, Phibsborough and near the Mountjoy Prison. Only going home to eat and then bed. Wonderful happy days! "
Norman Bainbridge.
Brendan Redmond, Dublin, 1950s
This is a picture of me taken aged 12 in 1959.
Working at the Caledonian Hotel Dublin.
I was born in 2 Gt Bride St Dublin, the eldest of seven children.
We moved some time later to 78 Aughavannagh Rd. Dolphins Barn and I attended the Christen Brother School, my mother saw an advertisement in the Evening Mail, a hotel was looking for a part time page boy and after sending off a written application I was invited for an interview.
The Caledonian Hotel in South Great Gorges St (now Kelly's Hotel) was owned and managed by the Ryan family, I was interview by Mrs Ryan and managed to get the job as a page boy for 15 shillings per week, not bad for a 11 year old boy.
I gave my mother 10 shillings and kept the remaining 5 shillings with which I was fully independent and bought my own clothes.
Basically I was on duty between the full day porter and the night porter starting at 7pm until 10.30 pm Monday to Friday, and from 2.30pm until 10.30pm on Saturday and the same on Sunday but starting at mid-day.
I absolutely loved the work and the Ryan family treated me like their son. The work was hard, 33 hours per week but for an inner city kid it was a fantastic education, listening to the music much loved by the Ryan's they also gave me books to read during the quieter periods and I mingled with people from all over the world.
It was the most fantastic experience but there was a price to pay !! Later on in life I came to realize that I missed out on my childhood, I never mixed with boys my age, I never played football or learned to swim, I became so independent that later in life I found it almost impossible to work as part of a team.
I left school unofficially at age 13 1/2 (it was 14 then) without a single academic qualification, I could hardly read or write.
At aged 14 I got a full time job working in very dangerous conditions at Persons a wire manufactures working 40 a week plus continued at the hotel which made my total working week 73 hours.
June 1962 I was aged 15 and with Mom and 6 siblings we did a moon light flit, leaving Dublin and heading to Birmingham via boat to Liverpool and train to Birmingham to meet up with Dad.
That's another long story for another time.
I managed to become an apprentice sheet metal worker and became a well paid skilled worker.
I joined the West Midlands Fire Service in '74, reached the rank of Sub Officer (totally self educated) until I retired in 2002, moved to New Zealand, had a business as a driving instructor and worked at the local college as a teachers aide.
Now I'm fully retired at 74 and living the good life in France.
Phew….and life continues to be exciting.
Brendan Redmond.
Joanna Hill, Dublin, 1980s
In October 1980 I discover that a new Ice Skating Rink is due to open in the old Leinster Cinema in Dolphin's Barn. It is opening at the end of the month. I am already a keen roller skater and regularly skate at the Star in Crumlin wearing my aquamarine shiny leggings and leg warmers. The idea of skating on ice is exciting to me and I am determined to be first in the queue on the opening day. I arrive at the rink at 9am even though it doesn't open until 10am. I get there before the staff and they seem to be surprised to find me waiting. They ask if I want to wait inside and allow me to look around before opening time.
I love everything about the rink. The ticket office is the old cinema booth with a bell punch ticket machine that is fully loaded with a spools of tickets. There is an enormous reel to reel tape player for playing music. To this day I am transported back to the ice rink every time I hear 'if you're going to San Francisco', which is one of the many songs played on repeat over the speaker system.
The ice is pristine and I have the pleasure of being the first customer. I hire a pair of skates and glide across the ice. It's such a wonderful feeling and I can't wait to come back for more. I quickly become a permanent fixture at the ice rink and spend every waking minute there. My Mam and 2 of my aunts end up working at the rink. My sisters and brother take up skating, so it feels like a 2nd home.
As my obsession with skating progresses, I read Noel Streatfeild's 'White Boots' and dream of one day owning my own skates[1]. My Mam has also said 'If you don't ask, you don't get', so I hatch a plan to get my own skates. I knock on the office door and speak to the owner of the rink, Des McEvaddy. I put a proposition to him. I offer to work in the rink to earn myself a pair of white boots. Des and his brother Ulick agree to this deal and I set about covering shifts in the skate hire, café, cloak room and ticket office.
I work and practice hard for a few weeks before I go back to see Des and Ulick and tell them I think it's time to pay up – or words to that effect. To my delight they agree that I have worked hard and accompany me to the skate shop where they tell the assistant to fit me out with a pair of white boots. I am absolutely elated!
I start having skating lessons with ex-professional figure skater, Derek James. He has been hired by the McEvaddys to train the Irish people how to ice skate. I keep practising hard and my coach tells me that I and a few other students have been selected to go to Solihull in England to take our National Ice Skating Association of Great Britain awards. We are to travel there in Des's private plane. On my return from England I receive a NISA book which lists all their members. I flick through and find my name. It is great to feel part of something bigger than my day to day life. Skating offers so many opportunities to me and my family and we grab these opportunities with both hands.
On the day we travel to England to take our tests, there are some press photographers at the airport waiting to take our picture. We appear in the newspaper and the whole experience is so exciting. A good indication of how forward thinking the McEvaddys are is the fact that the Ice Skating Association of Ireland wasn't established for another 25 years. They had a real eye for a photo opportunity, and we find ourselves on TV and in the press a number of times. We become great adverts for the ice rink and for ice skating in general.
On one occasion a camera crew from RTE's Off the Wall come to film me skating. They tape a camera to the end of an ice hockey stick and follow my and others around on the ice. I am invited in as a studio guest and asked about my dreams of competing in the Olympics! I have recently won the Irish Junior Figure Skating competition, which is not as grand as it sounds as it only involved people who skated at the Dublin Ice Rink. On the day of the interview I am dressed in pink pedal pushers and I have very red cheeks. I am sporting my new page boy haircut and when they give me a glass of lemonade, I drink it in one go because it's very hot under the studio lights. I only find out afterwards that the drink was meant to be a prop and I wasn't supposed to drink it.
During the time I was skating we had a big snowfall. A gang of kids from the ice rink are invited onto the Saturday Morning programme, Anything Goes. We are asked to skate outside the RTE studio while the presenters close the show. We skate up and down, throw snowballs and generally create mayhem. RTE did try to film us skating on the frozen canal near Harold's Cross, but the local kids kept throwing stuff at us and the filming was abandoned. That same week we were taken into town to skate on the ice outside the Press head office wearing Dublin Ice Rink sweatshirts. This worked a treat as they took pictures of us skating on the frozen roads alongside the Liffey and featured us in the national press.
Joanna Hill.
[1] White Boots
https://en.wikipedia.org/wiki/White_Boots
was first published in 1951 and is the tale of an unlikely friendship between a poor girl and a rich girl who meet as a result of ice skating.
And
Joanna Hill skating on 'Off The Wall' broadcast by RTE 24th August 1981. Reporter, Ultan Guilfoyle.
https://www.rte.ie/archives/2021/0809/1239892-ice-skating-new-to-ireland/?fbclid=IwAR1Uew6PKgluSJLpBjQO7KU0vK9ljpUw4Dl1MBwIVzos81IwjI5nGo_7M-w
1. Cinema: Joanna, Jane, Sharon and Robbie outside the Gaiety Theatre in 1979
2. Cinema: Joanna & Lorraine Larkin 1979, back garden Rossmore Rd, Ballyfermot
3. Cinema: Joanna, Jane, Sharon and Robbie Allen with Maria Murphy 1979 Rossmore Rd, Ballyfermot
4. Cinema: The Gala, Ballyfermot
5. Butlins: Joanna, Jane, Sharon Allen at Butlins Mosney, 1979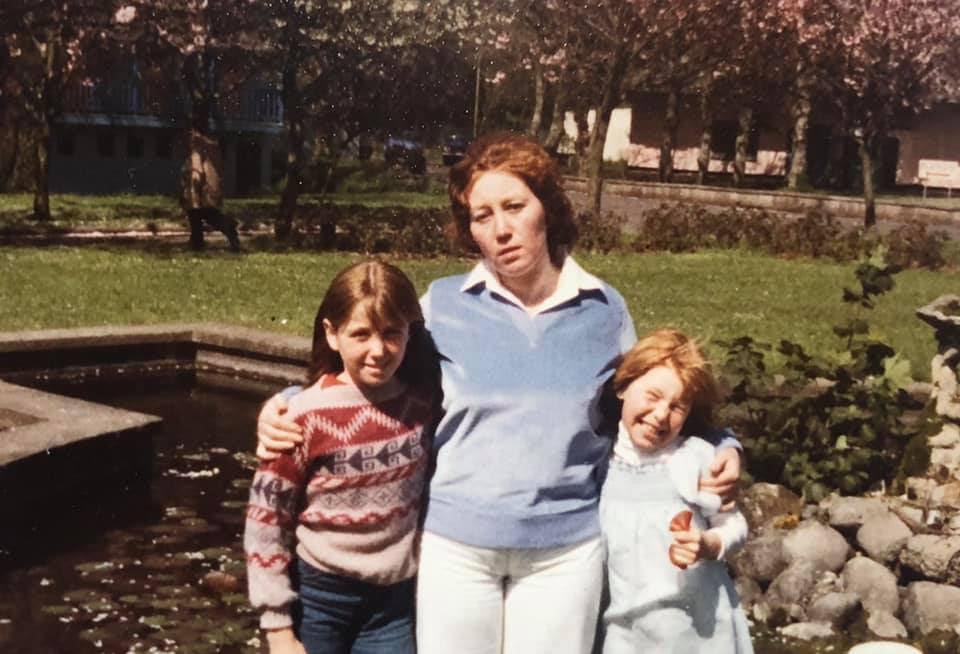 6. Butlins: Joanna and Sharon Allen with Mam (Anne)at Butlins Mosney, 1979
7. Butlins: Joanna roller skating at Butlins Mosney, 1979
8. Butlins: Learning to swim with at Butlins Mosney, 1979
9. Butlins: Robbie Allen at Butlins Mosney, 1979
10. Parents: Joanna with parents Anne Allen & Richard Gallagher 2010
11. Music: Joanna in Brighton 1984
12. Music: Joanna living in B&B in Brighton 1984
13. Jobs: Joanna working in a Wimpy Bar, Brighton 1984
14. Jobs: Joanna, Sharon & Robbie Allen, front garden Cloonmore Drive, Tallaght
15. Tallaght: Bricks
16. Dolphin House: group photo taken during Italia 90
17. Dolphin Hse: My great grandparents The Traceys in their garden in Sperrin Rd, Drimnagh
18. Dolphin Hse: My grandmother Bridie on a works outing with the other women from The Adelaide Hospital
19. Goldenbridge: My first communion
20. Connections: Philip, Jason and Derek Weldon, my cousins.
21. Connections: my grandson Eddie 2020
22. My Grandfather: Patrick Madden's Communion
23. My Grandfather: Patrick Madden at a family wedding
24. My Grandfather: Patrick Madden driving a truck in Burma
25. Radio Dublin: logo
26. Moving: Joanna with friends Christine & Barbara Brown 1980
27. Moving: Joanna with friends Christine & Barbara Brown 2013
28. Moving: Joanna & Son with friends Christine & Barbara Brown, London 2018
Tallaght
Our house in Jobstown, Tallaght was broken into in 1982. We didn't have enough money to buy a replacement telly, but we found a way of sourcing one. A friend of our uncle was planning to build himself a new fireplace. He needed 200 red bricks for the project. Getting hold of bricks was fairly easy, because the estate was only half built. Every time we went out, we had to bring some red bricks back with us. Most of the time we collected them in our pockets or carrier bags, but occasionally we used a shopping trolley to wheel them home in larger quantities. We piled the bricks up in the hallway until we had the required number. They were then swapped for a television and everyone was happy.
My first paid job, other than babysitting, was a mobile dry cleaning service. The man who owned the business had his wife's name tattooed on his arm, fortunately his previous partner had the same first name as her, so he has made it work by adding an 'F' to his old 'Jean' tattoo. The wife's surname was Fish, so 'Jean F' was probably the best option in the circumstances.
When we moved to England 16 year old Samantha Fox had just come to prominence after winning The Sunday People newspaper's Girl of the Year amateur modelling contest. She was only a year older than me and the winning photos were taken by her mother. My Mam suggested I put myself forward. I didn't have any desire to become a Page 3 model, so I refused and instead got a job in the local Wimpy.
Years later when I was in a club with my Mam, she watched me walking back from the bar. I sat down and she said with some regret 'I was just thinking, that Samantha Fox made a fortune out of your figure.'
Music
Music was banned in my home for the first 10 years of my life. When my parents split up things changed. Our home was no longer a place of fear, but a party house filled with music and noise. To this day the songs from this era have the power to transport me back to a moment in time, the soundtrack to each memory adds a layer of emotional connection to each time and place.
These memories include:
The Real Thing, 'You to me are everything' evokes memories of Butlins. It was played repeatedly over the PA when we went there for a week's holiday in 1979.
Scott McKenzie, 'San Francisco', takes me back to Dublin Ice Rink, my second home between 1980 and 1982.
Bill Withers, 'Lovely Day', reminds me of a time after my parents split up and my Mam's new partner moved in. I thought we'd found our happy ever after.
Blondie, 'Heart of Glass', is the soundtrack to the teenager's disco on Monday nights at the TV Club in Harcourt Street.
Carole King's, Tapestry was my party piece and my winning entry in the Ferrini Talent Show.
The Ruts, 'Babylon's Burning' was a favourite of mine (still is) when we moved to the sprawling and desolate estate of Tallaght in the early 80s.
Siouxsie and the Banshees, 'Dear Prudence', will always have a special place in my heart because my first ever gig was the Nocturne tour in 1984.
Here's an extract from The Wrong Daughter about my first gig:
I go to my first ever gig, Siouxsie and the Banshees at The Brighton Centre on Friday 22 June 1984. My Mam isn't keen on this event, so my uncle Alan agrees to comes with me. Alan has been to loads of gigs over the years and is reluctant to join me down the front. I buy myself a Siouxsie t-shirt on the way in and I am so excited to see the band in the flesh. I am particularly pleased because most of the bands I have discovered since getting into punk music are no longer together. As soon as the band come onto the stage, I discover why Alan has chosen to stand at the back. The weight of the crowd lifts me off my feet and I get pulled and pushed around for the whole set – it's brilliant. After the gig my t-shirt is soaking wet with sweat from the crowd and from the beer that was thrown. I change into my new Siouxsie t-shirt and when I get back to the hotel I find it impossible to sleep because I am so full of adrenaline. I can't wait for the next gig.
My parents
My parents had no contact for over 40 years, but their relationship taught me a lot about true love. They broke up when they were teenagers, even though my Mam was pregnant with me. In 2010 they met for a drink. My father had recently lost his wife, the woman he loved and had left us for in 1968. The first thing my Mam did when she met him again was to give him a candle in a holder which had the words "Angels are looking after my wife" inscribed on the front. She slid it across the table to him and said, 'I am so sorry for your loss'.
Maybe theirs was not a romantic love, but it was based on love for your fellow man and respect for the choices they have made in their lives. People often asked my Mam why she didn't bear him any grudges. Her response was that she knew they would not have gone the distance even if he hadn't met his wife. She loved him for the daughter he had given her, who she counted as a blessing and something to be celebrated rather than fought over.
This was the only time in my whole life that I was in the company of both parents and I am grateful to them both for agreeing to meet up after such a long time. They passed away within 4 months of each other, 7 years after this pictures was taken.
Butlins
My family could never afford summer holidays. The annual day trip from Dolphin House to Butlins in Mosney was the highlight of our summer. The coaches were always packed and we sang all the way there. Most of us had very little spending money and the bus usually returned to the flats laden with stolen cutlery, crockery and anything else we could get our hands on. Some years we would go on a day trip and if we knew someone who was staying for longer, we would make sure we missed the coach home and stay until the end of the week. We never worried about how we'd get home when the time came; and to be honest I don't remember how we did.
Cinema Memories 1977
Like most young people I love the cinema. I watch films at the Our Lady of Victories Youth Club where the volunteers feed the film into a projector on a table at the back of the hall and a screen is erected at the front. Sometimes the film catches or unravels part way through a show. The kids always cheer and jeer when this happens. It is hard to get the kids to be quiet and to stay in our seats before the film starts, but once the lights go down and the music starts things begin to calm down.
We are lucky to also have the Gala Cinema close by. The Gala, which opened in 1955, can seat 1,850 people and is one of the largest suburban cinemas in Dublin. I often go to the Saturday morning pictures where they show classic films. These films have left a lasting legacy on the local landscape in the 'California Hills Park' the name of which originated when used by local movie going kids who played 'Cowboys and Indians' there. The name later became official by popular public request.
The first Star Wars film is released we persuade our Mam to take us. This isn't going to be shown locally, so my Mam and her friend take about a dozen kids with them to the Savoy cinema in O'Connell's street. When we arrive, there is a queue around the block. Instead of joining the queue our Mam walks straight to the front and asks to see the manager. We all follow behind and listen while she explains to the manager that she and her friend have taken all 'these kids' out of Goldenbridge Orphanage for the day and want to treat them to a cinema trip. The manager not only waves us through, he only charges for the adults and a couple of the kids. Once through the barrier the place echoes to calls of 'Ma, can I get popcorn?' 'Ma, can I sit with you?' and 'Ma, can I have a coca-cola?' No-one picks up on the fact we are not orphans and we take our seats to watch the film…….
Moving Home
Between the ages of 10 and 15 my family moved home 4 times. Some of these moves were triggered by relationship breakdowns, or the need for more space. All of the moves were driven by a desire to make a fresh start and to leave the past behind. Sadly, the past often has a way of catching up with you and none of these moves provided my family with a happy ever after.
Many of the people I have come to know in my life still have friends from the area where they grew up, or from their school days. These friends bear witness to early experiences and often validate memories when no-one else can. This is often denied to people who moved a lot during childhood.
I was lucky to have 3 close friends when I was 10 years old. All of our families broke down at the end of the 70s and the consequences of that were huge, but different, for each of us. We kept in touch until our early teens, but then didn't see each other for almost 25 years. We eventually reconnected through the power of social media and arranged to meet for a drink.
We spent an evening together and it was like no time had passed. We talked a lot about our shared experiences and the paths our lives had taken since we last met. Being able to talk about the past with people who were there was a truly life affirming experience. We ended the evening with a toast to the fact we had all survived and followed our own paths that were informed, but not defined, by the troubles we faced as children.
Not only are we still friends, they are now friends with my kids too.
Radio Dublin
One of my regular errands was to get a bus to Inchicore to hand in a request at the Radio Dublin headquarters in Sarsfield Road. We loved hearing the requests read out on the radio and we all sang along to the jingle 'turn your radio on, 252, radio Dublin'. We got to know one of the DJs who was living locally and when there was a competition to win a camping holiday around Europe, he encouraged my Mam to enter. She didn't seem surprised when she won the competition and promptly set off for a trip around Europe with John. They had a wonderful time visiting beer festivals and seeing the sites. On one occasion their tent was flooded, but even that was seen as a positive because they were able to claim enough compensation on the travel insurance to cover all their spending money – every cloud!
I have very vivid memories of getting the bus to the Radio Dublin station. The house where it was based always seemed to be full of kids and there was a real sense of excitement surrounding the station. Although it was a pirate radio station it had a huge following and a loyal listener base. In June 1976, over 1,000 young people joined a protest march in support of the station from O'Connell Street to Dail Eireann, the Irish Parliament building on Kildare Street.
It was only when I read Siobhan Kennedy-McGuinness's 'Playing in the Dark' in 2010, that I realised how close I had been to evil and how lucky I was not to have become a victim of the paedophile Eamon Cooke. Kennedy-McGuinness described the station as an 'Aladdin's cave, filled with broadcasting equipment' and shares her memories of the house being a playground for her and her friends. For Cooke, it was a place he could lure his unsuspecting victims. Fortunately for me I never stayed for very long after handing in my request, so was not one of the many victims that were tortured by this cruel man. Another lucky escape!
https://www.goodreads.com/…/13240449-playing-in-the-dark
Pope's visit to Dublin on Saturday 29 September 1979
Pope John Paul II visited Ireland and gave a mass to one third of the Irish population (1.25m people) in the Phoenix Park. My family were not in attendance. We spent the day playing table tennis and exploring the gardens of Coolmine Residential Rehab where our Mam's boyfriend was living and receiving treatment. We were so happy to see him, he seemed fit and well and enjoyed spending the day with us and making plans for when he came home.
At the end of the visit, we walked to the bus stop. We waited patiently but no buses came. A passer-by reminded us that the buses had all been suspended because of the Pope's visit. We had no option but to begin the 8km walk home. As we got to the main road an out of service bus saw us and stopped to give us a lift. The driver and conductor were clearly enjoying the break from their routine and the excitement of the day was palpable. They teased us about why we hadn't gone to see the Pope and said we wouldn't go to heaven.
On Monday we returned to school. Everyone was full of the Pope's visit and talked about what an amazing experience it had been, which section of the crowd they had been in and who they had seen while they were there. When people asked me where I had stood, I lied. I pretended that I had been part of this shared experience. That I too had enjoyed the Pope's visit. I felt embarrassed and ashamed that instead of going to the mass, I had spent the day enjoying myself surrounded by the families of drug addicts looking for a sign that their loved ones were on the mend and would return home free of their affliction.
When I shared this memory with my siblings, it was apparent we all had different memories of the day. I'll share their responses here (in age order) because I think it is fascinating to see how people's memories can differ and below there's a link which may explain why this might be the case.
• 1st sister – yes, I remember that day well, but I thought the rehab was down the country.
• 2nd sister – I have no memory of this.
• Brother – Oh, I always thought we went to see the Pope!
https://www.irishpost.com/…/on-this-day-in-1979-more…
We are now understanding that there are strong individual differences in how people remember, and these differences are etched in our brains. People's brains are wired differently depending on how they naturally approach the act of retrieval.
Beyond individual brain differences, there are other reasons why two people might have conflicting memories of the same event. Their emotional response to it is one. Emotional events can be recalled much more naturally, almost like they are stamped in our minds. What we remember will also be affected by whether we consider it useful. And there are benefits to that too. It can help us learn lessons and bond with others.
https://www.newscientist.com/…/mg24032011-300…/…
Patrick Dessie Madden
My grandfather will always be a hero to me. Not because he was in the war, but because he was brave enough to defy convention and welcome his unmarried teenage daughter (my mother) and me into the family home in 1968. We are all too aware that this was a time when many others turned their backs on women in the same situation. He already had enough mouths to feed and enough problems to deal with, but he showed love and compassion to us. Whenever my Mam spoke of him, she would say 'he loved you'. I have always felt that love, even though I have no memory of him.
This is my Grandfather, Patrick Desmond Madden. At 20 years old he was a member of the RAF's catering corp and served time in Myanmar. The things he witnessed in Burma haunted him for his whole life. He was traumatised by his experience and rarely spoke of it. Today he would have been diagnosed with post-traumatic disorder, back then he was just thrown on the scrap heap and left to fend for himself and his growing family. He earned 2 medals during his service, which he never received. My family has now claimed them in his name.
I don't remember my Grandfather, because he died when I was only a year old. He passed in 1969 at the age of 46 following surgery for a stomach ulcer. These photos show his first communion, attending a family wedding (Paul O'Brien) and driving a truck in Burma.
I have to confess to not knowing much about the Burmese War and I am sad I didn't get to speak to him about it. Sadly, there were too many other witnesses to the atrocities. If you would like to learn more you can hear real life testimonies here:
https://www.iwm.org.uk/…/listen-to-8-people-describe…
Connections
This week has been all about connections.
Last week ended with a Zoom call to friends in Cardiff who we haven't seen for 18 months. After the call my husband said to me 'that was so nice, you forget you miss people, you bury that need to connect'. He was right and it's not often I say that! Here's how I have been connecting ever since.
This time last week I had written quite a few sections for a book that I have intended to write for some time. I was feeling a bit stuck and I as I reviewed what I had written so far, I thought some of the content might resonate with some of the Facebook Groups I am signed up to. I posted a couple of short extracts and was really surprised by the reaction.
I received messages of support from so many people and saw many other people in the groups engaging with each other about their own shared memories of the same times and places. Long lost friends, family members and neighbours reached out to me and gave me their encouragement to continue. I decided to set up a blog so I can continue to connect with people who are interested in my story and I set myself a target date for completing my first draft.
Last night I received a phone call from the founder of the Dublin Ice Rink. A man I haven't had any connection with for 39 years. He was delighted to hear about my writing and he helpfully, corrected some of the detail that I had misremembered (the rink opened in 1980, rather than '79) and we reminisced about a time and place that was special in both of our hearts.
I was stunned to discover he was only 26 when he opened the Ice Rink, and I was intrigued as to what made him do it. He said his Mother had been a teacher in London and always spoke fondly of skating at Queens in London and about how popular the sport was. He thought 'we've never tried that here, why don't I give it a go'? And that is how we came to have the first proper Ice Rink in Dublin. I hope one day Des will write his story too, but for now the Rink will be a small part of mine.
The final connection I made this week came when I added photos to my page. My daughter had just given my grandson his first fringe trim, he looked like he would fit right in alongside my siblings and me with our own 1970s wonky fringes. Seeing our fringes in the photo, and my grandson's today, triggered a connection with one of my all-time favourite family photos. My 3 cousins all sporting various varieties of bowl cut. I'm sure everyone has one of these in their family album.
This week I will be writing about new beginnings and the various house moves we made during my childhood. I am aiming to do 500 words a day. I've managed that this week, so hopefully it's achievable. Thanks again for the support.
Goldenbridge
As a pupil at Goldenbridge and a local resident I have the opportunity to take part in a number of events. The Easter Parade is an annual event, where everyone is encouraged to wear an Easter Bonnet to parade around the grounds. The first (and only?) time we attend I am really excited. Everyone at school has been talking about the Parade and what they are going to wear.
On Easter Sunday some of my aunts come to visit. I ask if we are going to the parade and eventually everyone agrees it's a good idea. I tell the adults that I'll need to have an Easter Bonnet to wear if I am to take part. We haven't made any preparation for this event, so my Mam and aunts start looking around for items that could be used to fashion a bonnet for me.
They eventually settle on the red netting that contains some oranges as the basis for my creation. The netting is put on my head and they then stick bits of shiny easter egg foil and some fluffy chicks to the netting and Voila! The most ridiculous, pathetic looking 'bonnet' you could imagine. They all tell me it looks great, but I know it doesn't. When we arrive at the parade, I see the other bonnets and realise mine is not really up to the mark. Some of the creations would put a professional milliner to shame, with their bright colours, extravagant flowers and creative flourish. Mine looks like the contents of a dustbin. The silver foil and fluffy chicks threaded through the orange net, doesn't stand any comparison. My face stings with embarrassment and I decide I don't want to walk in the parade.
My Mam gives me warm words of encouragement. She tells me to hold my head high and to take my place in the parade. She says everyone has done their best with what they had available and everyone deserves their place in the parade, regardless of how big or fancy their bonnet may be. I do as I am told and although I look enviously at the beautiful creations on the other kids' heads, I try to enjoy the fact I am here. The process of making my bonnet had seen my aunts and my Mam in stitches of laughter, and anything that had provided a moment of fun or laughter in my home was worth celebrating.
Another event that takes place at the convent is the May Day procession. This is shortly after I make my communion. All the children wear their communion dresses and we are given little baskets of flower petals to scatter as we walk. We sing hymns as we process around the grounds. We sing 'May is month of Mary, month we all love so well. Mary is God's own Mother, gladly her praise we tell….'
I am still on a high from my 1st communion, I feel blessed to be in this place of women, which celebrates Mary and other Mothers, or so I thought! I feel completely at peace and sure I am protected by the love of God. I have no idea what is going on behind the closed doors of the convent. I don't know, that the place which is such a sanctuary to me, is a living hell for so many other children…."
Dolphin Hse
My Mam's family home is Dolphin House. She moves here at the age of 7*. Her family think it is paradise after the tenement slum they have been living in on Usher's Quay. In this flat they have a separate scullery, three bedrooms, and indoor toilet and gas fires in the bedrooms. There are a lot of large young families living here and all the women help each other out. Resources are shared and there is always someone worse off than you. As the eldest grandchild I spend a lot of time in the flat. My nan eventually tires of entertaining hordes of children and it becomes the norm when her daughters visit, to leave their children 'down the block'.
The flat is always full of people and full of life. As my aunts and uncles grow up, I see their energy and their passion for music and fashion. My aunties Dolly and Betty are obsessed with the Bay City Rollers and save up to buy their records and memorabilia. I see and hear them trading clothes and jobs around the house 'If you do my scullery tonight, I'll do your washing tomorrow' and they like nothing better than having a secret to hold over each other as a bargaining tool. As well as her 11 children and many grandchildren, my Nan also has 10 siblings. Her brothers, and her married sons, often call in for a meal at lunchtime, so there is always a pot of stew or a coddle on the go. On Saturday nights she prepares a pot of ribs and pigs trotters for the teenagers coming home with the munchies and she leaves dried peas steeping in the sink for the Sunday lunch before she goes to bed.
My uncles help to provide food for the family by going hunting in the Dublin Mountains. They hang the rabbits they catch on the washing line over the bath until they are ready to be eaten. My Nanny's brother Frankie also lives with her and makes a contribution to the household. He sleeps in the 'sticker', so called because the door often gets stuck. The rest of the family share the other 2 bedrooms. My nan and her youngest two children sleep in 'the front'. The others squeeze into the biggest bedroom, known as 'the bigger'.
I love being part of this big, noisy family. There's always something going on. One way for kids to earn a bit of money is to go to the shops 'for a message'. I am often sent to Mr Ryan's. My aunts and uncles think nothing of sending me for a 'one and one', which is a cigarette and a match wrapped is the soft brown paper normally used to wrap the fresh bread – the Vienna roll and Turnover being firm favourites. My Nan's shopping list always starts with bread, butter, tea and sugar. She uses lifebuoy soap and I often go with her to Meath Street to buy meat, fish and vegetables from the market stalls. We usually get the bus and if there's one thing my Nan hates, it's paying bus fare. It's hard to avoid paying because there are conductors on the buses, but she just stares into the middle distance when they approach in the hope they'll think she's already paid.
My Nan is obviously trusted by her community. She runs a 'Club' which many of the local women use to save for major purchases. The way it works is there are 10 numbers, representing the next 10 weeks. Each member of the club pays £10 a week and then on the week they have chosen they take out the full £100. If you have an early number, you receive £100 and then repay it over the subsequent weeks when others need it. People who don't need to have the money so quickly select a later number. Putting money into the club, keeps it out of drunken husband's hands and means these women can get the things they and their family need without getting into debt with money lenders, or pawning their belongings. My Nan keeps the club money in a leather handbag by her armchair and she guards it with her life. Most people give her a tip when it is their week to get the club money.
(*She moved there when she was around 7, so 1956. Some of her family still live there. She moved out when she got married, but her mother stayed there until her death in 1990.)
Joanna Hill.
Concept and online story project, Majella McAllister. Contact: mmcallister@museumofchildhood.ie