Elizabeth 'Lily' Devine and Yoni Palmer Krepka. Dublin.
"Children of Smithfield, Elizabeth "Lily" Devine (1942-2013) and Yoni Krepka (c 1942-?) are here photographed around 1949 on Blackhall Parade, Smithfield, Dublin 7, when she was talking her doll out for a ride on her tricycle.
Lily was the third of four children of John Devine who worked at Irish Wools Ltd on Queen's St. and Sarah "Sally" McGarry, who worked in Jacobs and then in Dolphin Hotel (now Dolphin House). Like all the girls from the neighbourhood, Lily went to school at the nearby Sisters of Charity Convent until she was 14 and then went to work in Jacobs.
Her love of cycling persisted, and in her late teens she joined the Harp Cycling Club in Phibsborough. There she met Billy McCarthy, who's family hailed from Stoneybatter. Billy was a champion cyclist. They married in 1963 and moved to Beaumont where they lived out the rest of their lives. They had two children, Karen, a journalist and best-selling author now living in New York, and Earl, who swam for Ireland in the Olympics and lives in Dublin.
Yoni Krepka was one of three children of Nancy Palmer and her husband, an Estonian merchant seaman whom she met in Belfast during World War II. The senior Krepka was much at sea and rarely saw his family. Nancy and her children lived at 111 N. King St. in Smithfield and were known to the locals as "Palmer" after their mother, and only used their father's name for official business, probably because Krepka would have been a very unusual name around those parts in the 1940s. Yoni went to the nearby St. Paul's Christian Brothers on Brunswick Street. In his teens, Yoni and his brother Revon moved to England, never again to be heard of by the locals in Smithfield."
Karen Frances McCarthy. 
Bridget and Frances Murphy. Derry.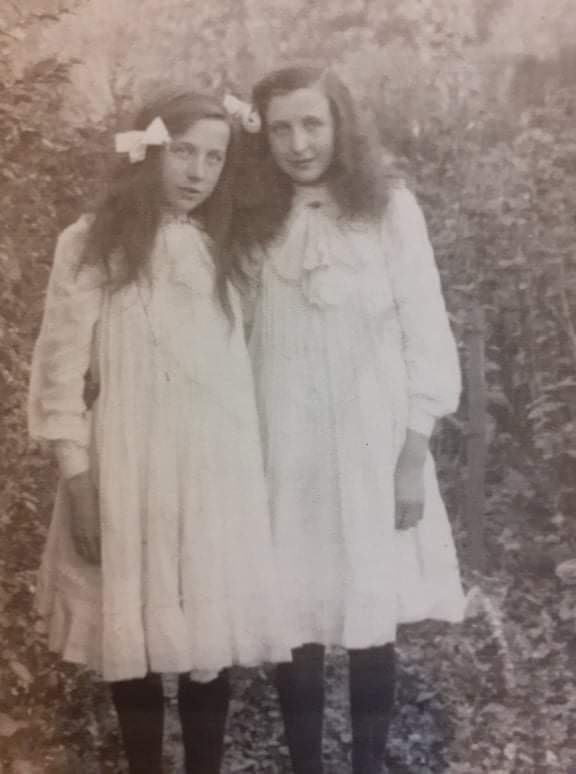 "AlI I can find out about the photo of the 2 girls is that the the taller girl is Bridget Murphy (my granny) and the other girl is her younger sister Frances. The photo was a professional photograph. The leafy background is just a backdrop. I don't know what the occasion was. Most likely taken in Co Derry around 1912. My granny looks 14, I think, and she was born in 1898, so that's how I have arrived at 1912!"
Kayte Mosse.
Jacqueline Ronald. Dublin.
Jacqueline Ronald's first holy communion 1967 / 68, with sister Margaret Mary, Goldenbridge.
"My sister Lorraine O'Reilly wrote this poem as a memory for me for my 50th birthday. It's the story of the frock in the photo."
Deirdre Caffrey. Dublin.
1957 Deirdre, first birthday.
Site 71 Quarry Avenue, Whitehall Rd, Dublin. Photo by 'Cassidy'.
The address changed to Greentrees Drive, Terenure, Dublin 12 in about 1959. It would change again decades later to Greentrees Drive, Manor Estate, Dublin 12.
The price of the house off the plan in 1953 was £1,725. My newly-engaged parents-to-be paid a £5 deposit. My father was earning about £7 a week then. They got a thirty-five year mortgage from Dublin City Council. The housing estate took over three years to be finished.
My parents married in 1955. For quite some time after they moved into their house they had very few possessions. They began with only a bed and a gas cooker. The cooker would last twenty-two years. Great-aunt Kathleen gave them an old armchair and 'a bit of carpet'. I learnt happily to crawl and walk on bare boards and then to climb everything I could.
1961 Deirdre with train, Assumption School, Walkinstown.
In Low Babies and High Babies my Dad sometimes cycled me to school on his pushbike, in a tiny wicker seat on the cross bar.
In First Class I walked a little over a mile to school by myself taking my brother by the hand. Mam was at home with the two younger babies.
A shy child, I preferred to play with my brother's train rather my doll, Katie. You could go places on a train, although I never did. Where could a doll take you?
1963 Deirdre First Communion, Assumption School, Walkinstown.
Religion in our daily lives was supremely important, although it was more important to me at that stage to be six and three-quarters. By now I had a baby sister four months old, born at home, just like my youngest brother had been before her. My mother, an accomplished needlewoman, sewed my dress, and was particularly proud of the drawstring bag she eked out of the leftover fabric. She borrowed my veil. With three boys younger than me, and struggling to make ends meet, there was no point in buying a veil for only one or two occasions and laying it aside for several years until my sister would need it.
1963 Deirdre First Communion, gates near Kimmage Manor.
Three of my father's five brothers became priests. One uncle, then a Holy Ghost seminarian at Kimmage Manor, took this photo. My mother had made my coat and my lace gloves. She afterwards dyed my new white shoes a serviceable brown.
1966 Deirdre Confirmation
Photo taken in the photographer's house called 'Genazzano' on St. Peter's Crescent, Walkinstown. (Name not known of photographer to credit him.)
My mother managed to buy this beautiful suit for me, and new navy blue shoes and bag. She knitted the finest pale blue jumper for me to wear underneath.
My middle brother was seriously ill and hospitalised for a long time. Concern for him in the family always ran high. His treatment cost money and money was always tight anyway, despite my father working two jobs and my mother getting work when she could. Yet she paid for me to attend a hairdresser for the first time because it was my Confirmation and she taught me the importance of fashionably matching the hat and gloves, and the bag and shoes. Then she splashed out for us to go on the bus into O'Connell Street, where she bought us each a Knickerbocker Glory. She loved ice-cream. She ate all hers and most of mine because it was too generous for me.
Debby Raymond nee Deirdre Caffrey
Robinson family. Coolock.
The Robinson family from Coolock, Dublin at Butlins in the 70s. "You couldn't miss me! I lost the Tarzan competition and cried in front of everyone. I'm over it now though. It only took 40 years and I can't even remember what the prize was!" Robo 
Caitlin Corcoran. Dublin.
Caitlin dressed in her 1916 costume and her special doll, commemorating her great grandmother Molly O'Reilly. "She loved the day and also got to raise the flag as at the time the defence forces were presenting schools with their flags. That was a proud day. See her write up about Molly in the photos .
As I say there's not many who can say they've seen their great grandmother mother on the back of a bus, in doll form , in stature form, a painting on a wall in the ambassadors residence , a painting on a wall on at a Belfast house and now thanks to Catherine featured in a song!
And she is like Molly too!
In 6th class her school decided to exclude the two 6th classes ( 44 kids ) from the school run home work club . Caitlin loved school and feels it's a child's right to be educated. From a young age she's known me saying that in our history we weren't educated in Ireland, and world wide children are still being denied their education, so she knows how important it is to be educated. They complained that they weren't being let in to the homework club that they had all been in up untill 5th class, and that the home work was much harder in 6th class and that they needed it this year of all years! So with Caitlin having Molly running throught her veins she got a petition going to ask to be included In the school run homework club!
She was 11 .."
Suzanne Corcoran 
Roland and Beatrice ( Bebe) McCrann. Dublin
My father Roland McCrann born 1913 and his Sister Beatrice (Bebe) born 1911. Their mother died in 1917 and they were reared by by both their grandmothers.
Next is Roland's school photograph, he attended the boys school attached to St. Agatas Church in William St. North Strand. Had to include the photograph of my grandfather Peter McCrann (note the monkey! They lived in Mayor Street just off the docks and I guess that's how the monkey arrived) Roland is the youngest boy and Bebe the young girl and Peter (They had a brother called Peter called after his father Peter) the older boy. They lived in Mayor Street and the family exported cattle, mostly to England.
Next is a photo from my mother's side. Her two younger brothers Kevin and Paddy Bolger.
Peter McCrann born in Dublin in 1884 and Peter McCrann before in him 1849. His Peter born 1910 is in this picture and I already told you about Roland and Beatrice. Their cousin Dolly (Anastasia) McCrann is on the right and she was reared with them. I don't know who the young girl in the front is and the man on the left is probably his brother Arthur McCrann who was Dolly's father. My grandmother who died was Ann Roland ( Ann Roland/McCrann died of acute gastritis and sudden heart attack)
born in High Street in Galway to Sergeant Major George (Jock) Roland from Scotland and Byna (Mary Sabina) Hutchinson whose father was a blacksmith and shopkeeper in Galway. When Ann (Roland) died the children lived with their Gran McCrann but at some point the gran Roland also lived with them. It is difficult to explain but as Gran McCrann's maiden name was Hutchinson (her father had a pub on the docks in Dublin) and Gran Roland's maiden name was Hutchinson it is likely they were related. When my father Roland was at school the cattle business had been badly affected by new regulations and they lived in Buckingham Street and went to the same school as my mother Nora (Catherine) Bolger and her brothers Brian, Kevin and Paddy who lived around the corner in Killarney Street.
The next photo is of my great grandmother Mary Walsh nee Kelly and I knew her as she died when I was 8. My grandmother Elizabeth Walsh (later Bolger) is on the left. Next shows my mother Nora and her brothers Kevin and Paddy. They are in the studio photo also.
Roland as a young man. Nora. I think she was 17 and next is one of them together probably about 1945. Sadly Roland died in a car accident when he was just 37. I was just 2 1/2 years old, my sister was 7. He had lost his mother when he was 4 and like him we then went to live with our grandmother in Killarney Street although my mother was with us always.
Next photo , and I know I'm fortunate to have these is of my great great grandparents, parents of Mary Kelly. John Kelly, Detective Sergeant in the DMP from Ashford, Co. Wicklow and Ann Reilly (a monitress) from Navan, Co. Meath. (5-9)
(10)John Kelly and Ann Reilly about 1870
This is my grandmother at school with her two younger sisters, they are in the front and she has her hands on their shoulders. So she was Elizabeth Walsh (later Bolger) born in 1887 known to her grandchildren as Marney. Her sisters Nora and Mary. You have her also in the photo with her mother Mary Walsh nee Kelly. They grew up in Ballybough. This is the same school as my mother and fathers' families attended it was founded in 1825. Next is my mother's (Nora Bolger/McCrann) school foto, she is second from left on the second row. (11 and 12)
The 3rd one is a picture is of my mother Nora Bolger age 1.
John Loughrey. Dublin.
Day out at Dublin Zoo. Early 1950s.
"I was from the inner city, Summerhill and Mountjoy Square, Sheriff Street. I was the oldest, born in 1949. My brothers names were Anthony (on the right) and Brian. (in the middle)"
John Loughrey.
Francis and Mimi McGovern and others. Tyrone.
Joanne Williams was in contact about this wonderful group of photographs. they discovered. The children in the first photo have been identified as brother and sister Francis and Mimi McGovern, from Clogher, Co Tyrone.
The photos perhaps taken by Rose Shaw:
http://www.newulsterbiography.co.uk/index.php/home/viewPerson/1521
[Rose Shaw lived in the Clogher Valley, County Tyrone. She was a governess to the Gledstanes who lived at Fardross, near Clogher. She was an amateur photographer. Only about thirty of her photographs have survived and these are in the Ulster Folk and Transport Museum, Cultra, County Down. She published Carleton's Country 1930, which had an introduction by Sir Shane Leslie and included many of her own photographs.]
"Hi, i have these photos and we think they were taken in Ireland. Possibly Donegal but that's maybe a guess. They belong to a man named George Bickerdyke and they were given to my Nan and now we have them. I would love to find out more about them, where they were taken and who they are, maybe reunite the photos with the family….
George lived in Warrington until he died in about 1987.
Any thoughts would be very much appreciated"
Joanne Williams
⭐️ Update: The baby in the cradle has been identified by Liam Donaghey as his Great Grandparent, surname McKenna from Clogher. More details to follow soon!
With grateful thanks to Mary Keating for her wonderful help in identifying the children and adults in the Photographs:
Annie and Cassie McKenna and baby Eugene in cradle, from Clogher.
By the fire, with little boy: The Hollands, Clogher.
Making hay: kitty Holland from Clogher.
Man walking with dog: Oweny McKenna, Clogher.
Man with pipe: Cormac Holland, Clogher.
All details were from her copy of :
Carleton's Country
By Rose Shaw
Talbot Press, 1931
– Folk-lore, Irish – 145 pages
I've added images of the book at the end of the set of photographs.