By Hadjer Taibi
Updated Monday, July 10, 2023
Mohyiddin Abdul Qader (محي الدين عبد القادر) is the name of my very first school where I spent the first six years of my education. It is located in a small town called Kheir Eddine in Northwest Algeria, a close-knit community with only a few thousand residents. Although Algerian primary schools can be quite big, mine was small. Students came from the town and its remote rural surrounds.
I still remember the day when I took my first steps into the school in September 1999. I was 6 years old; I was holding my dad's hand tightly and wearing my new clothes that my parents bought specifically for this special day. Unlike the normal days of schools, on our first day of school we were not required to wear an apron. I remember how my teacher, in her pink apron, standing in front of the classroom welcomed us and guided me to my seat. I said goodbye to my dad, who reassured me that he would come back to take me home in a few hours.
Inside the classroom, there were rows of desks neatly arranged facing the front, where the teacher's desk was positioned and where a big blackboard took up most of the wall. I sat next to Amina, a girl who became my best friend for the next six years of primary school. Even though the classrooms were mixed, it was customary for girls to sit next to girls, while boys sat next to boys. During the first few weeks of school, there were only about 15 students, but as time went on, more and more students joined our class. Eventually, there were nearly 40 of us.
The school week started on Saturday, and our school day commenced promptly at 8 a.m. The whole school would gather in the schoolyard to salute the flag and sing the Algerian anthem. At 10 a.m., we had a break of 3 hours, during which most of us would go home. However, students who lived far from the school would stay and have their break in the canteen. Many of them walked to school, so they would not have enough time to go home in the middle of the day. I remember always feeling jealous of them because they spent most of the break playing together. After the break, we would continue our studies from 1 p.m. to 3 p.m., and at the end of the day, we would again salute the flag and sing the anthem. Every morning, my mother would wake me up at 7 a.m. to get prepared for the day. I would have my breakfast while watching my favourite cartoon before putting on my apron and heading to school. When I first started school, we were allowed to choose the colour of our aprons. A few years later, a rule was passed by the government stating that girls had to wear pink aprons and boys had to wear blue ones. As a child, blue was my favourite colour, and remains one of my favourite colours even as an adult. This rule, to me, was disappointing. I didn't understand why I couldn't wear my blue apron. The school was located just a 15-minute walk away from our home. Often, I would meet my friends along the way and walk to school together, chatting about our teacher, grades, or the programmes we are watching.
One of the highlights of my time at Mohyiddin Abdul Qader School was the annual celebration of the "Day of Knowledge" on April 16th, which coincides with the birth anniversary of Abdulhamid Ibn Badis. Ibn Badis is an influential Algerian Islamic scholar and reformer who was dedicated to education and cultural preservation during the French colonisation. On this special day, the entire school would come together to honour the joy of learning. My mom would prepare coffee and dessert, as would the mothers of my friends, to take to school. "Msmen" (مسمن) is a traditional Algerian pastry that my mom often made for this special day. It is a type of square-shaped flatbread that is typically made from a dough consisting of flour, semolina, water, and oil, and is served with honey. Besides enjoying the food our moms made for us, at school, we would also showcase our talents through plays and singing performances. At the end of the day, we were rewarded with gifts as a token of appreciation for our efforts.
When I finished primary school at 11 years old, my family moved to a larger town, and I joined a middle school in a larger institution. But, as I approach my thirties, I reflect on those early years of school and the profound impact they had on my life and the possibilities this school opened for me to be where I am today.
The views expressed here are those of the author and do not represent or reflect the views of the Museum of Childhood Ireland.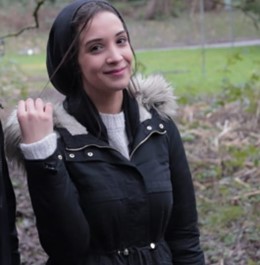 Dr Hadjer Taibi is a researcher at Dublin City University. Her research interests encompass both Applied Linguistics and Education. She has a particular focus on language education, sociolinguistics, and the intricate relationship between language and culture. Her work aims to explore the dynamic nature of language practices in multicultural contexts, both within classrooms and beyond, and the significant impact they have on communication and identity.
Would You Like To Write a Reflections On . . . . Blog?
See our Submission Guidelines.