The Ellen Worrall Collection: National costume / travel or souvenir dolls dressed in the traditional clothing of countries and regions around the world.
The majority of the dolls in the Ellen Worrall Doll Collection donated to the Museum of Childhood Ireland were produced in the 20th century. Many of the dolls are mass-produced, but others are cottage industry or artisan-made.
We are planning a temporary exhibition of Ellen's dolls in 2023 and will update with location and photographs from the display soon.
About Ellen Worrall
Ellen Worrall, was born Ellen Mary Hennessey on the 8th of June 1929, at St. James Hospital in Dublin to Mary Hennessey, born C.1898. She lived in St.Patricks Mother and Baby home, Navan Road, Dublin with her mother, until December 1930. When her mother was "released to work" (according to the register) Ellen was moved to St. Raphaels Orphanage, Stillorgan, until age 6-7, then fostered to Ann and Mary Byrne, Shankill.
Aged 13, she was then moved to the Sisters of Mercy Laundry, Baggot St Dublin, where she remained until aged 17 she left to work in the Mater Hospital where she contacted TB. Ellen spent six months in Beaumont Hospital, in practical isolation. When she recovered she went to work in the National Rehabilitation Hospital, Rochestown ave, Dublin.
At 19 years of age she took hotel work in The Ardbrae House Hotel in Bray (Where once Gubays and now Tesco stands) with owners Andy and Frankie Morrissey. Ellen continued working with the Morrisseys for almost 50 years.
Ellen married Joe Worrall from Shankill in 1966, and soon after built their own house, where they lived happily for the rest of their lives.
Ellen was very interested in dogs and all animals. She always had several dogs, and took care of the Morrissey's dogs, which were part of the Bray Gun club pack of 12. She attended and acted as one of the group of beaters, who worked with the Killruddery Shooting Club of which the Morrissey's were members.
Ellen's large doll collection came from visitors to the hotel, members of the gun club, and friends she made in Bray over the years. These friends, knowing Ellen's love of dolls, and subsequently going on trips abroad, – would always bring back a national doll or two, from their holidays. She stored them in a large, glass fronted cabinet in the hall of her house and was immensely proud of them.
Ellen is delighted that her souvenir dolls will one day be a source of delight and interest to children, and looks forward to the day when she will see them on exhibition in the Museum of Childhood Ireland's permanent home.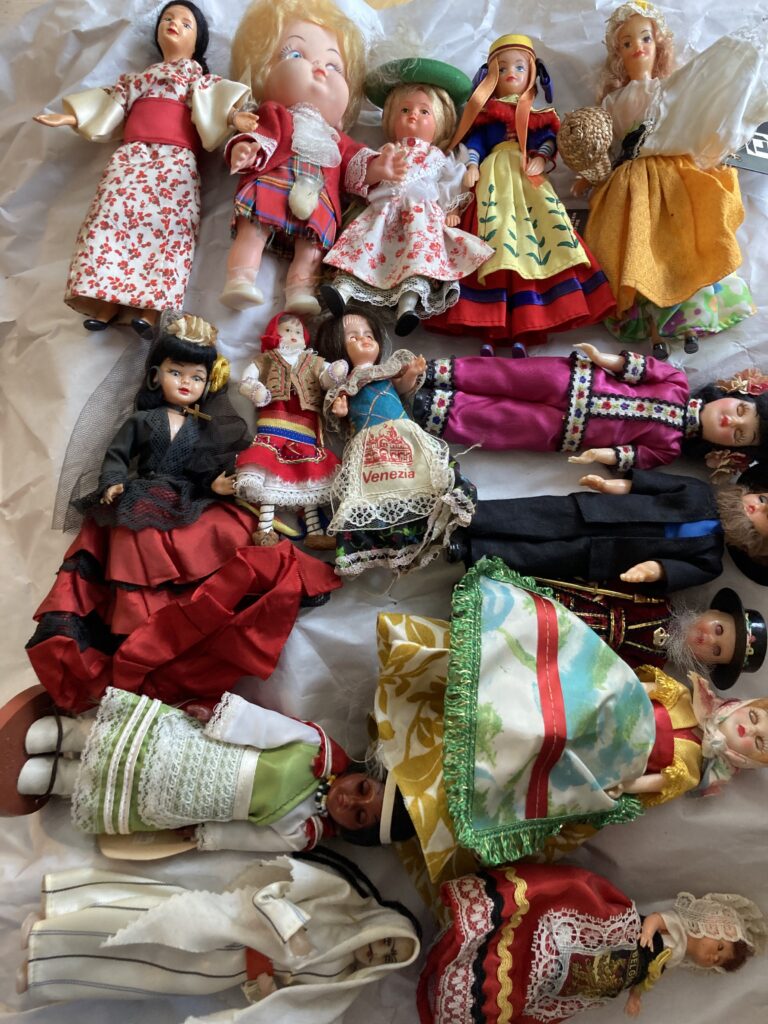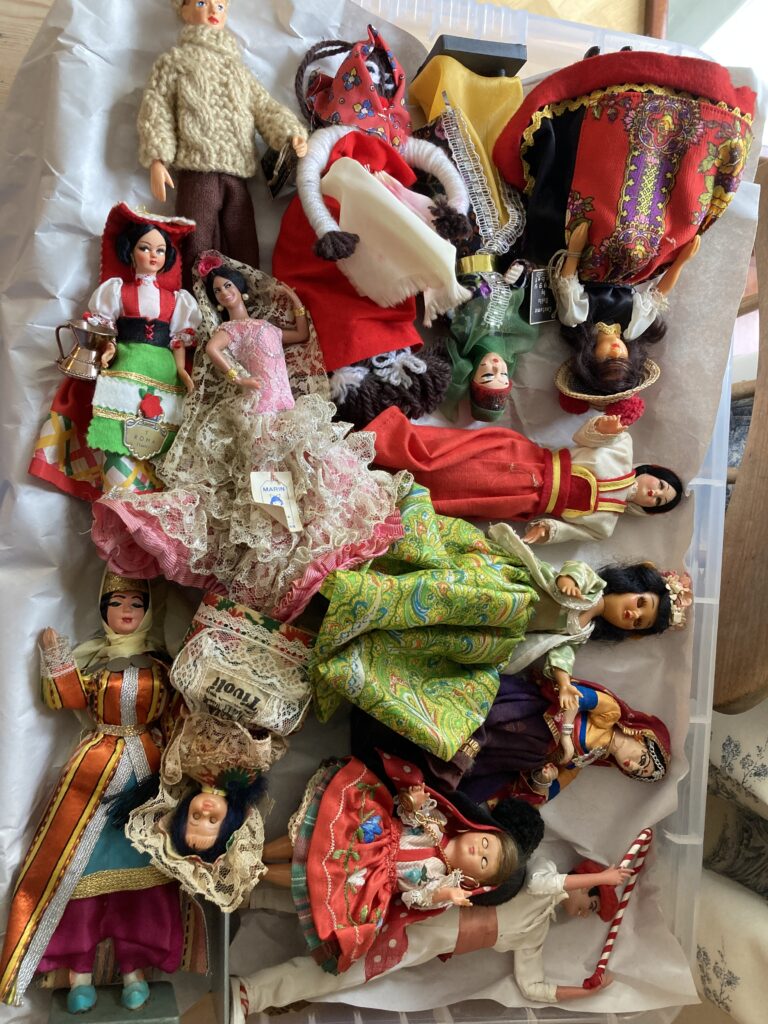 Please find some interesting links here: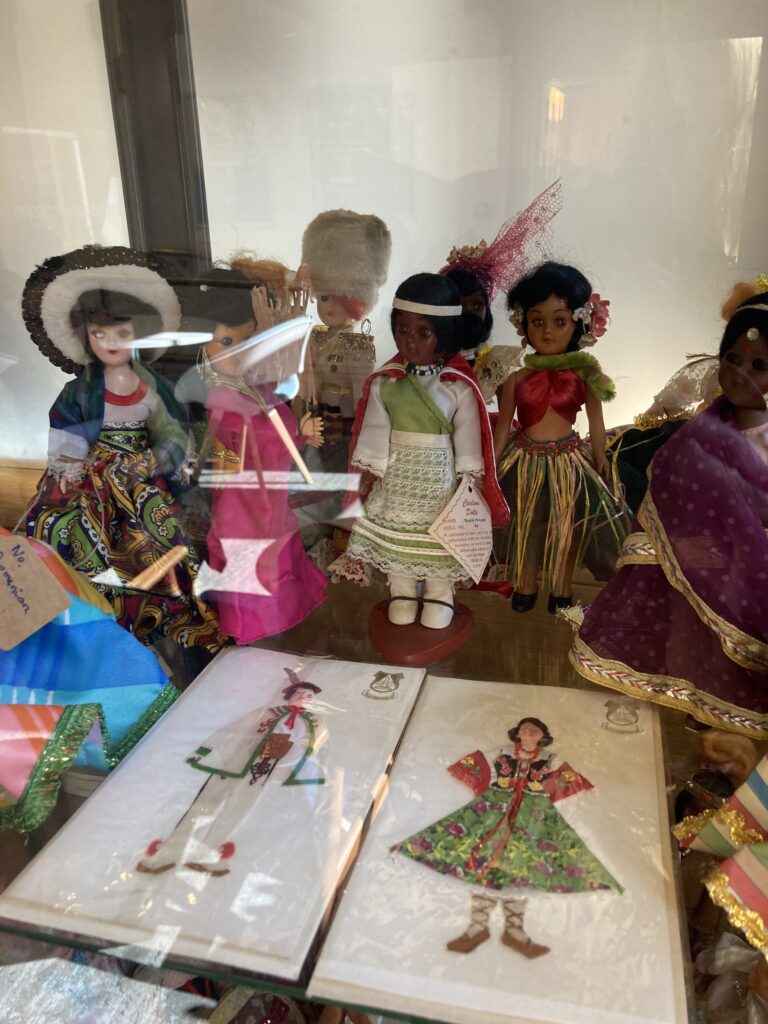 Jay of Dublin
The Ellen Worrall collection contains a small quantity of Jay of Dublin handmade dolls. They follow in the tradition of the Shallowpool dolls, made in Cornwall.  
Th dolls are 8″ tall, with hand-painted plaster face, felt hands, a padded cloth body, and are  supported on a wire armature. ( To display we need to use Blue Tac for extra support!) 
The faces are interesting, nicely painted and cleverly modelled. Dolls have a red 'book style' tag, with 'Collectors Character Doll handmade by 'Jay of Dublin' attached to the left wrist.
They are nearly all mounted on a square wooden base.
The characters are drawn from counties across Ireland, and depict diverse occupations. Note the leprechaun though on the top shelf of the left hand cabinet in the display. ( with original plastic suction hanger)
We'd love to hear more about this company and the location.
Did you collect these dolls?
Did you know anyone working at Jay of Dublin? 
We'd love to hear everything Jay of Dublin!
Email: mmcallister@museumofchildhood.ie
https://babogenglish.wordpress.com/
https://books.openedition.org/pur/99872
https://jfk.artifacts.archives.gov/objects/13418/female-doll-in-folk-costume
https://www.spurlock.illinois.edu/exhibits/profiles/foc-european-dolls.html
https://icme.mini.icom.museum/wp-content/uploads/sites/16/2019/01/ICME_2013_Shenhav_paper.pdf
https://manonkats.wixsite.com/costume-dolls/costume-dolls-europe
https://www.rct.uk/collection/66011/doll-in-traditional-korean-costume
https://slovakia.travel/en/international-folk-costume-dolls-festival-june
mmcallister@museumofchildhood.ie
Donated on behalf of Eileen Worrall by her friend Fionnuala Smith to the Museum of Childhood Ireland 2022