攝影照片展覽︰我哋係粵語愛爾蘭人
Taispeántas grianghraife: Sinne Cantainisigh na hÉireann
Cantonese immigrants come from Cantonese-speaking regions of the world. Cantonese is the second most-spoken Chinese language, with 80 million speakers worldwide.
粵語移民係一班以粵語為母語嘅人。佢哋嚟自世界唔同角落。粵語係第二大華語,全球有八千萬粵語使用者。
Is inimircigh iad inimircigh Cantainis as réigiúin dhifriúla den domhan a labhraíonn Cantainis. Is í Cantainis an dara teanga Síneach is mó a labhraí­tear, le 80 milliún cainteoir ar fud an domhain.
These Cantonese immigrants come from a great variety of places, including Hong Kong, Macau, Malaysia, Singapore, the Guangdong region of now mainland China, and many other places around the globe. Due to different reasons, socio-economical, political, and personal, they decided to emigrate to our beautiful Ireland.
呢班移民可能嚟自好多不同嘅地方,包括:香港 、澳門、馬來西亞、新加坡、今中國廣東地區,以及世界各地。由於各種原因,包括社會經濟、政治及私人理由,佢哋決定移民到我哋呢個咁靚嘅愛爾蘭。
Tagann na hinimircigh Cantainis seo go hÉirinn ó áiteanna éagsúla – Hong Cong, Macao, an Mhalaeisia, Singeapór, Guangdong i ndeisceart mhórthíre na Sí­ne agus ó áiteanna eile ar fud na cruinne. Bíodh is go raibh chúiseanna éagsúla acu – socheacnamaíochta, polaitiúila agus pearsanta – dul ar imirce go dtí an tír aláinn seo.
The earliest Cantonese immigrants arrived in the 1950s from Hong Kong and set up restaurants or takeaways. In the 1970s, immigrants from Singapore, Taiwan and Malaysia arrived and set up different businesses. Some of these people are of Cantonese heritage and speak Cantonese. In the 1990s, students from now China, including those Cantonese speakers from Southern regions, came to study at Irish universities. Recently, the second wave of Hong Kong immigrants arrived in Ireland. These new immigrants are usually highly skilled workers who came to Ireland through employment or investor immigration programmes.
喺1950年代,香港移民就陸續嚟到愛爾蘭。呢班人大部份喺呢度開餐館或外賣店。到咗1970年代,新加坡 、台灣 、馬來西亞嘅移民就抵達愛爾蘭,佢哋喺度營商,落地生根。其中有啲係粵語使用者。到咗1990年代,嚟自今中國嘅學生相繼到愛爾蘭升讀大學,當中包括咗中國南部嘅廣府人。近呢幾年,我哋有一批第二波嘅香港移民湧到嚟愛爾蘭。呢班人大都係高技術專才,通過就業或投資移民計劃移民到愛爾蘭。
Tháinig na céad hinimircigh Cantainis go hÉirinn ó Hong Cong sna 1950aidí agus bhunaigh siad bialanna nó siopaí 'beir leat' anseo. Sna 1970dí, tháiinig breis inimircigh as Singeapór, Taiwan agus an Mhalaeisia anseo agus bhunaigh siad gnólachtaí éagsúla. is oidhreacht Cantainis atáag cuid de na daoine seo agus labhraí­onn siad Cantainis. Sna 1990dí, thosaigh mic léinn ag teacht anseo ó Mhórthír ns Síne, ina measc cainteoirí­ Cantainis ó réigiuin an Deiscirt, chun staidéar a dhéanamh in ollscoileanna Eireannaigh. Le déanaí­, tá an dara sruth d'inimircigh ó Hong Cong ag teacht go hEirinn. Is oibrithe ardoilte iad na hinimircigh nua seo i gcoiteanna a thagann go hÉirinn trí phairt a ghlacadh i gcláir inimirce fostaí­ochta agus infheisteora.
The second generation of these immigrants may be born in Ireland. They grow up like all the other children around the world. They play in the playground. They participate in sports and different activities. They eat. They celebrate birthdays, festivals…
呢批移民嘅第二代可能喺呢度出世。佢哋嘅成長故事,其實同世界各地小朋友都大同小異。佢哋會去遊樂場玩。佢哋會參與唔同嘅運動或者社區活動。佢哋會食嘢。佢哋會慶祝生日,以及其他節日……
Tá an dara ghlúin de na h-imircigh seo ag fás aníos mar aon le leanaí eile thartimpeall orthu. Imríonn siad sa chlós súgartha. Glacann siad páirt i spóirt agus i gníomhaí­ochtaí éagsúla, Itheann siad, céiliúrann siad breithlaethanta, féilte…
Some grow up and work in different fields. Some get married and give birth to the third generation. They integrate into our society while keeping their heritage from the Far East.
呢批人有啲已經長大成人,喺各行各業發揮所長。有啲仲結埋婚生埋仔。佢哋融入愛爾蘭嘅生活,但又或多或少保存住佢哋嘅廣東傳統文化同語言。
Fásann cuid de na daoine seo suas agus oibríonn siad i réimsí éagsúla. Pósann cuid acu agus beireann siad an tríú glúin. Comhtháthaíonn siad lenár sochaí agus coimeádann siad a n-oidhreacht ón gCianoirthear.
We play… / 我哋玩…… / Táimid ag imirt
Playing with daddy's guitar – he thinks I have some talent there.
我玩緊我爸爸支結他,佢覺得我有啲天份喎
Ag seinnt giotár mo dhaidí – tá buanna áirithe agam anseo, dar leis
Papa & Mama working in the restaurant downstairs, so I play in my toy car upstairs!
爸爸媽媽喺樓下餐廳做嘢,我就喺度揸車車!
Papa & Mamaí ag obair sa bhialann thíos staighre agus imrím i mo charr bréagán thuas staighre!
Everything can be a toy, even a balloon at my relative's takeaway.
細個嗰陣時,乜都可以玩一餐。我喺親戚外賣店玩氣球。
Is féidir le gach rud a bheith ina bhréagán dom. Táim ag imirt le balún ag beir leat beir leat.
Parents teaching their children how to play "Fish Prawn Crab" (Fish Prawn Crab is a traditional gambling dice game from the Southern part of now China).
唔關我事㗎!係大人教我哋玩「魚蝦蟹」( 魚蝦蟹係傳統嘅賭博遊戲,源自今中國南方) 。
Seo h-iad ár dtuismitheoirí! Tá siad ag múineadh dúinn conas Portán Cloicheán Iasc a imirt (Is cluiche traidisiúnta cearrbhachais ó Deisceart na Síne é seo).
Siblings playing another Chinese board game called "Chinese checkers."
玩完象棋玩波子棋
Clann ag imirt cluiche boird Síneach eile darb ainm "Chinese Checkers."
We study… / 我哋學習…… / Déanaimid staidéar…
The new generation of Irish know different languages: English, Irish, Cantonese and maybe more!
新世代愛爾蘭人識好幾種語言︰英語、愛爾蘭語、廣東話,甚或更多!
Tá teangacha éagsúla ar eolas ag an nglúin nua – Gaeilge, Béarla, Cantainis agus b'fhéidir níos mó!
We celebrate… / 我哋慶祝…… / Déanaimid ceiliúradh…
Having so much fun at the birthday party with all my friends!
我同朋友仔一齊慶祝生日好開心!
Tá an oiread sin spraoi agam ag an gcóisir breithlá le mo chairde go léir!
Loving my lantern and the mooncakes at Moon Festival, although it makes me miss my Hong Kong grandpa and grandma so much…
我好鍾意中秋節,可以玩燈籠,食月餅。不過,我好掛住喺香港嘅公公婆婆、爺爺嫲嫲……
Is breá liom mo lóchrann agus an gealach­ ag Féile na Gealaí­, ach is fada uaim atá mo sheanathair agus mo sheanmháthair i Hong Cong…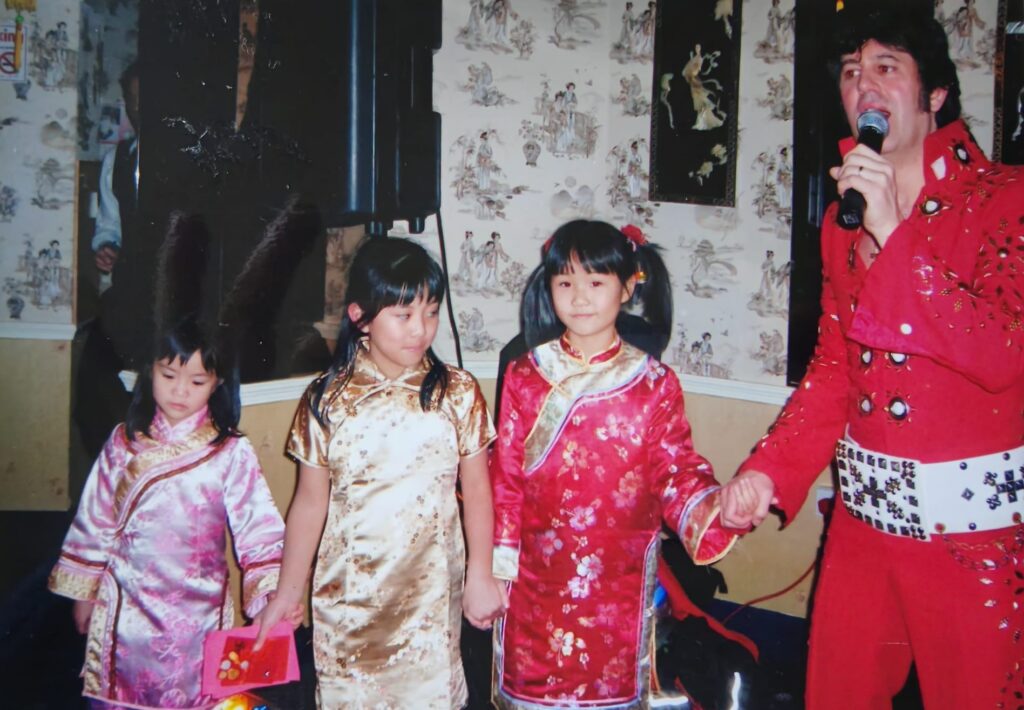 We participate… / 我哋參與…… / Glacaimid páirt…
We care… / 我哋關心…… / Tá sé tábhachtach dúinn…
Making the newspaper! We marched peacefully from the GPO to the Department of Health on 20 April 1994.
我上咗報紙呀!我哋係1994年四月二十號,由郵政大樓和平步行到衛生署。
Tá mé sa nuachtán! Mháirseálamar go síochánta ón Ard-Oifig an Phoist go dtí an Roinn Sláinte ar 20 Aibreán 1994.
We appreciate… / 我哋欣賞…… / Táimid buíoch…
It's so crowded at the St Patrick's Day parade. I wear a green mask to match.
St. Patrick's Day,周圍都係人,遊行好好睇,我仲戴返綠色口罩襯返。
Tá sé iontach plódaithe ag paráid cheiliúrtha Lá Pádraig. Caithim masc glas.
We rejoice… / 我哋欣喜若狂…… / Déanaimid lúcháir…
Oh! I have a baby sister now! I am so happy!
細妹出世啦!開心到我呢!
Ó! Rugadh mo dheifiúir bheag! Táim chomh sásta!
We are one of us!
我哋係大家一份子 !
Tá muid ar dhuine againn!
Cantonese in Ireland is a registered not for profit organisation that aims to promote Cantonese culture and language to our Irish public. We also aim to bridge between the Cantonese community and the Irish society.
粵語。愛爾蘭係一個已註冊嘅非牟利組織,旨在向愛爾蘭大眾推廣粵文化及粵語。我哋亦希望成為粵語群體及愛爾蘭嘅橋樑,接通彼此。
Is eagraíocht chláraithe seachas brabús í Cantainis in Éirinn a bhfuil sé mar aidhm aici cultúr agus teanga Cantainis a chur chun cinn do phobal na hÉireann. Tá sé mar aidhm againn freisin droichead a dhéanamh idir pobal na Cantainis agus sochaí na hÉireann.
Follow our activities at:
http://www.cantoneseireland.ie
http://www.facebook.com/cantonese.ireland
http://www.twitter.com/cantonese_ie
https://www.instagram.com/cantonese.ireland
http://www.linkedin.com/company/cantonese-ireland