By the Leaving Cert Mandarin Chinese (LCMC) Concern Group
Updated / Wednesday, 25 August 2021 10:04
Recently, the decision to include Mandarin Chinese on the Leaving Certificate in 2022 has received some media attention. Dr Isabella Jackson, for example, has appeared on The Pat Kenny Show (available here). RTÉ's China Affairs correspondent, Yvonne Murray, has also reported on the issue (available here). Many parents are concerned by the Department of Education's decision to exclude Traditional Chinese characters in favour of Simplified Chinese characters. When asked about this in Dáil questions, the Minister for Education, Norma Foley, stated that Traditional Chinese will not be accepted in the upcoming Leaving Certificate Mandarin Chinese examination because the subject is designed for "Irish" and "international" students. When contacted by concerned parents, the Department of Education said that students who are learning Traditional Chinese should answer the paper in Simplified Chinese instead. Those of us involved in the LCMC Concern Group believe that this decision to exclude Traditional Chinese learners is unjust.
Before we discuss how this decision will negatively impact our new generation of Irish students, it will be useful to have some background information regarding the language itself. Nowadays, there are two writing systems: Traditional Chinese and Simplified Chinese. The two are indeed very similar. Only one third of the 3000 common Chinese characters are simplified in the case of Simplified Chinese, the other two thirds remain the same in both Traditional and Simplified Chinese.
Traditional Chinese is used widely in Taiwan, Hong Kong, and Macau. It is a system that has been used for more than 2400 years. Simplified Chinese is used mainly in China, Malaysia, and Singapore. This system was developed and implemented in mainland China in the 1950s. China also invented the "Pinyin" system, a Romanisation system designed to help learners pronounce Mandarin Chinese. There is no doubt that the Pinyin system is one of the best Chinese learning inventions for Western students.
In Ireland, the earliest Chinese immigrants arrived from Hong Kong from the 1950s onwards. From the 1970s onwards, Chinese immigrants mostly came to Ireland from Malaysia, Taiwan, and Singapore. The more recent Chinese immigrants mostly came to Ireland from mainland China. In all of these cases, the next generation attend schools in Ireland, where they learn the Irish language as all children do in Ireland. Most of them identify as Chinese Irish and are as proud of their Chinese heritage as they are of their Irish heritage.
Given the rise of China as an economic power, it makes sense that our Irish government would recognise the benefits that learning Chinese could bring to future generations of Irish students. The decision to introduce Chinese into our school classrooms in recent years and to include Mandarin Chinese as a Leaving Cert subject for the first time in 2022 is a welcome development. And everyone involved with the LCMC Concern Group understands that it takes time and effort, and of course resources, to establish a language subject in this way. However, if a language is to be introduced in our education system, it is imperative that this subject be based on correct information. It should also be introduced in a way that is fair to all the members of society who are to learn this language. Otherwise, this can be very damaging to the language, to our education system, and to the community.
The decision to mark Traditional Chinese as a "wrong" answer on the Leaving Cert will create confusion for many Chinese learners. But it also sends the message that Traditional Chinese is not sufficient. This message is inaccurate and destructive from the educational point of view. Indeed, contrary to the Department of Education's claim that Traditional Chinese is only suitable for advanced learners, Traditional Chinese and Simplified Chinese are simply two different writing systems. This is very similar to American and British English. Many studies have shown that it is easier to learn to read Traditional Chinese, while Simplified Chinese is easier to write. Between the Pinyin system and the available technologies, we should be able to accommodate both systems for the Leaving Cert.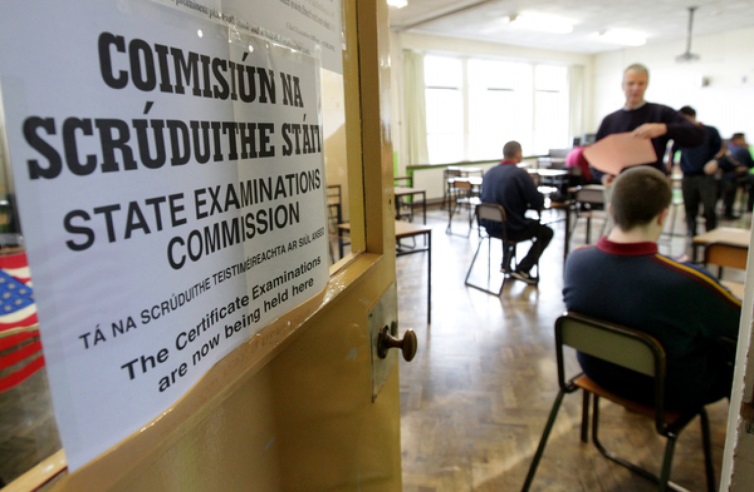 The Irish government has always been inclusive and accepting of regional linguistic differences. Such provisions are made for the Irish, French, Portuguese, and English languages on the Leaving Cert. We believe that the Irish government could make similar provisions to accommodate Chinese learners. Modern Ireland is a place where many different ethnic groups co-exist. We should be proud of this, as well as the fact that Ireland embraces diversity and cherishes the different heritages and cultures of all its citizens. We should also be proud that our Department of Education has committed to including different languages in its "Strategy for Foreign Languages in Education."
We all know that the process of learning a language is bound up with the process of identity building. If the Department of Education insists on marking answers in Traditional Chinese as "wrong," or "invalid," they are, in effect, denying the identity of those students whose heritage language is Traditional Chinese. This is completely at odds with the language education policies of Ireland and the European Union.
Many of you will have heard of Siobhán Haughey, who won two silver medals at the Tokyo Olympics. Her marvellous achievement brings joy and pride to Ireland and Hong Kong. If asked, we are sure Siobhán would say that her Hong Kong identity and heritage is just as important as her Irish roots. This also applies to all the Chinese Irish in Ireland. Indeed, Siobhán herself is a traditional Chinese user. Can you imagine if she were to sit the Leaving Cert Mandarin Chinese exam and be told that her heritage language was "wrong" in Ireland?
The views expressed here are those of the author and do not represent or reflect the views of the Museum of Childhood Ireland.
The LCMC Concern Group was set up in April 2021 after Ireland's State Examination Commission informed a group of parents that Traditional Chinese would not be accepted in the upcoming Leaving Certificate Mandarin Chinese examination. Currently, the group consists of over 400 members made up of professionals, concerned educators, students, parents, and Chinese learners. Coming from a great variety of backgrounds, namely Irish, EU nationals, mainland China, Hong Kong, Taiwan, Malaysia, Singapore, the UK, and the USA, our members suitably reflect the diversity of modern Ireland. If you would like to support or hear more about our campaign, please follow us on Twitter, sign our petition, or write to Minister for Education, Norma Foley.
Would You Like To Write a Reflections On . . . . Blog?
See Below for Previous Blogs and Submission Guidelines: