with Dublin Gazette
The Youth Voice Team at the Museum of Childhood Ireland ( aged 12-18 years of age ) were so happy to support Dublin Gazette Newspaper's sustainability competition for primary schools in Dublin, as it chimes with the contemporary aims and focus of our team at the Museum of Childhood Ireland, and following on from our own initiatives in this field, the launch of our islandwide 'Green-Blue Future' project. museumofchildhood.ie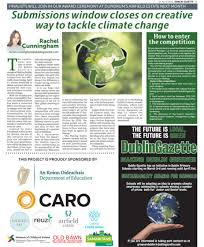 Dublin Gazette and the Museum of Childhood Ireland are asking schools to take part in this exciting campaign by adopting a climate awareness project. ( Individual or group entries)
It culminated in schools winning several prizes at Junior and Senior levels. 
Congratulations to all the School Children, Principals and Teachers from Dublin schools who participated and to Taney Parish Primary School, Scoil Mhuire CBS, Marino and St Kilian's Deutsche Schule on winning awards and beautiful prizes for their Sustainability Projects.
'Making Dublin Greener.'
The Future is Local.
The Future is green.
The new report from the Intergovernmental Panel on Climate Change ( IPCC ) lays bare the devastating harm caused by unchecked global heating, with scientists issuing their 'bleakest warning yet' on the impacts of climate breakdown. "Actions taken now will have a profound effect on the quality of our children's lives." they say.
It's important that our voices, the voices of children and youth in Ireland ( and worldwide), on our global future, and our local future, as places to play, study, live and thrive in, are heard. We really enjoyed seeing and hearing about all the creative ways young Dublin children devised to address the serious questions of sustainability and the greening of our city.
It's important that we all actively learn from, support and encourage action arising from their suggestions.
"The science and the solutions are clear. It's up to us how we shape the future." Christiana Figueres, former UN climate chief.
It's sobering to know that globally the work needed now will be around how to live with climate change – rather than how to stop it.
"Children of Dublin, we are highly impressed! You have our complete support for all your initiatives. "
"What really struck me about 'Making Dublin Greener', what seemed of real importance, was how many different types of groups came together and worked cooperatively to make this happen, to give youth a voice on this issue: Dublin Gazette, the Museum of Childhood Ireland, The Department of Education, Reuzi, Caro, Airfield, Capital Credit Union, Samaritans, Dublin, Old Bawn Blinds and Interiors and Baloon HQ."
"Looking at the awesome entries, the sheer breath of creativity really blew me away!"
"My area of interest is biodiversity so I honed in on the entries that particularly focused on this.
I see real understanding and genuine efforts to address the issues of Making Dublin Greener."
"Incredible creativity and innovation is displayed in all of the children's entries."
"I'm blown away by the artwork, execution and presentation of the projects too!" 
"The children's ideas on sustainability and climate action are incredible. They have all taken a very innovative yet practical, implementable,  approach."
"Many of the ideas are implementable immediately. I can't wait to see which entries get realised." 
"I loved the way that Dublin Gazette and the Museum of Childhood Ireland were inclusive in this competition and that they amplified not only youth voices on sustainability, climate action and the greening of Dublin but how they appreciated, recognised and used social media to highlight the support of and huge amount of work carried out by the organisations / voluntary organisations who partnered with them to help in this. 
We felt so energised by this, knowing the long hours our own team worked on the project, reaching out by email to every primary school in Dublin City and County, through direct mention during our Facilitator's Dublin schools seminar series, and ensuring the initiative was shared on our extensive social media platforms by our social media volunteer. A lot was achieved in a short space of time and at a time of year when schools were winding down. Individually we all shared 'Making Dublin Greener' with our individual networks too. It was wonderful to be a part of this big effort to ensure the first ever 'Making Dublin Greener ' event was the success it was. "
"It was wonderful to be part of this. History in the making!
"We were absolutely delighted to engage with and help Dublin Gazette in this initiative on Youth, Making Dublin Greener. "
The Youth Voice Team at the Museum of Childhood Ireland
"I loved the thoughtfulness and work that went into this year's entries but next year I'd particularly love to see some entries that address the issue of food waste especially 'leftovers' as part of the overall greening of our city, of our lives.
"Look at what basics you're binning. "Chefs talk about what to do with carrot tops or whey from cheese, but that's not where we need to make changes," says food writer Anna Jones. "It's the milk poured down the sink and stale bread – the items we don't put as much value on.
Jones tears up bread to freeze for instant croutons, or whizzes it into breadcrumbs for adding to croustades, pastas and salads. If oats have already been made into porridge, follow Claire Thomson, chef and author and treat "food waste" as ingredients, says chef Ollie Hunter. It's easy to turn it into something else; aquafaba (chickpea water) can be made into a vegan mayonnaise; fry squash seeds in oil and sprinkle with salt for a snack; cut courgette stalks into penne shapes and cook like pasta. You need to find creative ways to use everything up; wasting food is down to a lack of imagination."
50 simple ways to make your life greener, The Guardian. "
Majella McAllister.
MOCI Youth Voices Team
Emma Azim
Precious Benjamin
Danny Collins
Freya Feeney
Jemi John
Sinead O'Reilly
Alannah O'Sullivan
Nicole Power
Danny Sheehy
Facilitator:
Majella McAllister