Ann Hogan- Captain Hogan
Joseph Hogan married Margaret Daly on the 20th of April 1920. Their firstborn child Anne was born at 16 Heytesbury Place on 18th March 1921. She attended Loreto on the Green until second year in Secondary School. Anne wasn't a paying student so she and some other girls were taught by the nuns in a corridor.  The nuns later found her a job in Gerards Stationers on Merrion Row. Anne loved working there.
Anne had joined the Catholic Girl Guides on South Circular Road. She made her way up through the ranks until she became Captain Hogan. She had her own Brigíní troop and went for frequent hikes and camps which she enjoyed.
Her mother became very ill with bowel cancer and Anne and her sisters Peg and Maureen nursed her at home until she died on the 29th September 1940.
Anne met Joe Whelan whilst hostelling in Baltyboys hostel on Whit Weekend 1945. Joe had a lovely tenor voice which she loved. They both became members of Dick Veeken's singing group and often performed in Dublin. They married on August 25th 1948 and moved into their new house in Walkinstown  with their son Joseph in 1949. Anne had her first daughter Miriam in 1952 and her last child Rita in 1956.
Joe her husband contracted TB and was hospitalised in Peamount for four years.
Anne made all of the clothes for herself and her children on her Singer sewing machine. She also knitted jumpers and cardigans. She went back to work in the early sixties as a shop assistant in Easons on O'Connell Street. She later worked in Helys Stationers on Dame Street and Terry's Toy Shop on George's Street. She enjoyed travelling and in the early seventies had a holiday in Italy in which she travelled to Rome and Cascia. Anne had a very strong religious faith and was drawn to the life of St. Rita of Cascia.
In the nineties she retired and continued to enjoy holidaying abroad until Joe's health declined. Joe died on the 18th of December 1999. He had been suffering with Emphysema for many years.  Whilst taking care of Joe, Anne joined a local art class and enjoyed painting and exhibiting her work locally.  She became treasurer of the Community group until her own health went downhill and she was forced to retire.  Anne lived alone when Joe died. She was a keen gardener and always had a lovely flower garden.
Anne became bedridden for the last four years of her life when she contracted MRSA in hospital and lost her ability to walk.   She was nursed at home by her two daughters until she died on November 27th 2010 aged 89 years.
Mam and Dad met in Baltyboys hostel on Whit weekend 1944. Their wedding day 25th August 1948. The reception was held in the garden of her home in 16 Heytesbury Place.
Joseph born 7th October 1949. Anne and Joe summer 1955. Joseph aged 7. Miriam age 5. Rita six months.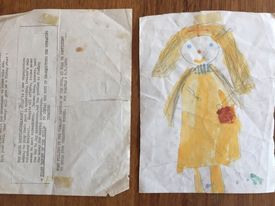 "You can see I was given the backs of letters to draw on. Also butchers paper. This would have been in 1958 when I was two years old." Rita.