THE CHILDREN OF ACHILL AND ROBERT HENRI
The Museum of Childhood Ireland (MoCI) are delighted to announce that we have received funding from Mayo County Council, and ethical approval through NUIG, for oral history researcher Aine Maguire to begin research work on the children and Robert Henri on Achill. September 2023
History Festival, March 24th – 25th 2023
Keel, Achill Island
An initiative of the Museum of Childhood Ireland (MoCI) and Achill Island Tourism
2023 FESTIVAL PROGRAMME

Friday 24 March
6pm Arrival, meet and greet. Music provided by piper Martin Lavelle, organised by Achill Tourism.
Saturday 25 March
9am Festival Registration and Launch
Keel Community Hall, Keel, Achill Island, F28 XA33
10am-11.30am The Museum of Childhood Ireland History Panel: Childhood in Nineteenth Century Ireland
Dr Sarah-Anne Buckley, Prof Ciara Breathnach, Dr John Cunningham,
Dr Sorcha De Brun
Q&A
11.30-12 noon Tea & Coffee
12 noon-1pm The Museum of Childhood Ireland Intergenerational Workshop: The Children of Achill and Robert Henri.*
Official unveiling of the children's art work** and Presentation of their research
Majella McAllister, Aoife Cawley, Dakota Oliveira
1pm-2pm Lunch break
2pm-3.30pm The Museum of Childhood Ireland Art History Panel: 'The Manet of Manhattan': Henri and his Art
With special guests: Bill Lord and Sydney Greene.
Jessica Burton-Restrick, Dr Roisin Kennedy, Dr Angela Griffith
Q&A
3.30pm Guided Walk to Corrymore House, organised by Achill Tourism
Return to Keel Hall, Tea and Coffee
Close of festival: Music by harpist Laoise Kelly Keel Community Hall. Music organised by Achill Tourism
*A pre festival Museum of Childhood Ireland 'Child Voice' engagement workshop was held to discuss the children and Henri, and to find out how the local children of today wished to participate in the festival.*
**A pre festival Museum of Childhood Ireland paired portraits painting workshop with local children was facilitated by Achill based artist Kate Callaghan. Children explored the dual aspect of painting a portrait and being a sitter.
BIOGRAPHIES:
Bill Lord and Sydney Green are retired academicians (Iowa State University and Johns Hopkins respectively) who spend most of their retirement on focused travel related to their active memberships in the Willa Cather and Robert Henri foundations. Their latest endeavour has been to create a Robert Henri Internship in conjunction with Peter Osborne, Executive Director of the Robert Henri Museum and Gallery in Cozad, Nebraska, which this year will be awarded to a Trinity College student.
Ciara Breathnach, MoCI, Associate Professor in History at the University of Limerick, currently holds an Irish Research Council Laureate and a Fulbright Scholar Award. She has a proven track record of research project management and delivery, and has published widely on Irish socio-economic, gender, life cycle and health history.
Sorcha de Brún, MoCI, lectures in Modern Irish in the University of Limerick, Ireland where she is also Director of European Studies. She received her PhD from the University of Ulster, Northern Ireland, in 2016 and has published extensively on twentieth and twenty-first century Irish language prose and literary translation. She has published poems and short stories in various anthologies, and a selection of her poetry and stories for children is on the Séideán Sí Primary Curriculum, published by An Gúm. A recipient of the John and Pat Hume Scholarship Award, Duais Foras na Gaeilge (Foras na Gaeilge Award) Duais Ghearrscéalaíochta Mháirtín Uí Chadhain (Máirtín Ó Cadhain Short Story Award) and Oireachtas na Gaeilge literary awards, Sorcha has translated and published a selection of poems by nineteenth, twentieth and twenty-first century German poets to Irish as part of the Dánnerstag Irish-German poetry project, of which she is co-director. She is also a co-editor of EuropeNow Campus journal and a member of the Royal Irish Academy Committee on Irish language and Celtic Studies (Coiste Léann na Gaeilge agus an Léinn Cheiltigh). Sorcha is currently working on her monograph on masculinities in Irish language prose writing.
Dr Sarah-Anne Buckley, MoCI, Head of the Department of History at the University of Galway. She is the author/editor of nine books, past President of the Women's History Association of Ireland and one of the foremost scholars in the history of childhood and youth in Ireland.
Jessica Burton- Restrick, MoCI, MA Arts & Culture (Museums & Collections) Leiden University, NL and BA History of Art and Architecture, Trinity College Dublin, IE whose specialisation is 19th and early 20th century painting and culture. Jessica will be acting as consultant art historian, curator and contributing writer for the project, with her primary focus being the art historical research and perspective on Robert Henri and his work.
Aoife Cawley, MoCI. Completing her Bachelor's degree in history and politics in UCD, Aoife has recently returned from international research in Berlin, Germany. She is assisting in the festival with special regard to Henri's contextual backgrounds and Youth Engagement. Her previous experience with conducting local historical projects, working with children and interest in Irish social history makes the Children of Achill and the Robert Henri festival an exciting project for her.
Dr John Cunningham is a lecturer in History at the University of Galway. A former editor of Saothar: Journal of Irish Labour History, he is co-Director of the Irish Centre for the Histories of Labour and Class. He has published extensively on Irish local history and on global labour history. His most recent book is Hardiman and Beyond: Galway Arts and Culture, 1820-2020 (2023) co-edited with Ciaran McDonough.
Angela Griffith is an assistant professor with the Department of the History of Art and Architecture, TCD and former director of the Irish Art Research Centre. She is currently Principal Investigator for the Cuala Press Project, Schooner Foundation, in partnership with the Library of Trinity College (2020 – 24). She is on the editorial board of the New Hibernia Review and her publications include Harry Clarke and Artistic Visions of the New Irish State (2018) (co-editor), and with the National Gallery of Ireland, Making Their Mark Irish Painter-Etchers 1880-1930 (2019).
Róisín Kennedy is Lecturer in the School of Art History and Cultural Policy at UCD. She is former Yeats Curator at the National Gallery of Ireland. Her research focuses on the critical reception and display of modern art in Ireland, on the position of women as artists and subjects in modernist art, and on the role of censorship and ideology in the production and patronage of modern art. She is co-editor and contributor to Harry Clarke and Artistic Visions of the New Irish State, (Irish Academic Press, 2018), Censoring Art. Silencing the Artwork (I.B.Tauris, 2018) and co-editor (with Fintan Cullen) of Sources in Irish Art 2. A Reader, (CorkUniversity Press, 2021). Her monograph, Art and the Nation State. The Reception of ModernArt in Ireland was published by Liverpool University Press in 2021.
Sarah Lavelle, Achill Tourism, is a small business owner in Dooagh, and secretary of Achill Tourism. As a descendant of "Kathleen" & "My Friend Brian" by Robert Henri, she conceptualised this project, realising it's value to future generations of the Achill community. Having knowledge of the genealogy of Henri's Achill sitters, Sarah will have a key role within the project; liaising with the research team and the local community.
Majella McAllister, MoCI, is the Director of the multi- award-winning Museum of Childhood Ireland. With a background in education, postgraduate studies IADT and MA, UCD , she specialises in creative, inclusive, collaborative, integrative initiatives. Her 'Project 2020' for MoCI was shortlisted with the Rijksmuseum and the National Gallery of Singapore for International awards. As Project Lead on 'The Children of Achill and Robert Henri History Festival and Project' she is responsible for taking it from seed to fruition, which involved building the team, concept shape, development, and implementation.
Chris McCarthy, Achill Tourism, Manager, Achill Tourism. Support will involve volunteering at the planned festival as well as marketing the event across all our social media platforms.
Paula Murphy is an Emeritus Professor in UCD Art History and Cultural Policy. Her publications include Nineteenth-Century Irish Sculpture, Native Genius Reaffirmed (Yale, 2010) and Sculpture 1600-2000, vol. 3 in the RIA Art and Architecture of Ireland (Yale 2015). She was awarded an RHA Gold Medal in 2015. She held a Senior Fellowship at the Smithsonian American Art Museum in Washington DC in 2016/17.
Dakota Oliveira, MoCI, Lecturer at University College Cork, is an American historian and anthropologist from Phoenix, Arizona. Dakota specialises in the promotion of marginalised peoples, and is part of the child / youth and inter-generational engagement workshops team. The Children of Achill and Robert Henri initiative is her first of many projects with the MoCI.
Dorothee Schmid McCoole, MoCI, coordinator of this project, currently working free-lance for a German private museum. Holds an MA in History of Art from the Courtauld Institute in London and an M.Phil. in Public History & Cultural Heritage from Trinity College Dublin. A German native, professional background in the art market and board of management experience in the education sector.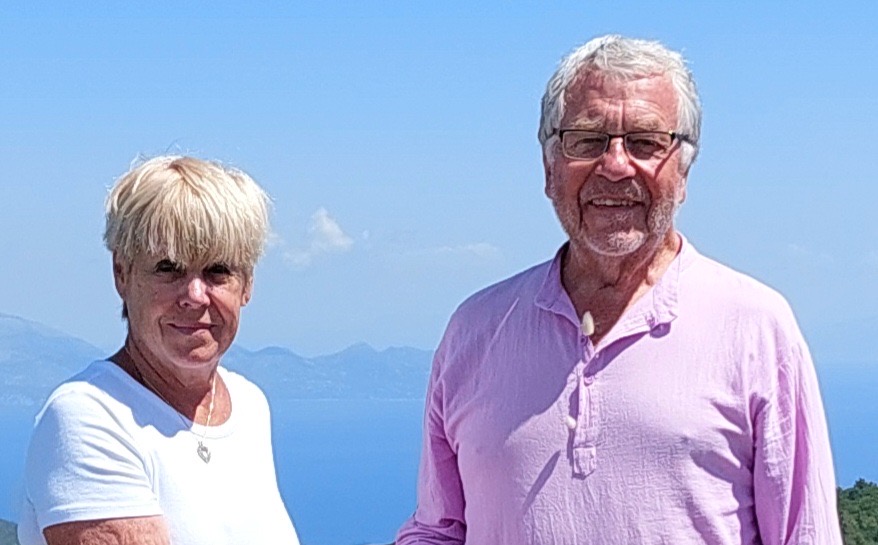 Photos from top, left to right:
Sydney and Bill Lord
Jessica Sharkey, Jessick Burton-Restrick, Dr Roisin Kennedy
Dr Angela Griffith, Aoife Cawley, Dr John Cunningham
Sarah Lavelle, Chris McCarthy, Dorothée Schmid McCoole
Prof Ciara Breathnach, Prof Paula Murphy, Majella McAllister
About the project and festival:
The Children of Achill and Robert Henri.
THE CHILDREN OF ACHILL AND ROBERT HENRI
History Festival, March 24th – 25th 2023
Keel, Achill Island
The Museum of Childhood Ireland, Músaem Óige na hÉireann and Achill Tourism, Turasóireacht Acla, are delighted to announce our collaboration on an exciting historical, cultural and art history project, exploring the activities of the American artist Robert Henri in Achill between 1913 and 1928.
Being a founding member of the Ashcan school and having a great interest in painting social realities, Henri painted portraits of local children and had great respect and admiration for his sitters. Henri's striking portraits of the Achill children go beyond a general study of local poverty, but instead manage to capture the individualism and personality of his young sitters, something exceedingly rare in portraits of youth at the time. Thus, in his works, he has managed to preserve not only the likeness but the essence of a group that would have otherwise been lost to time.
The children's world centred on family life and community, and as such their life stories are an important snapshot of the social, cultural and historic fabric. The children are with us still in our living memory. They are our parents, grandparents, uncles and aunts. By acting now, by reaching out to collect and record as much information as possible, we can help to ensure that this invaluable information is preserved for future generations.
The History Festival will be the culmination of a year of voluntary work by the museum team, and will have panels on History, Art History and intergenerational workshops with local children and adults from Achill. We are looking forward to being warmly welcomed to Achill island by Achill Tourism, and to their hosting of the festival.
According to Chris McCarthy, Manager of Achill Tourism, they are "delighted to be involved in such a fantastic event. Robert Henri through his art has been marketing Achill since the 1920s. It is a chance now for us to show our appreciation and give something back. We as a community are looking forward to welcoming all those who have helped make this event happen."
Majella McAllister, Director of the Museum of Childhood Ireland says, "Thanks to generous funding from Mayo County Council the inaugural Children and Robert Henri Festival is taking place. We have enjoyed working on this, and are looking forward to exploring the many future possibilities of the project. We love that the whole community is involved, especially the children."
Dr Sarah-Anne Buckley University of Galway said, ''The university are delighted to be supporting this project and look forward to working together in the coming months and years.''
Prof. Ciara Breathnach, University of Limerick, says "The University of Limerick is committed to town and gown activities and actively supports community driven history projects."
Austin Vaughan, Mayo Co. Librarian and Decade of Centenaries Coordinator stated "Achill is having a moment just now with The Banshees film. Mayo Co Council are delighted to support this festival which deals with the very real history of the period in which the film is set and I wish to congratulate the organisers for making it happen on Achill."
For all enquiries in relation to 'The Children of Achill and Robert Henri' Festival and Project', please contact: mmcallister@museumofchildhood.ie
Na páistí ó Oiléan Acla agus Robert Henri
Féile Staire: Leanaí Acla agus Robert Henri, 24-25 Márta 2023
An Caol, Oileán Acla.
Tá lúcháir ar Músaem na hÓige Éireann agus Thurasóireacht Acla ár gcomhoibriú a fhógairt ar thionscadal spreagúil stairiúil, cultúrtha agus ealaíne, ag iniúchadh gníomhaíochtaí an ealaíontóra as Meiriceá Robert Henri in Acaill idir 1913 agus 1928.
Mar dhuine de bhunaitheoirí scoil Ashcan agus suim mhór aige i bpéinteáil réaltachtaí sóisialta, phéinteáil Henri portráidí de leanaí áitiúla agus bhí an-mheas aige ar a chuid suiteoirí. Téann portráidí suntasacha Henri de pháistí Acla níos faide ná staidéar ginearálta ar bhochtaineacht áitiúil. Éiríonn leis indibhidiúlacht agus pearsantacht a shuiteoirí óga a léiriú, rud a bhí thar a bheith annamh i bportráidí na hóige ag an am. Mar sin, ina chuid saothar, d'éirigh leis ní hamháin cosúlacht a chaomhnú, ach croí grúpa a bheadh caillte le himeacht ama murach sin.
Dhírigh saol na leanaí ar shaol an teaghlaigh agus ar phobal, agus mar sin, is léargas tábhachtach iad scéalta a mbeatha ar an fhabraic shóisialta, cultúrtha agus stairiúil. Tá na leanaí linn fós i gcuimhne na ndaoine. Sin iad ár dtuismitheoirí, ár seantuismitheoirí, uncailí agus aintíní. Trí ghníomhú anois, trí shíneadh amach chun an oiread eolais agus is féidir a bhailiú agus a thaifeadadh, is féidir linn cinntiú go gcaomhnaítear an fhaisnéis luachmhar seo do na glúine atá le teacht.
Is tús sraithe í an Fhéile Staire agus cuimsíonn sí painéil ar an stair, stair na healaíne chomh maith le ceardlann idirghlúine le leanaí áitiúla agus daoine fásta ó Acaill.
Dar le Chris McCarthy, Bainisteoir Thurasóireacht Acla, tá siad "thar a bheith sásta a bheith páirteach in imeacht chomh hiontach seo. Tá Robert Henri, trína chuid ealaíne, ag cur Acaill ar an margadh ó na 1920idí. Deis atá ann anois dúinn ár mbuíochas a léiriú agus rud éigin a thabhairt ar ais. Táimid mar phobal ag tnúth le fáilte a chur roimh gach duine a chuidigh leis an imeacht seo a chur ar siúl."
Dúirt Majella McAllister, Stiúrthóir Mhúsaem Óige na hÉireann, "A bhuí le maoiniú flaithiúil ó Chomhairle Contae Mhaigh Eo, tá an chéad Fhéile Leanaí & Robert Henri ar siúl. Bhaineamar an-sult as a bheith ag obair ar seo, agus táimid ag tnúth le hiniúchadh a dhéanamh ar na féidearthachtaí iomadúla a bheidh ag an tionscadal amach anseo. Táimid ar bís go bhfuil an pobal ar fad páirteach, go háirithe na páistí."
Dúirt an Dr Sarah-Anne Buckley Ollscoil na Gaillimhe, ''Tá lúcháir ar an ollscoil tacaíocht a thabhairt don tionscadal seo agus táim ag tnúth le bheith ag obair le chéile sna míonna agus sna blianta amach romhainn.''
Dúirt an tOllamh Ciara Breathnach, Ollscoil Luimnigh, "Tá Ollscoil Luimnigh tiomanta do ghníomhaíochtaí baile agus gúna agus tacaíonn sí go gníomhach le tionscadail staire atá tiomáinte ag an phobal."
Dúirt Austin Vaughan, Leabharlannaí Chontae Mhaigh Eo agus Comhordaitheoir 'Decade of Centenaries', "Tá nóiméad ag Acaill faoi láthair leis an scannán The Banshees. Tá an-áthas ar Chomhairle Contae Mhaigh Eo tacú leis an fhéile seo a phléann le fíor stair na tréimhse ina bhfuil an scannán suite agus ba mhaith liom comhghairdeas a dhéanamh leis na heagraithe as ucht é a chur ar siúl in Acaill."
Déan teagmháil le: mmcallister@museumofchildhood.ie
Mile buíochas le Aoife Ní Chorráin
Written descriptions of the above images are available by moving your mouse across the image.
A Presentation from the children of Dooagh National School on their Robert Henri work is available here:
AchillChildrenPresentation

Photographs from some of the pre Festival Children's Workshops on Achill. Conversations with the MoCI and our artist led engagement.
Photos sent with kind permission for use from their school.
Video recorded and shared by the MoCI with permission from John 'twin' McNamara:
John 'twin' McNamara, Achill, recorded, March 25th 2023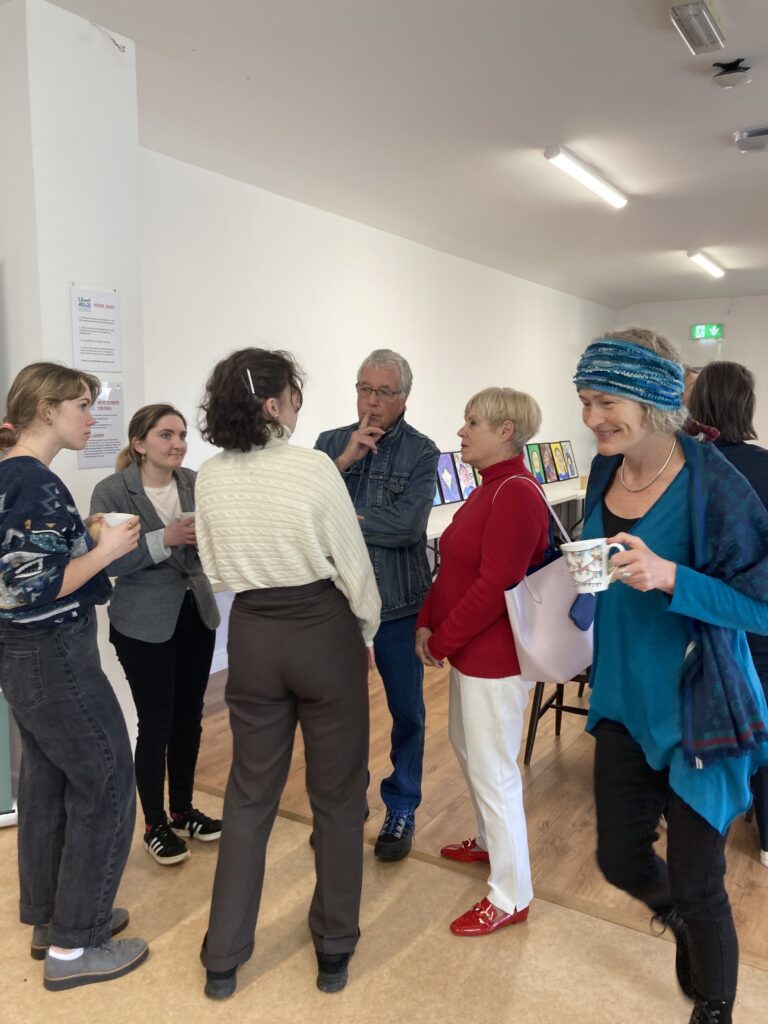 And Ralphy, the museum's dog came too!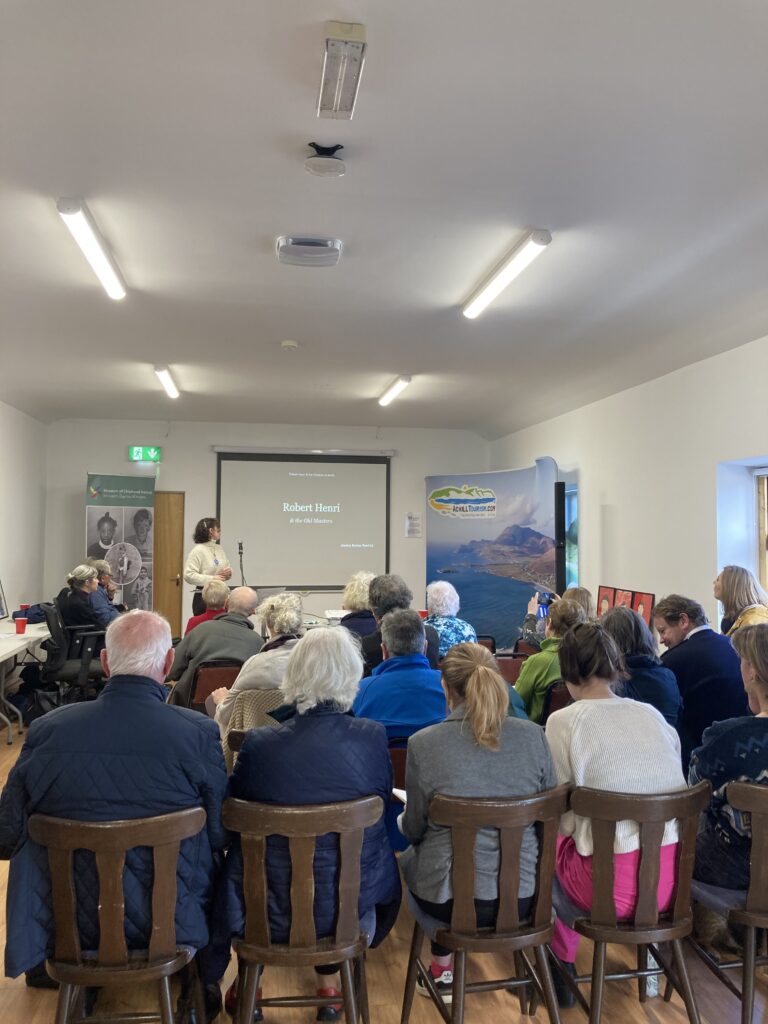 MoCI Website:
Page:
https://www.facebook.com/MuseumOfChildhoodIreland
https://twitter.com/museumofci?ref_src=twsrc%5Egoogle%7Ctwcamp%5Eserp%7Ctwgr%5Eauthor
https://www.linkedin.com/company/museum-of-childhood-ireland/
Do check out the prints of Robert Henri portraits on display at the wonderful 'Achill Experience.' ( Achill's all-weather visitor centre and Aquarium ) Contact: enjoy@achillexperience.ie
The Museum of Childhood Ireland volunteer team involved in the project are:
Historian: Dr Ciara Breathnach, UL
Historian: Dr Sarah-Anne Buckley, NUIG
Art Historian: Jessica Burton-Restrick
Irish Language: Dr Sorcha De Brun, UL
Project Co-ordinator: Dorothee Schmid McCoole
Intergenerational Workshops: Aoife Cawley, UCD
Intergenerational Workshops, Dakota Olivera, UCC
Project Development and Lead: Majella McAllister
Mile Buíochas
Majella McAllister
Contact: mmcallister@museumofchildhod.ie
Phone: +353 87 6816760