The Ask
Imaginative Reuse!
Museum of Childhood Ireland Attention all budding young Artists, Designers and Architects! Do you have an idea of how you'd like to reuse any building ( whether in use or not at the moment) in Tipperary Town? You can be as imaginative as you like! (Personally, I'd love a shop that sells good luck, and rainbows! )
You can draw /paint /collage /sketch /stitch/Lego / Meccano/ model-make your ideas! ( Don't forget to provide a few lines to explain your idea too!)
The Judges
Helen Magee Byrne
Helen Magee is an Irish artist and illustrator based in Delgany, Co. Wicklow. Originally Helen was exclusively an oil painter but in 2013 she created her own design brand. Using her hand painted designs she creates pretty collections of wall art, kitchen textiles, greetings cards, illustrated notepads and social stationery selling them in her online shop (link below) and to beautiful shops and galleries all over Ireland including the National Gallery of Ireland shop. She also licenses her work to John Lewis in the U.K. Helen is at present working on a collection of oil paintings with a view to having her first solo art exhibition in the near future.
Website https://www.hairyfruitart.com
Adelle Hickey
"My work is a synergy between designs based on a narrative to create a visual atmosphere. Garment structures are for the most part central to the work, imaged using medical equipment, photography and more recently of mono-printing techniques.
Taking on a new role, the garment becomes a portrait to recognise and capture what is felt as well as what is seen. Dresses, aprons and shoes are key structures used in a variety of materials to represent the narrative.
Based on the premise that surface appearances often mask what is deeply felt, the garments are momentarily removed from the body to reflect upon a specific narrative and language. Sewing and knitting techniques are brought together in different materials and structures and the further realised and imaged."
Joe Ryan
Joe Ryan. Dr Joe Ryan holds a Doctorate in Fine Art from University of East London for a thesis entitled "Art, Institutions and Social Control", he obtained a Distinction for M.A. Fine Art printmaking and holds other M.A.s in Digital Art and Humanities from UCC and Public Cultures and Society from I.A.D.T. Ryan has exhibited extensively for a number of years both in Ireland, U.K. and internationally and recently was selected for a major solo exhibition and painting residency funded by Debica Municipal Office in Poland. Ryan has also been selected for numerous juried printmaking Biennale's across Europe, Asia, United States, Canada and New Zealand. Commissions include University of East London and Universities in the Far East and also held in numerous private and public collections.
"My work and research interests revolve around Art, institutions and Social control, which could involve complex labyrinth structures and intertwining systems all interdependent on each other, I am also interested in architecture and the built environment where buildings invoke their own form of control and power, such as Jeremy Bentham's theories of panopticons."
Joe Ryan at https://www.linkedin.com/profile/view?id=64053018&trk=hp-identity-name
Tony Strickland
Independent Art Curator Tony Strickland is curator of The Art Ambulance and council member at the Contemporary Irish Art Society, and an Ambassador for the AKA Fringe Festival. He is also a consultant on Pigs on Parade, and Hares on the March for the Jack and Jill Foundation. Tony has been curating art exhibitions since 2008 in venues including: Gallery 27, Ranelagh Arts Centre, Conradh na Gaeilge, Crow Gallery, United Arts Club, Bad Art Gallery, Athena Room @Sol Art, and at Sheltered Arts.
To contact, email Tony at: marginman1@gmail.com
https://m.facebook.com/marginman?refid=17
Valerie Syms Martin
"I am a plein air artist living in County Dublin, Ireland. Most of my work is painted in Ireland, but the paints are packed when I travel abroad. Life studies and portraiture are also an important part of what I do. Recently I have been painting botanical studies. I do most of my plein air work in the summer, and when the weather is good. When the weather turns cold and wet, I am to be found in a life studio.
2016 I won the Mayoral Award at Wexford's Art in the Open festival. 2016 I won a prize in the Quick Draw in Wexford's Art in the Open Festival. 2018 I won a first prize in the Dublin Plein Air festival. 2018 I won a prize in the Quick Draw in Wexford's Art in the Open festival. In 2018 I have been painting from life in the Royal Hibernian Academy in Dublin. I painted with an international group of artists in Venice in 2017 & 2018, and I was a juried (selected) artist for Paint Annapolis 2018."
https://www.valeriesymsmartin.com/About.html
The Prizes
We have 'Rainbow of Creativity' Sets from Easons, Dúnlaoghaire, and art, craft, books and Lego from the Museum of Childhood Ireland.
The 10 Finalists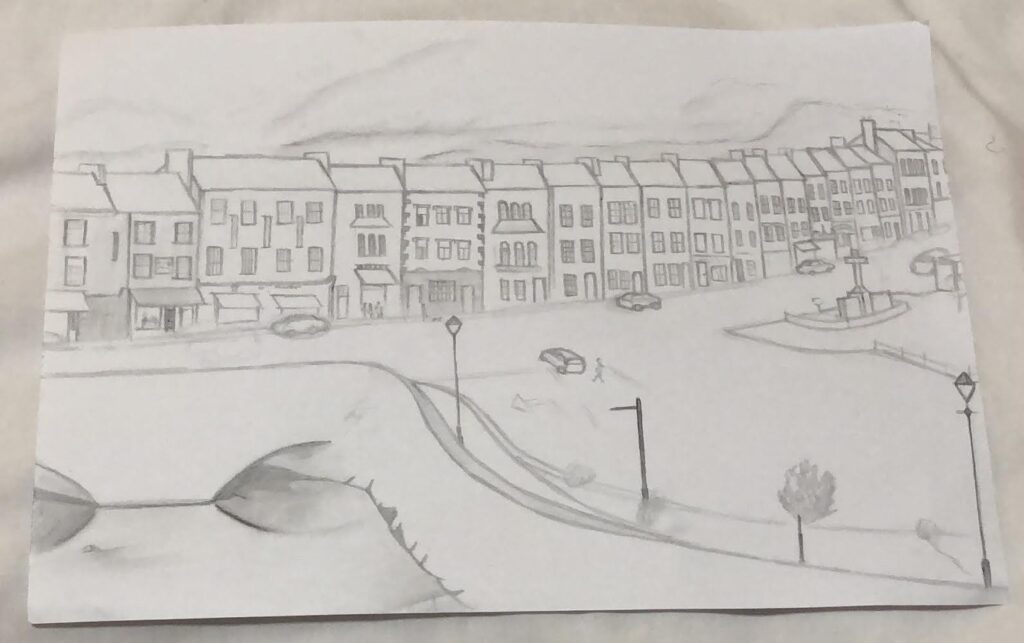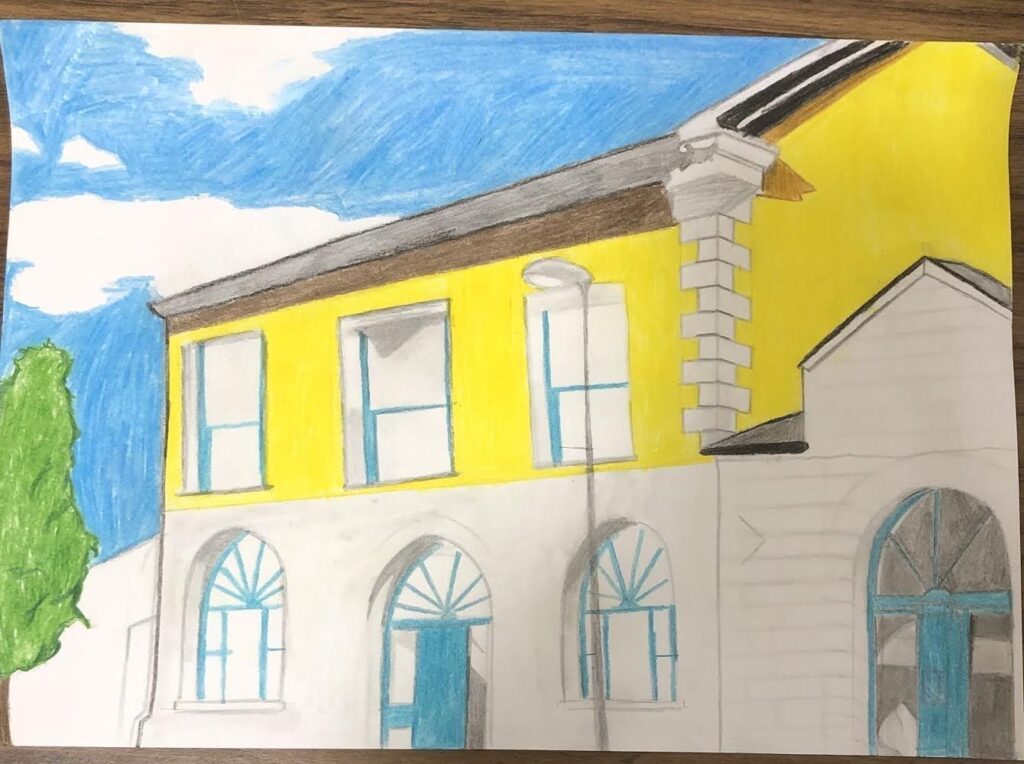 If I could I would repair and then paint as many buildings as possible in Tipperary ( first drawing) in beautiful, bright colours, like in my second picture, and use a unified palette of colours.
I'd also add a water feature ( recycled water), edible and flowering plants and trees, bike racks, seating and landscaping. Disabled access everywhere, inside and outside, is really important too.
I would definitely turn a building or a few buildings into an art gallery, where people of all ages could come together and contribute art, learn about art and look at art pieces for free.
Tipperary is a very beautiful town but even the interesting clock tower is painted in a dull colour. Painting the town, and adding lots of flowers and trees to improve air quality will make Tipperary Town really photogenic.
Abdulhaqq, age 13
Judges Comments
Abdulhaqq we think you have imagined great things for Tipperary town and it's buildings for the future, and you have worked hard and illustrated your plans extremely well. Your detailed drawings of the buildings in pencil and also your coloured drawing demonstrate clearly what you see in your mind's eye. Your own phrase 'unified palette' for the colours of the buildings is a very clever vision and you are so right! Using your plans Tipperary town could be so beautiful with plants and recycled water features, ( we can imagine gathering around the fountain to meet and chat- a focal point) and also colourful, full of life with fun arty places for everyone to enjoy. Artistic and architectural talent alongside ideas and ingenuity. Well done Abdulhaqq!
I built this boxing ring in a repurposed building in Tipperary Town for people who can't afford to go to a club. This is a ring for them. People sign up and one week 10 people get to use the ring, the next week another 10 people get to use it and then they can have boxing matches.
Sarah-Lilly, Age 10
Sarah-Lilly your boxing ring plan is a great idea and your little model is well put together. Your vision and imagination for encouraging boxing for everyone is wonderful. With many great boxing role models locally and nationally, like Shauna O'Keefe, Leah O'Gorman, Molly Doyle, Katie Taylor, Kellie Harrington, Carly McNaul, Amy Broadhurst, and Lisa O'Rourke, not to mention role models in Irish men's boxing, it would be wonderful to promote even more sport in Tipperary Town. You made us think of the importance of a wide variety of physical sport offerings, for health and social life. Your idea is also very inclusive and well thought out. Our towns need to offer lots of sport and recreational choices. Well done. Super imaginative, and we loved your pipe cleaner boxers!
My reimagining of an empty building in Tipperary Town is to make it into a really cool school with millions of books in the library and comfy chairs and lots of reading time! There would be great science labs for experiments and figuring things out. The girl in one of the labs in my drawing can't turn the tap off though. "oh no"!
Alice, age 8
Alice, you have made a great effort with your art and have illustrated very well the outside and inside of your 'cool school' with lots and lots of books, a dedicated area for hanging up outdoor wear (whether the weather is inclement or fair), and fantastic scientific experiments. You would never guess from the outside of the building what a wonderful and lively place of education it is inside! We love the scientific experiments that are going on! I wonder what type of science the girls will end up going into after such a dynamic school science environment? Chemistry, Physics, Biology, Environmental science, Engineering…no matter where you live in Ireland there are so many routes to science careers to explore. The lines of your Tipperary Town building are beautiful too, very classical, and the excellent detail of the railings by the path leading to the hall door were noted in particular. Do you enjoy architecture and interior design? We also love that the sun is shining so brightly, just as it was this august during Heritage Week in Tipperary. Well done!
I have repurposed a building in Tipperary town as a music studio. It has a place to practice upstairs and a music shop downstairs. We need this in all Irish towns, because we all love music. The name of my shop would be 'Rocking Music'.
Sofia, age 7
Judges Comments
Congratulations Sofia on your model of a great musical 'hub' in Tipperary town. You used great retro colours and the stairs is very well done. Super skilful modelling work! We all loved the instruments hanging on the walls, as would have happened in most Irish houses and cottages down through the centuries. What a lovely idea, a shop downstairs, with a practice area upstairs. We love that you imagined upwards and used all the space. Very architectural. Very sustainable. I also like your vision encouraging one of these 'hubs' in every Irish town keeping music alive in Ireland. So important for cultural, creative, personal and social reasons. Well done!
This is the library but I've reimagined it as a a library for cats to visit in Tipperary town!
Esten, age 8.
Judges Remarks.
We loved your Library for Cats! We loved that they and you love Tipperary Town, and we love that you love animals and show your care by having a library for them! What a great imagination you have Esten and your cat illustrations are fabulous. The detail is excellent. We think you should write a fun story about your cat library, you are already half way there! Well done.
I would turn a disused shop in the centre of town into an aquarium, to look at jelly fish and see all kinds of fish. My building has an obstacle course for the fish and the water is blue.
Emma, Age 8
Emma we love the work you have put into your aquarium, it would be a very interesting idea for Tipperary town- a living sculpture! I wonder if any exist in any town centre in Ireland already or could this be a first! An obstacle course for fish so they too can have fun sounds wonderful! Would you volunteer as the fish feeder at certain times of the day? You'd get a great audience! Great imagination. Well done!
I'd use an old building in Tipperary town, or maybe even an old castle in Tipperary and change it into a roller coaster or theme park!
Maria, Age 11
Judges Comments
Maria we really liked the way your 3D artwork has hints of castles, and your idea of castles becoming roller coasters is very adventurous and fun. Adding fun elements to Tipperary town would be brilliant for children, teenagers, and adults. It would also provide employment opportunities. Creative, innovative thinking. Well done!
This is my reimagining of an empty building on the Main Street. It's a building where anything can happen and you never know who you might meet!
Leon, age 10
Judges Comments
Well done Leon, you have worked hard using your imagination, building a colourful and well structured lego building which looks like a busy place. I can imagine lots of people walking up those grand steps! A fun, costumed pageant / festival would actually be a fantastic idea for Tipperary town. The whole community, creative, businesses, schools, youth groups, the County Council, Tipperary Revitalisation group, Excel Heritage etc could all work together to make this happen! It would be nice to imagine great things happening there in Tipperary!
I'd turn an empty house or shop into a special place with a pond and a garden so it could be just for our family and our forever home. When I have children they could live there too. It would always be warm and happy, and we wouldn't have to move on.
Ali, age 10
Judges comments
This is a beautiful drawing of a really cosy and welcoming home. The lights are on, the sun is just beginning to set in the west and we couldn't imagine going home to a happier more welcoming house than this one. The colours you've chosen are really gorgeous. Your garden pond is wonderful too. Well done!
I would turn the empty shops into houses and me and my friends could live there and play in and out of each other's houses. We would make a garden to share and as our houses would be close to our school, we could walk to school and back again together.
Áine, age 6
Áine, we get a real sense of community and friendship in your drawing. How wonderful that you and your friends can wave across to each other and make a garden together. Have you visited the amazing organic garden at Knocanrawley? You'd find great, inspirational ideas for your garden there. We love that you'd be able to walk to and fro from school too. Healthy, playful, sustainable, and environmentally friendly! Well done!
Congratulations Comhghairdeachas
Congratulations to all our Heritage Week Art Competition finalists from the judges, and the team at the Museum of Childhood Ireland. Our thanks to all the talented entrants, and our wonderful collaborative partners for Heritage Week 2022 Thank You – Míle Buíochas
Contact, Majella McAllister: mmcallister@museumofchildhood.ie