Joyce and music. Intergenerational, family friendly Bloomsday. Children are especially welcome! You are cordially invited to join Majella and the Museum of Childhood Ireland team for tea, cake and a chat from 11am on the morning of Friday 16th June. We have a gorgeous main display, and several mini displays, centred on the music which inspired Joyces work. Pick up some music handouts and relax as we play for you the songs of Joyce. We'll have baskets of tambourines, rattles etc available for children, but if you play a portable instrument please feel free to bring it along! Unfortunately we don't have a piano…yet. We're inspired by:
"Given Joyce's musical patrimony — his own fine voice and talents as a musician, his father's considerable and near-professional skills as a singer, his encyclopedic knowledge of musical matters, and the rich musical milieu in which he grew up — the profound influence of music on the shaping of his works should come as no surprise.
Starting with Dubliners and in each successive prose work, Joyce makes increasingly subtle and demanding use of music to carry his tales forward, culminating in Ulysses, where it becomes absolutely integral to the storytelling, especially in the Sirens episode.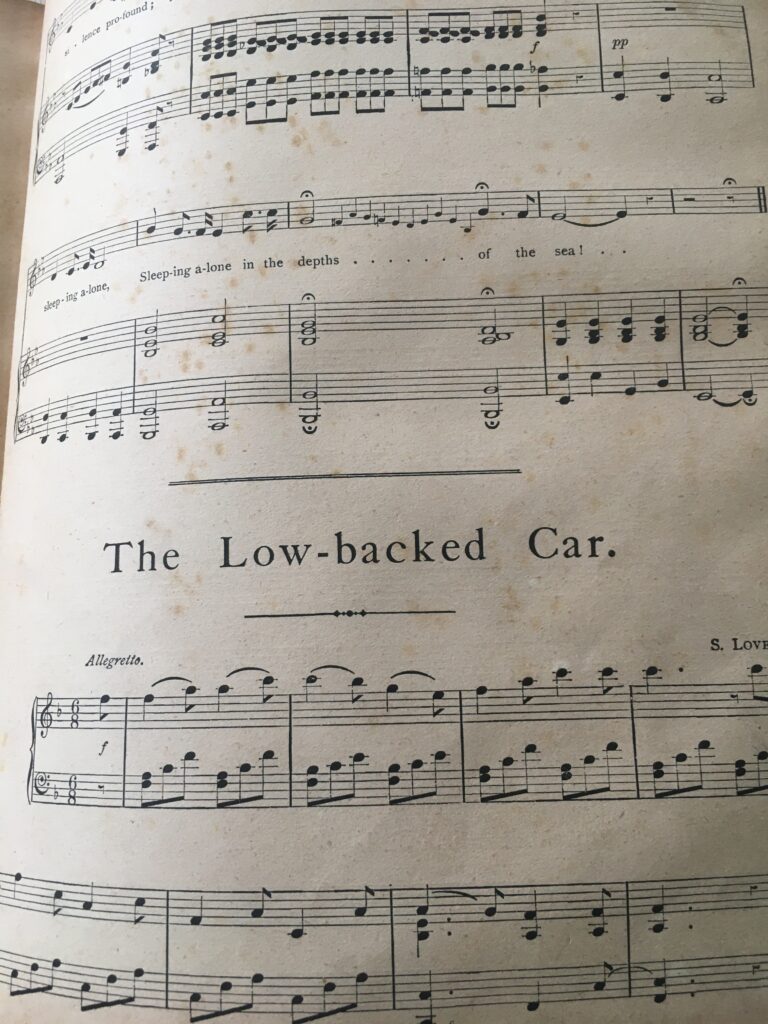 Finally, in Finnegans Wake, where the very name of the book is borrowed from the title of a popular broadside ballad, and in which thousands of musical allusions are woven into its tapestry of universal history, we come full circle. For, like Chamber Music, it really is less a piece of writing than a kind of music, an epic prose chorale. The book begs to be performed, the inert words on the page recited aloud in order to be brought to life and fully appreciated. In fact, that is exactly Joyce's advice: "It is all so simple. If anyone doesn't understand a passage, all he need do is read it aloud."
Good advice — and a timely reminder that Joyce was not simply writing books to keep scholars busy. He was writing to enlighten, and to entertain."
▪ (or, "The Flower Song")
▪ (or, "Dingdong! The Castle Bell!")
▪ I Dreamt That I Dwelt in Marble Halls
▪ (from The Bohemian Girl)
▪ I'll Sing Thee Songs of Araby
▪ (from Lalla Rookh)
▪ M'appari
▪ (or, "Martha")
▪ The Lass That Loves a Sailor
▪ (from Florodora)
▪ (from The Colleen Bawn)
▪ Suite from Ross Lee Finney's Chamber Music
▪ (I, II, X, XXXI, XXX)
▪ Suite of Stephen's Piano Improvisations
▪ (Loath to Depart, The Agincourt Carol, Greensleeves)
Info@James-Joyce-music.com
Majella McAllister: mmcallister@museumofchildhood.ie