Ireland, Scotland, England, Wales. Dear grandparents, parents, children, Aunties, Uncles, neighbours, everyone! Our MoCI colleague Ruthanne Baxter (Edinburgh University Museum) has developed this wonderful intergenerational initiative for you. We hope you'll find it an interesting resource to help you stay connected both during the pandemic and afterwards. It's a really great, simple, fun, community project that everyone can enjoy being part of.
You may have found that sending the free postcards issued by An Post during Covid-19, for sending handwritten messages to your loved ones, has really whetted your appetite for writing? If so this writing or drawing, ongoing project is for you.
Remember all you need to participate in the Gel Project letter Writing initiative is a pen, paper, envelope, stamp and the wish to send a message to someone. Get writing! Get posting! Get sharing!
We're definitely going to be taking part.Won't you? Postcards/ paper, envelopes, and stamps at the ready…
If you feel like sharing your correspondence, too we'd love to hear all about it!
So what do you have to do? Have a read all about it below! (Click on the image for pages 1-7)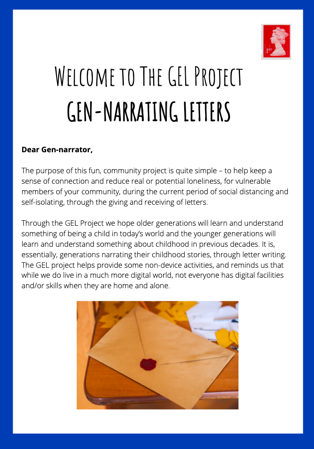 https://www.anpost.com/Media-Centre/News/Send-Love-to-someone-special-with-free-An-Post-Pos
You might find these links interesting; the History of An Post
https://www.anpost.com/About/History-Heritage/History
https://www.theirishstory.com/2017/12/16/book-review-the-post-office-in-ireland-an-illustrated-history/
Ami, age 11 from Co Carlow sent us this:
"I used to see my granny every week until Covid started and then to keep her safe, she couldn't visit and we couldn't visit her. I was very sad and so was granny Marie. Granny M is my dad Paul's mum.
My other granny, granny Brigid, granny B, died from Covid at the start of the Pandemic. There is a lot I'd like to have asked her, but I didn't get the chance, not just because of Covid, but because she developed Alzheimer's when I was a baby. That was why she was in a nursing home.
We started this project and now we have about 50 letters between us. Well they aren't all letters, some are recipes, some are pictures, some are photos. What I love doing is asking my granny about what it was like when she was my age, and her experiences during the 'emergency' in Ireland. I feel we have connected over that. Thank you Museum of Childhood Ireland. Maybe someday I'll make a book of all our letters."
https://en.wikipedia.org/wiki/The_Emergency_(Ireland)
https://letterpile.com/memoirs/World-War-Two-the-Emergency-Ration-books-in-Stoneybatter-Dublin-7-Ireland