1930s Triang doll house, Dúnlaoghaire, Co Dublin.
Lines Bros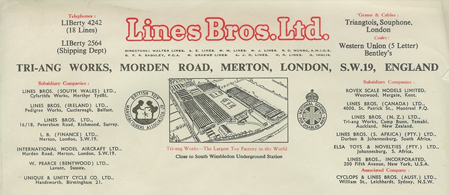 Lines Bros Ltd was a British toy manufacturer of the 20th century, operating under the Tri-ang Toys brand name.
Lines Bros Ltd, at its peak in 1947, was claimed by the company to be the largest toy maker in the world.[1] Under the Tri-ang Toys brand name, Lines Bros Ltd also made children's bicycles, such as the "Tri-ang Unity Dragster TT" Bicycle.
History
Tri-ang R64R Platform Curved End Right last shown in the 1961 catalogue. Larger items had a catalogue number embossed on them.
The brothers George and Joseph Lines made wooden toys in the Victorian era, their company being G & J Lines Ltd. George was a trained carpenter, while Joseph was more business focused. Joseph had four sons, three of whom formed Lines Bros Ltd soon after the First World War. They were William, Walter and Arthur Lines. Three Lines making a triangle – hence Tri-ang. Arthur's son, Richard Lines, was largely responsible for the Tri-ang Railways system. At the start of the Second World War, production of children's toys was deemed non-essential by the British Government. As a result, production facilities were converted to weapons manufacture, specifically the Sten Mk III submachine gun. Manufacture of toys resumed shortly after the war ended.
At their peak they had 40 companies world-wide, including the famous Hornby, Meccano and Dinky brands, but as a result of losses overseas they were in financial trouble. In 1971 Lines Bros. Ltd called in the Official Receiver. The Group was broken up and sold off. Rovex Tri-ang Ltd (which had the Hornby Railways among its portfolio) was Pocket Money Toys Ltd and then sold as Rovex Ltd, complete with its factories at Westwood and Canterbury, to Dunbee-Combex-Marx Ltd. (DCM). G & R Wrenn, a linked toy railway company, bought itself free as Wrenn Railways. The remains of the Tri-ang brand was sold off. As a result, the Tri-ang Hornby system took the name Hornby Railways from January 1972, with the Dinky and Meccano businesses being acquired by Airfix.
Product lines
Wooden toys
Hobby horse walkers being made in Merthyr Tydfil in 1951
The company kept producing toys made of wood such as dolls' houses, toy forts, a Noah's ark with wooden animals as well as a small range of wooden soldiers.