Family
Rose's family lived on the Ennis Road in Limerick City from 1957 to 2023, in the same semi-detached house with gardens back and front.
Rose was born in 1959 and she was a bit older than the next two siblings and more than a decade older than the youngest. She was careful with her special toys; she was allowed to play with some of them only on Sundays and her siblings generally preferred other kinds of toys. That's why many of these toys survived, in relatively good condition while lots of other toys, fondly remembered and played with by everyone in the family in turn (plus their friends), fell apart and were thrown out.
Two-storey dolls' house
This is a two-storey metal-fronted dolls' house. The model is Vintage Triang 1960s Dolls House no. 65.
The house was given to Rose by her parents at Christmas 1965 or 1966. Her mother, Berney, recalled buying it in a shop at the top of Roche's Street in Limerick. The house was almost empty when it arrived but, over the following five years, her parents would add to the furniture at birthday time, until it was full to bursting. Her Uncle Kevin from Salthill gave her the TV which was really A Souvenir from Ireland containing photos of different beauty spots, but it made a perfect TV too! Her father, Sean brought back the pink wooden sitting room furniture from a business trip to Sweden; its minimalist Scandinavian design made it the most exotic thing in the dolls' house.
One-storey dolls' house
Rose's mother, Berney was born in 1929 and grew up in the 1930s-1940s in Limerick city centre with her parents, John and Essie, and her two brothers. Her father developed lung disease in the 1950s, after many years of working on the trains and inhaling coal smoke, and was an invalid for his last years. He had been a merchant seaman and was artistic and clever with his hands. He drew, he wrote poems, and later he did patchwork to pass the time when he could no longer move about.
He made this dolls' house for Berney when she was a small child in the 1930s. The original roof fell apart and was replaced by Rose's father in the 1960s, but the electric wiring was done by John in the 1930s so that light could be made to shine out through the Georgian-style windows in the evenings. He wallpapered the inside walls and pasted small cut-outs over the wallpaper to act as pictures on the walls.
The contents are now a mixture of the original furniture John made and bits that migrated from the two-storey house, especially in the 2000s when Rose's nephew used to play with both houses at once, moving people and furniture around to suit different scenarios.
Dolls' dresser
Berney's father also made this for her in the 1930s and it received new coats of paint in the 1960s and 1970s as it came back into use, with Chinese blue Willow china crockery on its shelves.
Dolls' Pram
Rose was given the dolls' pram for Christmas sometime in the mid-1960s by her godmother, Callie and Callie's husband Earl (who was Berney's brother). Callie recalled buying it in Todd's in Dublin.
The pram seemed remarkable at the time because it looked just like a miniature version of the real old-fashioned pram in the house. Well-loved but still mostly intact, with original rainproof hood and cover, plus added bedding and dolls, it's similar to the Silver Cross model, but it's labelled "Clonmel" only. There seems to have been a pram factory in Clonmel until its destruction by fire in the early 1970s but I have no idea if the pram is actually Irish-made.
In any case, the pram housed many generations of dolls over the years, including the current occupants:
• Mairead, whose eyes opened and shut and who has alas lost a leg. Rose's maternal grandmother, Essie gave Mairead to her, having bought it in McBirney's Toystore in Dublin. Essie died in 1964 which means that Mairead is about 60 years old (in 2023)
• the doll in in the gold dress: Rose had two aunts (who were Sisters of Mercy) living in Australia and they sent toys from there, including a koala bear and this doll
• Seaside Dolly whose hair was plastic and who suffered the indignity of having hair glued over it, which didn't stick
• A blonde doll in blue clothes with a bonnet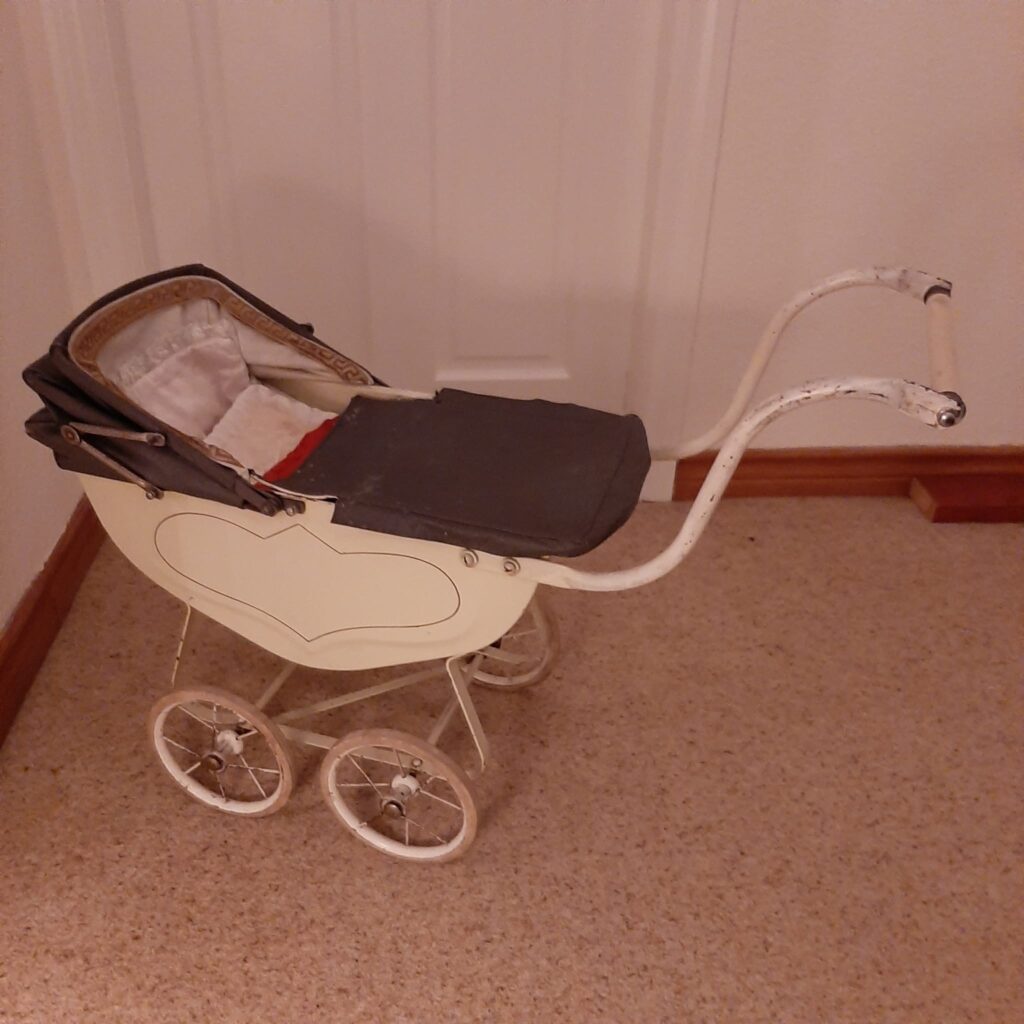 Holly Hobbie Doll
In 1975, Rose got a Holly Hobbie doll (blue doll) from her parents for her birthday. The rag dress-wearing little girl in a giant bonnet was all the rage at the time and came in a variety of sizes. Holly's vintage look and natural materials were in tune with fashion for teenage girls at the time – midi length dirndl skirts, "peasant" blouses and open-toed sandals (although, unlike her older neighbour, Rose never dared to write Love or Peace across her footwear!)
Ironing board and iron
Rose's godmother, Callie and Earl gave Rose the ironing board with an iron, probably for her birthday sometime in the mid to late 1960s.
In the 1960s many gifts for girls were quite traditional, in that they reflected the prevailing ethos that little girls should grow up to be housewives.  Usually the toys didn't have batteries and so they didn't really "work" but Rose felt very grown-up and was happy to replicate her mother's actions as she played with toys like this.
Holster
However, Rose also received more "liberated" (gender neutral) gifts, such as a doctor's set (a red plastic Gladstone bag containing instruments); a carpentry set and a Wild West cow girl's outfit complete with a toy cap gun in a leather holster, which was so well-loved by all that only the holster remains.
Tea sets
Rose was given many tea sets throughout the 1960s, by her parents and by her godmother. Most were made of plastic. Some were real china with the Chinese blue Willow design and the cup handles always broke off! The fanciest tea set also contained realistic looking cutlery including a cake slice. While some sets were returned after each play session to their original box for years, inevitably, with three girls in the family, all the pieces got jumbled up together and this is what remains today.
The blue CODEG (made in England) set with transfers might be older than the 1960s as I'm pretty sure it came to us second hand, possibly from a school jumble sale or from distant family in the UK. CODEG stands for Cowan, de Groot who were important UK importers of toys and more from around the world from 1919 on
https://www.worthpoint.com/worthopedia/vintage-codeg-bandalasta-style-pink-483567794
These tea sets would have been played with at dolls' tea parties, often with friends, sometimes on a picnic rug in the back garden in the summer holidays through the 1960s and 1970s. Or the girls would have drunk out of the bigger cups themselves, with Miwadi orange juice instead of tea and plain Marietta biscuits (buttered by Berney to make 2-biscuit sandwiches) in place of cake.
Less appetising but still fun … mixing a little earth from a flower bed and some tiny white flowers from the hedge in water to make "soup". Or steeping rose petals in a bowl of rainwater hoping it would become perfume.
Cash Register
The family had a mechanical tin Aster cash register which formed an essential part of playing "shop" using packets of tea and tins of peas from the kitchen as well as bought play groceries. A bell rang when the cash tray opened. Ireland and the UK went decimal in 1971 and so it's likely the register dates from the early 1970s. It may have been made in Japan. The lightweight plastic coins used with it have been lost.
Pink high heels
In the run-up to Christmas one year in the mid-1960s, Rose was offered a choice by her mother between these pink "hi heels" and a pair of simple roller skates. Having tried the skates once up and down the hallway, and almost losing her balance, she chose these and – hard as they were to wear – she never regretted the exchange because these came in really handy on rainy days when she and her best friend would play "dressing up" out of a big trunk full of her mother's discarded clothes, including one magical purple dress which she had worn on the stage. Rose's friend's mother used make up so her friend would bring along empty powder compacts and worn-down lipsticks which they felt added the final touch of glamour.
https://www.pinterest.ie/pin/575475658609850284/
Red "Booboo" Car
Rose's father made this wagon in the 1960s. It's not a toddler walker, rather, he meant it as a robust alternative to the dolls' pram, to be pushed or pulled by an older child in the garden containing whatever they happened to be playing with. This often seemed to be teddy bears, because for some reason teddies were never put in the dolls' pram. Boo Boo Bear was Yogi Bear's sidekick and there was a big teddy bear in the household called Big Booby; the link with teddies might be why the wagon was called a boo boo car. The wheels fell off and were replaced in the 1990s so it squeaks a bit now.
Acrobat
This energetic gymnast on a bar belonged to Rose's father, Sean who was born in 1921 in West Clare so it probably dates from the 1920s and is likely Japanese. He was the eldest of a large family who worked a small farm and were not well off, so toys like this were few. Sean kept his Celluloid and Metal Acrobat Wind-up Toy in its box and took it with him when he moved to Limerick in 1958.
– as in https://www.ebay.com/itm/Celluloid-and-Metal-Acrobat-Wind-up-Toy-Japan-NEAR-MINT-1920s-/222702062774
Dachshund
In the 1960s, the only dogs Rose would have been familiar with were farm collies and semi-feral dogs around the city, so this Dachshund (a Christmas present) was a highly prized toy. Although it didn't really look like a "sausage dog", this made no difference to anyone because it was so furry and elegant, plus it could walk. It came with batteries and this was such an extraordinary thing (and batteries so expensive to replace) that the dog was kept in its box and taken out on Sundays for a short while only, to be walked across a table.
Elephant
I don't remember how Dumbo came into the house but from his relatively good condition you can see that he wasn't tumbled about as much as some other toys.
Tambourine
Rose got this tin tambourine from Callie when she was very small, sometime in the early 1960s. It may have been made in Japan. It shows an idealised little ballerina surrounded by flower fairies. Although it lost its bell, and any musicality it had once possessed, it was never thrown away because – to Rose – it represented faraway lands like Spain and Italy (and exotic music like flamenco) to which – as far as she knew – nobody went on holidays back in the 1960s, except her godmother Callie and her husband. Callie's tales and gifts (including a perfect miniature Aer Lingus stewardess outfit) fired Rose with a desire to travel and to learn languages, which she did with gusto as an adult.
https://www.etsy.com/ie/listing/820272175/ballerina-tambourine-noisemaker-rare-toy?show_sold_out_detail=1&ref=nla_listing_details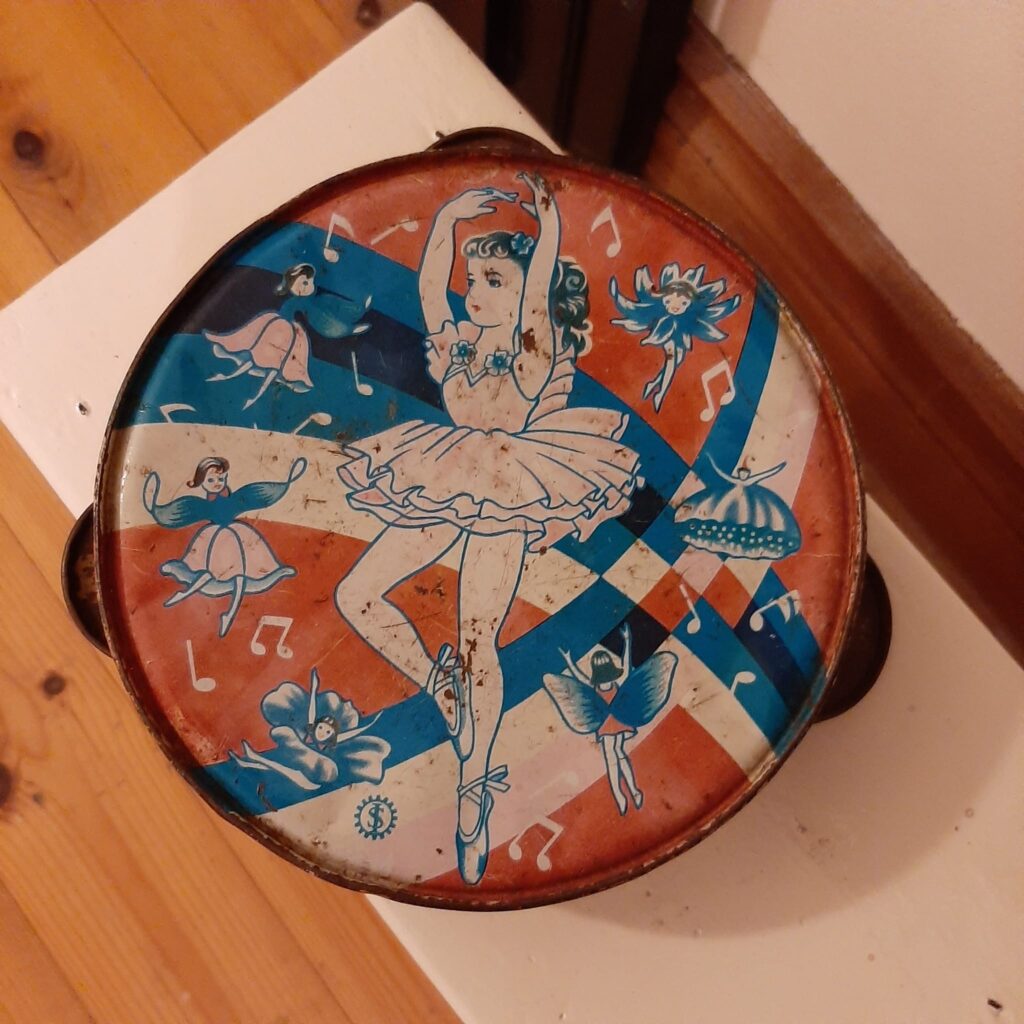 Wooden kitten heels
Callie brought these shoes back from Europe (Italy?) for Rose when she was a toddler and they got a lot of use by all three sisters as you can see! They seemed to smell of sunshine.
Collection of small dolls, some in national costume
All the girls played with these dolls as you can see from their condition . Three photos:
(1) L to R:
All 1960s.
Firenze straw doll with hat and zipped compartment at back of skirt for a hanky (Callie brought this from Italy to Rose)
Seated Danish doll marked "Denmark" (Rose's father brought this back for her from a business trip)
Native American doll whose eyes have gone back in her head but she has kept her moccasins. Rose remembers her mother collecting tokens to send away for the doll – as you see from this link, it was with Daz washing powder: https://nationaltreasures.ie/submissions/V224C8
Scandinavian doll in regional costume (Rose's father brought this back for her from a business trip)
Welsh (?) costume doll whose feet have been cut off somehow
(2) L to R:
Two Irish dolls from the 1960s-early 1970s wearing two variations on traditional dress
• The doll in the green skirt seems to be wearing something resembling a traditional crios belt from the Aran Islands, otherwise her outfit is quite a chic and modern take on traditional Irish. She has lost her head
• while the other is wearing a more sober Irish Colleen outfit (she resembles the Irish Girl doll designed by Peggy Nisbet for the airline BOAC)
The third doll is a nun (also from the 1960s) and her habit seemed at the time to resemble that of the local Salesian school nuns.
(3) L to R:
Hand puppet who may be Punch from Punch and Judy but Rose only ever had this one (1970s)
Sindy doll from early 1970s (?) – she somehow came into the household second-hand as Rose wasn't allowed to have such anatomically correct dolls
Foot Guard doll with bearskin, probably bought by Rose's parents on one of their first holidays together abroad, to London in the mid-1970s
Male Amish doll (no information)
French display doll wearing old Bourbonnais regional costume (central France). Elaborate clothing sewn on including full length lace-trimmed underwear (no information, probably picked up at a flea market)
Mother Rabbit
Rose's grand aunt, Chrissie (who was the sister of her grandmother, Essie) lived in England and sent home story books, toys and occasionally very beautiful, high quality clothes that children in her wider family had out-grown – you wouldn't have found anything like them in Limerick at the time. Most memorable was a white flouncy summer dress with red trim and a design of red strawberries on the bodice, which Rose immediately wore to play in the garden, where she promptly ripped a large tear down the front of the dress. It was never the same after being repaired using sew-on white daisies to hide the tear. Once, in the late 1960s, Chrissie sent Mother Rabbit with two child rabbits, all knitted. Rose was given Mother Rabbit and she survived the tea parties, albeit a little the worse for wear.
Christening clothes
As late as the 1960s, babies were christened into the Catholic Church much sooner than is the custom today, with the result that usually the baby's mother wasn't present, only the father and godparents. This could be because she was still in the hospital or nursing home, or – more often – because she was staying at home for 4-6 weeks before being "churched". Churching meant that she went to the church to be "purified" by a priest after childbirth. While it could be presented as a blessing, it was certainly regarded locally in a more negative light, as though mothers were in some way "unclean" after giving birth and had to be "purified" before they could attend the church for Mass, etc again afterwards. The practice was dropped after the second Vatican Council.
And so, Rose's mother was not present at her christening, but she did make sure the baby was properly dressed for it! The clothes in the black Lorenzetti box were worn by Rose at her christening in 1959 and they came from another family. They include a long sleeveless robe ("Santa Lucia" brand) with a lace overlay, a fur-trimmed woollen bonnet, and an Irish linen napkin which would have been used on the day for wiping the baby's dribble, as a more elegant alternative to the usual terry cloth.
There is a separate item, a long sleeveless petticoat with lace trim (intended to peep out from under the actual dress, "Palatine" brand) which may be even older.
Also a second christening robe with long sleeves, stiff lining and double lace overlay (no information).
Rose's mother kept these clothes for years, wrapped in black tissue paper to protect them against sunlight.
First Communion outfit
Rose made her Communion along with the other 51 girls in First Class at the Salesian Primary School Fernbank, probably in May 1967, wearing this dress and veil. Her sister Ber wore the same outfit five years later.